Need Vector Graphics? Try Vectors Land
Graphics mainly come in two categories nowadays. One is the bitmap graphic and the other one is the vector graphic.
Bitmap graphic gives you a realistic picture. An image of a tree will look like an actual tree. But vector graphics usually have a cartoon like structure. A tree based on vectors will look like a sketch of tree.
So why use vectors? To avoid blurring.
You take a bitmap file and stretch the image by its edges and you will soon see the image getting blurred or pixelated. Vectors on the other hand are free from this defect. You can stretch and increase the size of a vector file as much as you want and the image won't pixelate. This is because vectors don't use pixels at all. They are based on mathematical equations.
So if you want a place to download quality vectors we have a recommendation for you. Try Vectors Land.
Vectors Land hosts a large collection of vector graphics ranging from all sorts of different fields – Nature vector, Flower vector, Human based vector, etc.
You can use it as a resource to get free vectors.
The website has a simple design and is easily navigable. Basically Vectors Land is just a search engine, a search engine for vector photographs. They have partnerships with many different vector based websites and when you will search for a particular key word in their search bar, Vectors Land will generate the results from all of these websites on a single page.
Let me show you how this is done.
I entered the key word "Twitter" in the search bar and got the results as shown below.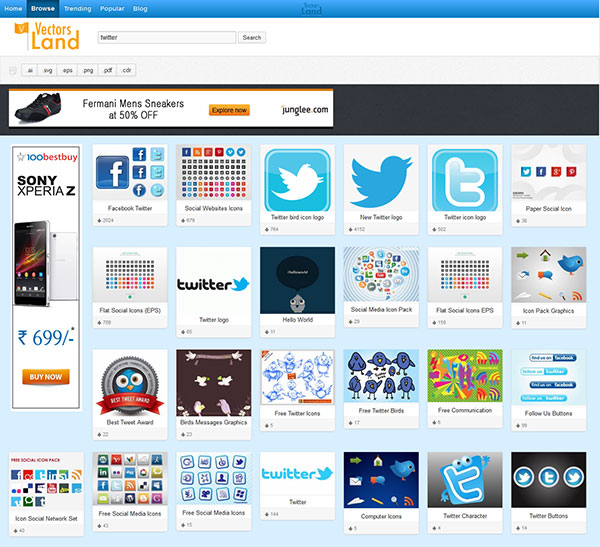 First of all look at the small white bar of squares on the top left. These indicate the types of files available. Just as is the case with bitmap, vector graphics too come in many different file formats. If you click on any one of them you will be displayed the images that belong to only that particular file format.
Since I didn't click on any format, the results I received and the ones displayed above, all belong to many different formats.
Anyways let's talk about the results.
We have large Twitter logos in most of the results. But the good thing is these logos are displayed differently. One has a large blue squared box with a white pigeon in it, the other one is a blue pigeon on a white background, then yet another one is the letter t on a blue square. So you can suit yourself.
Then we have many images with Twitter logos along with logos of other social media sites. These would be useful for those who are working on social media related graphics.
I can click on any one of these graphics and will be taken to the download page. The download page looks like as shown below.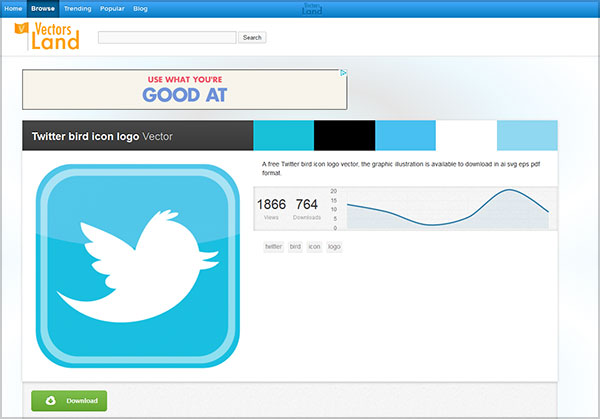 As you can see this page displays the information that how many times this file has been viewed and how many times has it been downloaded.
Go and check out the site and let me know what you think in the comments below.
Looking for more High Quality Vectors:
Receive interesting articles & freebies right in your inbox
Make sure you confirm your email address through the link we just emailed you