Happy Easter 2014 And Some Premium Designs
According to Christians, Jesus Christ died on a Friday and was raised from the dead or resurrected on a Sunday. They commemorate this event every year and they call this Friday as Good Friday and Sunday as Easter. Just as is the case with Christmas, in Easter too many greeting cards, calendars, and posters flood the markets.
You may check out Depositphotos's collections for Easter discount Lightbox where they are selling the files at discounted rates, or their Easter typography files where they have collected a large collection of beautiful text based images related to Easter, to see what I mean.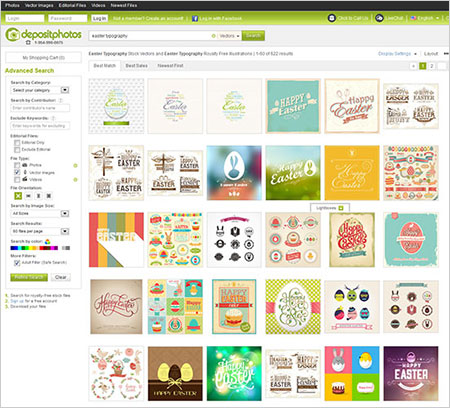 Check out some of the Premium Files from Depositphotos
Easter is one of the most important holidays for Christianity. It is usually the most well-attended Sunday service of the year for Christian churches.
It is called a moveable feast because it does not fall on a particular date every year, as many other holidays do. Instead, Christians in the West follow the Gregorian calendar and celebrate Easter on the first Sunday which comes after the full moon after the vernal equinox on March 21, or a nearby date.
This is the reason why Easter is celebrated anywhere between March 22 and April 25 every year.
Some other orthodox Christians use the Julian calendar to calculate when Easter will occur and usually observe Easter a week or two after the Western churches.
In fact Easter is really a complete season of the Christian church year as opposed to a single-day celebration. Before the Easter Sunday, Christians observe a 40 day period which is known as Lent, and it is a time of reflection and repentance for sins. These 40 days represent the 40 days Jesus spent alone in the wilderness before starting his ministry. Christians believe this was the time when he survived many temptations by the devil.
Mardi Gras or Fat Tuesday is the name of the day which comes one day before Lent. This is the last day for food and fun before the fasting begins.
The week that comes before Easter is called Holy Week and includes Maundy Thursday, which commemorates Jesus' last supper with his disciples; Good Friday, which honors the day when he was crucified; and Holy Saturday, which is remembered as the transition between the crucifixion and resurrection.
Then Sunday, of course, is the Easter day which celebrates Jesus's raising from the dead. After Easter, there is a 50 day period known as Eastertide. This period celebrates Jesus's ascension into heaven. Christians believe Jesus is alive and is in heaven. One day he will return to Earth, the event being referred to as Jesus's Second Coming.
Over the centuries various folk customs and pagan traditions, including Easter eggs, bunnies, baskets, candy and jelly beans have become a standard part of this holiday. So if you are a designer, you should prepare yourself for creating some Easter designs. This year Easter 2014 is falling on 20th April, just a few more days to go.
Let me know what you think of this article in the comments below.
Check out some more Easter 2014 Free Files
Receive interesting articles & freebies right in your inbox
Make sure you confirm your email address through the link we just emailed you