471 Premium Design Resources for Free Worth over $500
Graphic designers never keep a wrist watch with them as they know they have to give their best no matter what time of the day or night it is, they are faced with numerous challenges because sometimes they have to work beyond their niche and have to deliver the tasks on time. When you have tons and tons of work piled up on your desk and in order to meet the deadline you have to complete all of them in a day then it is the time to act smart and avail some design resources to compose a new artwork that would not consume much of your time. For this, you require a number of good collections of resources, isn't it?
If you are looking up for the design elements to use in your upcoming projects, then save your time and get a check on available freebies from which you can be accommodated easily.
Inky Deals is one of the leading deals websites in the design community, with an extended family of more than 300,000 design enthusiasts. It's the place to go if you want to buy premium resources at unbeatable prices, whether you're a graphic or web designer, developer, or business owner looking to improve yourself and your work.
They are offering the biggest free bundle in the world, 471 Premium Design Resources for Free valued at $558.
Choose from a wide range of fonts, diverse textures, backgrounds, buttons and much more. This collection will turn out to be truly helpful for you.  It is a free bundle at hand for a limited time period, so rush and grab it without any second thoughts.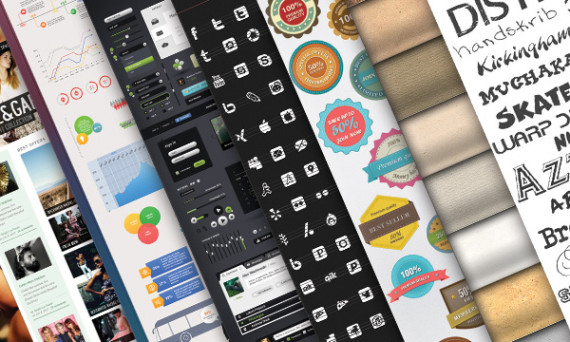 Resources
It contains textures, UI kits, HTML, PSD & WordPress templates, patterns, fonts, courses and much more.

Partners
Here are their partners who helped them put this great bundle together:

This bundle has got dozens of good reviews, hundreds of shares and thousands of fans from all over the world. Instantly download your copy of the bundle here: 471 Premium Design Resources for Free!
More fresh freebies you would love to download:
Receive interesting articles & freebies right in your inbox
Make sure you confirm your email address through the link we just emailed you