Join Expert Web Design Community with TemplateMonster
Every person who is somehow related to the web design industry should have heard about TemplateMonster. This summer, one of the leading providers of ready-made web design solutions celebrates its 15th birthday. For such a long history of successful working experience in the niche, the company has seen both rises and falls. They have also managed to learn how to create products that will meet the demands of the picky contemporary customers, as well as make every new launch be on a par with the industry leaders.
During the last 15 years, the company has learned lots of lessons. Now, it's high time to share the experience with others. Whenever you decide to launch a web project of your own or build a startup, one of the first things that you will do is learning from the experience of other brands that have managed to build strong and reputable names. TemplateMonster offers a plethora of free educational materials that you can use to your own benefit. So, let's take a look at what you can learn from the web design "monster".
Free Education Section
TemplateMonster has its own YouTube channel, where you can find lots of useful videos and tutorials on how to work with their products. If you are a beginner webmaster, a writer trying your hand at creating marketing texts that sell or simply a creative personality searching for the ways to get a wider exposure on the web and make more money, then the following playlist is just for you.
As you move from one video to another you will see specialists from different TemplateMonster departments talking about the things that work in their niche, as well as highlighting the tips on how to be a success in different aspects of web design.
Free eBooks
Nothing can compare to a book. About one year ago, TemplateMonster started releasing free eBooks on all the topics that are related to running online business, working on a startup, web design and development, enhancing the usability of websites, building mobile-friendly UI/UX, and so much more. The collection keeps on expanding with new free eBooks once in a while. So, bookmark this page for further reference. It will come in handy when you will be looking for an expert opinion the questions related to web design.
Free Themes
Freebies have been luring the web community for ages. Whatever industry we may be talking about, we can always find something that we can try at no cost. The same deals with web design. TemplateMonster is well-known for their huge collection of premium website templates. However, there are also a number of free sample templates that you can find in the collection of web design freebies.
Whenever a new type of products gets launched, the company also releases its "lite" version. As a rule, it features the look and feel that is similar to the premium equivalent, with certain features still missing in the free pack.
For example, TemplateMonster has recently released a WordPress multipurpose theme of the last generation – Monstroid Squared. The premium template has adopted all of the most outstanding solutions that you can find in the contemporary WordPress community. Moreover, it features a number of innovations that were custom-made for the theme. So, in order to let the web users get a better understanding of what they will get after buying a premium version of Monstroid Squared theme, there is a Lite version also available. If you compare both versions of the Monstroid Squared theme, you will notice that the layouts of the two are pretty much similar. However, the specs lists vary.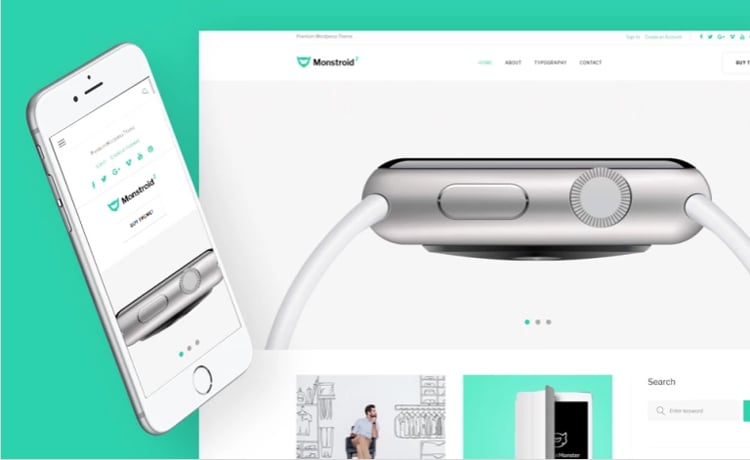 Most of the new premium flagship themes that appear on templatemonster.com are accompanied by their free versions, which is intended to help the buyers make the right decision without spending extra cash on the products that won't fit their businesses.
Certification Center
TemplateMonster not only teaches but also certifies. Whether you are only taking your first steps in the field of web design and development or you are an experienced webmaster looking for greater opportunities of the growth of you own web design agency, then TemplateMonster Certification Center will give you exactly what you want.
That's a popular project from TemplateMonster, as part of which you can enroll into any of the two big courses – for beginners or pros – based on your own experience and web design knowledge.
Beginners will be able to learn the basics of web design and the most popular web platforms to build blogs and web stores. In the end of the course, everyone who passed it successfully will get a TemplateMonster Certificate.
If you run a web design studio, then you will be asked to pass a quiz and confirm your knowledge and the high level of expertise of working with TemplateMonster themes. Once you complete it successfully, you will be granted with a certificate and a unique chance of being listed on the chart of web design studios catalogue. The latter is a sure-fire way to find new clients and boost your revenue since the catalogue is accessible to all TemplateMonster clients looking for skilled professionals who can help hem customize the chosen designs.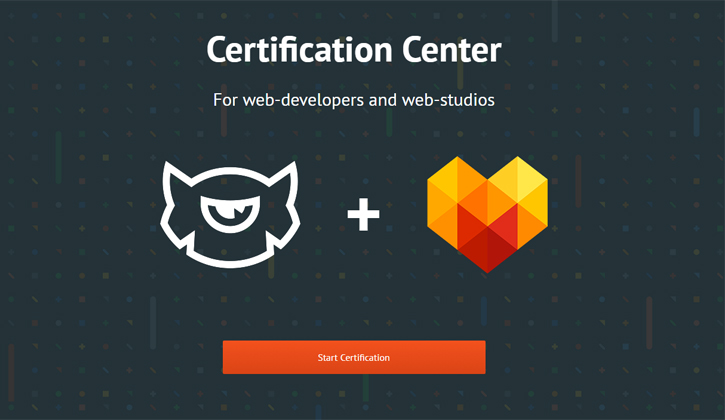 Web Studios Catalogue
Web Studios Catalogue is a list of all TemplateMonster partners who have passed certification successfully. This is a place where buyers can find freelancers or web design studios that will get all theme customization job done for them. This is also a chart that grows the chances of skilled webmasters to grow their clientele and generate more income while doing the things they enjoy.
Every freelancer/web design studio that gets on the chart will have their our profile page. The latter is pretty informative and truly functional. In addition to the explicit information about yourself, a showcase of your works, and contact details, there is an integrated contact form welcoming people get in touch with a freelancer/web design studio online.
The Web Studios Catalogue is organized in the form of a chart. The more projects one has launched and the more CMSs a web studio work with, the higher it gets ranked on the Catalogue, and the bigger chances to boost revenue it has.
Stunning Website Templates
Ready-made website templates – that's exactly what makes TemplateMonster so popular. The number of pre-designed solutions keeps on growing constantly. New revolutionary items are added to inventory. The items that you can find at templatemonster.com are compatible with the latest versions of WordPress, Joomla, Drupal, OpenCart, PrestaShop, Magento, and other platforms. All of their premium templates are well-documented and feature free 24/7 support. All of them are fully editable and come enhanced with extra customization options for free.
More and more often we can see flagship templates being added to the collection. Here are just a few of the latest and most noticeable releases.
Monstroid 2 – Flagship WordPress Theme
Monstroid Squared is a multipurpose WordPressn theme licensed under GPL. The latter gives you the freedom to install the template on as many websites as you wish, as well as tweak the theme's code in multiple ways. For a quicker and more intuitive customization of the layout, the theme is integrated with a drag-and-drop page builder called Power. WordPress Live Customizer is also added to the theme's pack. A collection of child themes is available for free access. With every next update, it gets expanded with a couple of new skins of pro quality.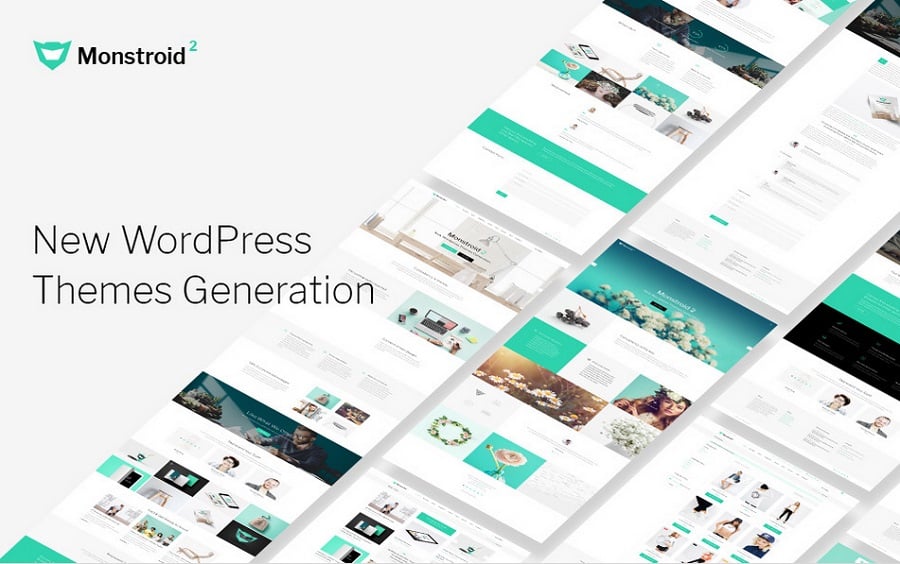 Woostroid – Flagship WooCommerce Theme
This is a powerful eCommerce solution that can be adjusted to fit various topics. Woostroid is a fully editable WooCommerce theme that is also licensed under GPL. A collection of theme demos keeps on expanding with new ready-made solutions to get started with a web store belonging to any business niche. A drag-and-drop page builder speeds up the process of the theme's customization. There are also several header and footer styles, pre-designed layout options, and UI elements that will help you adjust the theme as per your own needs ideally. The theme also features a collection of premium plugins, which are included without any extra fees.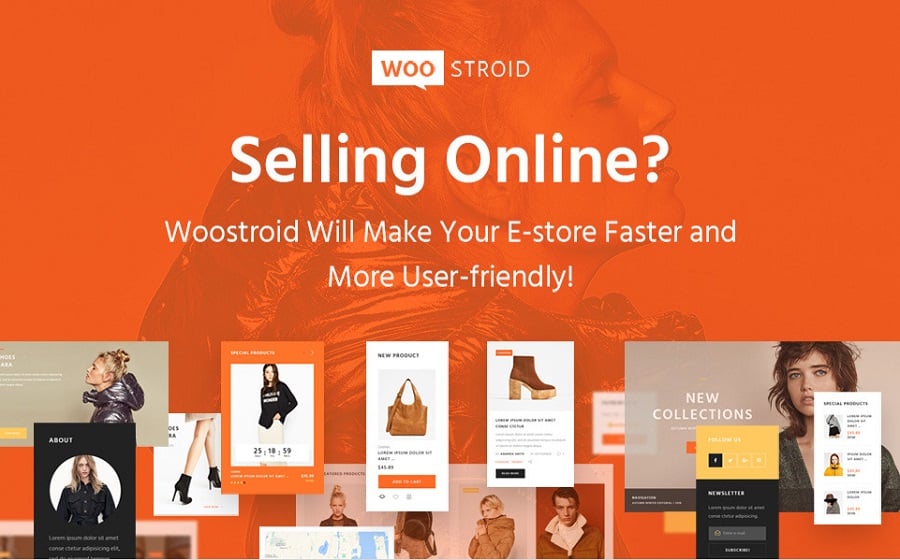 Brave – Flagship HTML Theme
Brave Theme is a multipurpose website template with a fully responsive layout. The latter can be tweaked without any coding routine being included thanks to the integration of Novi page editor. With the help of the drag-and-drop interface, even web design newbies will be able to add a personal touch to the theme's design. 100+ pre-designed pages, dozens of header/footer styles, 11 niche-specific layouts, and a number of smart plugins are on the specs list of this theme.
Magetique – Flagship Magento Theme
This is a multipurpose solution designed and developed for all Magento fans. It also includes a growing collection of niche layouts that are ready to go live straight out-of-the-box. For a more effective promotion of eCommerce businesses, the theme features an extensive marketing toolbox. Moreover, there will be no need to save extra cach on the purchase of premium Magento plugins since everything has been already added to the theme's pack.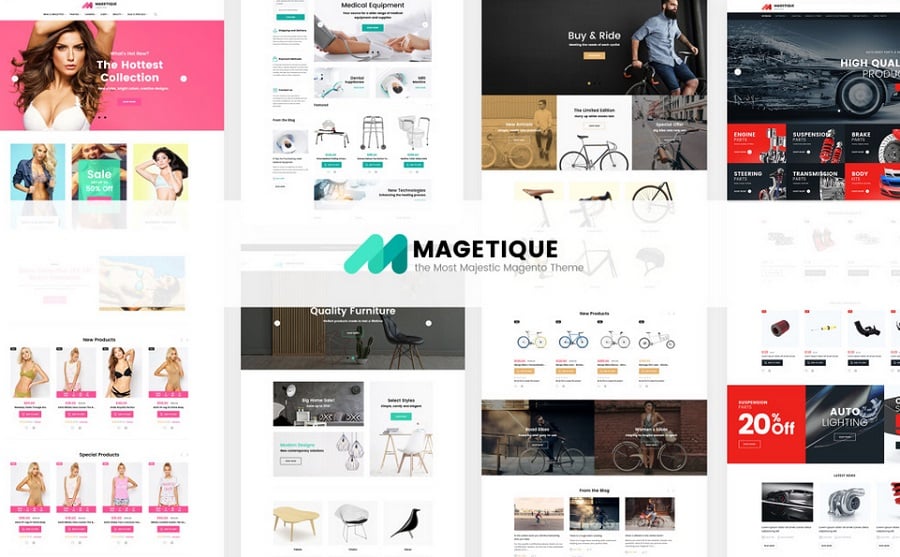 Eveprest – Flagship PrestaShop Theme
Eveprest is a multipurpose PrestaShop solution. Like the rest of the flagship templates added to this post, Eveprest includes a collection of 10 child themes suited for different niches. TM Mega Layout Builder is integrated for a quicker modification of the layout structure by means of pre-designed blocks and 4 ready-made homepage layouts. More than 10 premium PrestaShop plugins worth $1357 are added for free. A clean and modern design of the theme is enhanced with a number of eCommerce solutions that will make it way easier to build a conversion-oriented website.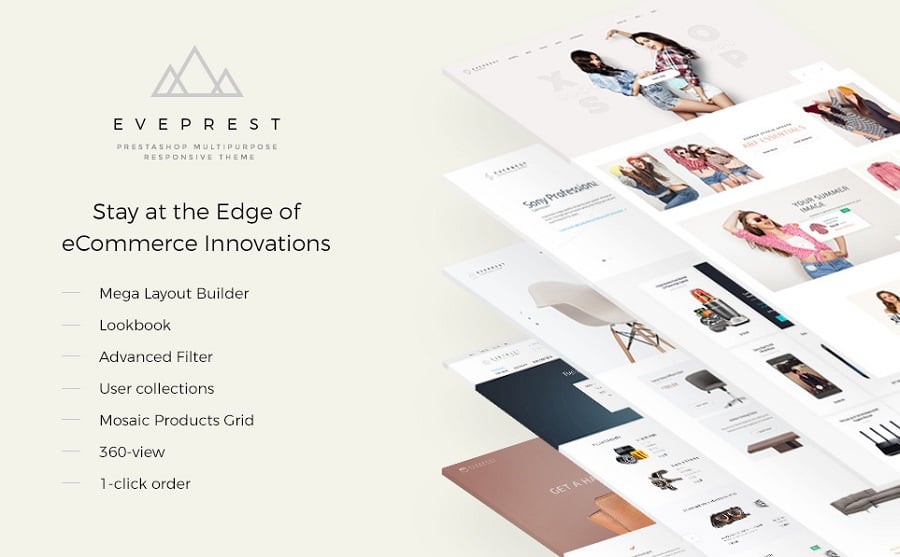 Jedi – Flagship Joomla Theme
Jedi is a multifunctional theme that will appeal to all Joomla fans. It features a responsive, speed-optimized layout. Due to VirtueMart integration, getting started with a web store on its basis will get so much quicker and easier. By means of this template, you will be able to hear the voice of your audience through Built in Kunena Forum and Komento Component. A variety of handy widgets, modules, and extensions are intended to make the process of the creation of a feature-rich web resource so much quicker and seamless.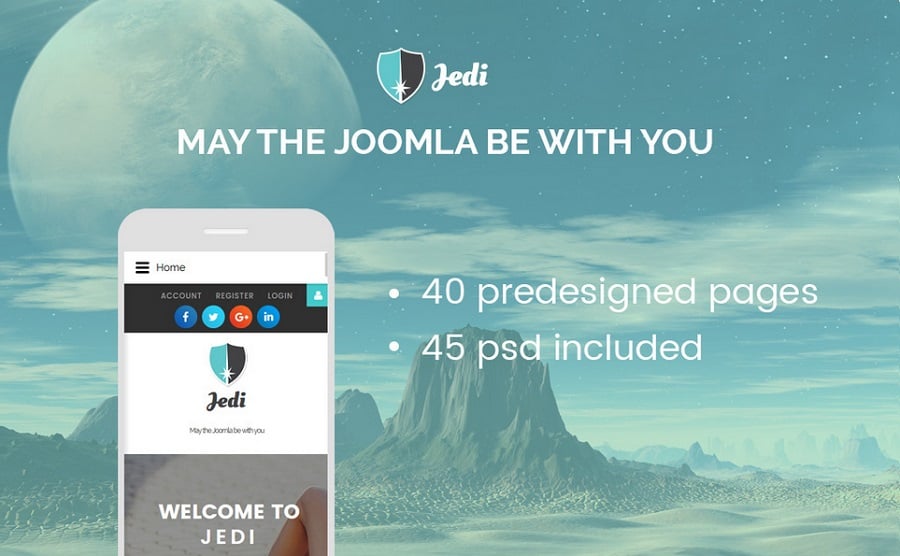 Wrapping it up, we would like to assume that TemplateMonster is a universal place where you can find a free or premium web solution for any creative or business project of yours. This is a place where you can learn and grow your income. This is also a place where you can become a proud member of the community of fellow web developers and designers. In a word, use TemplateMonster products and services to reach new heights.
Recommended Posts:
Receive interesting articles & freebies right in your inbox
Make sure you confirm your email address through the link we just emailed you