Social media icons are one of the essentials and nitty-gritties when it comes to talk about website or theme. They can be placed anywhere on your site either on header, footer or on the side bar. One thing which is kept in supreme focus while choosing right kind of social media icons is that they ought to be attention grabbing so any visitor's consideration can be attained by them as they are like nuts and bolts of a website.
Here I came along with free simple and sleek social media icons set 2012. They can easily well-knit in the websites having light backgrounds and themes. So why not to take the chance of making our sites more appealing and interactive by this sleek social media icons pack? Way to go!
Free Simple Sleek Social Media Icon Set 2017 Includes:
Facebook Icon Twitter Icon RSS Icon LinkedIn Icon Behance Network Icon Deviantart Icon Digg Icon MySpace Icon Pinterest Icon YouTube Icon Tumblr Icon Blogger Icon Stumble Upon Icon Vimeo Icon Orkut Icon Flickr Icon Google + Icon Dribble Icon Delicious Icon & Instagram Icon
Don't forget to subscribe us for more free logos, free Vectors & Free Icons in future.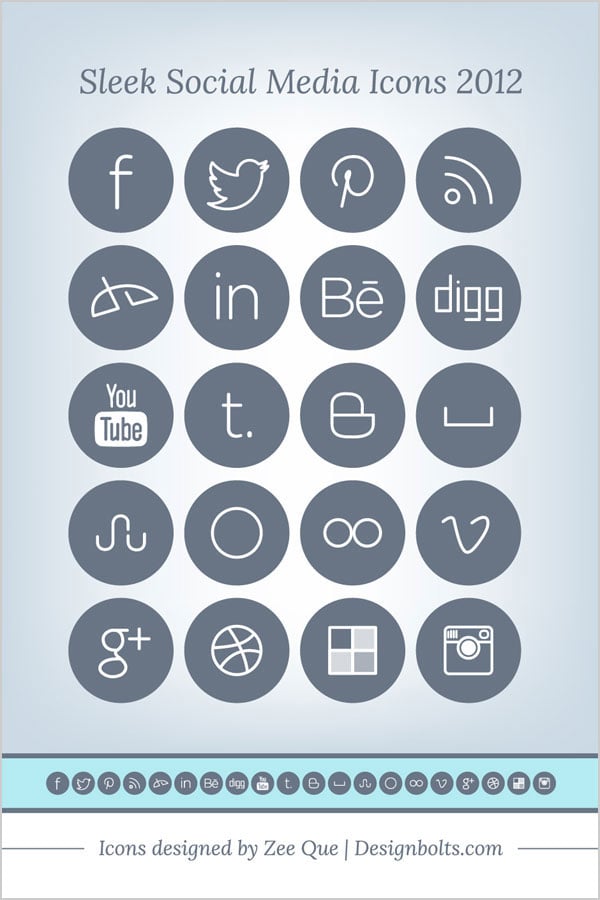 Free Version:
Available Size: 24, 32, 48, 72, 96, 128, 256 px
License: CC Attribution-Noncommercial-No Derivate 3.0
Thin Free Social icons 
—————————————————————————————————-
Premium Version for only $ 3.00
Available Format:  Vector (.ai) file
License: Creative Commons Attribution 3.0 Unported License
[paiddownloads id="9″ return_url="https://www.designbolts.com/thank-you/"]
—————————————————————————————————-
3000 Thin Social Media Icons | Worlds Largest Collection

Premium Version for only $49.00
Available Format:  Ai, SVG, PNG, ICNS
License: Creative Commons Attribution 3.0 Unported License

More Free Icons Download & Vectors: