If you don't know when is Black Friday 2012? It is right after 'Thanksgiving Day' on November 23rd 2012. It is said to be tremendously busy day when people go out for shopping in as lower prices as can be offered. Some of people like to visit their folks and relatives on the holiday of Black Friday whereas majority does not waste any further time and hang out for the Christmas goodies' purchase.
Christmas charisma is mesmerizing all of us. We are eyeing up to get to the best deals of attires, accessories and so forth. Dealers and sellers offer awesome deals for Christmas on Black Friday and it is of course undoubtedly a big chance to buy the products in lesser prices. For this, retailers often make use of Black Friday deals/ sales/ stamps/ badges and icons to showcase their 'lower prices offers' of the products. This excites the buyers and they quickly chase to get the economical and 'reasonably priced' products for Christmas on Black Friday.
Down below I have made Black Friday deals, sales, stamps, badges and icons which can be embossed & printed on the products which are to be sold away on Black Friday.  I hope these would be handy for you.
Premium Black Friday 2012 Icon Set Includes:
Black Friday deals badge, Black Friday sale badge, black Friday sale 50% off badge, Sale 50% off badge, Ready set shop stamp, bonus deals 3 days sale stamp, Black Friday best deals stamp, Friday deals icon, Black Friday 2012 deals stamp, % 50 gift card icon, black Friday 2012 23rd offers 50% off, black Friday hot deals icon, 20% off icon, 30% off icon, 40% off icon, 50% off icon.
Don't forget to subscribe us for more Free Icons, free Vectors &  free logos in future.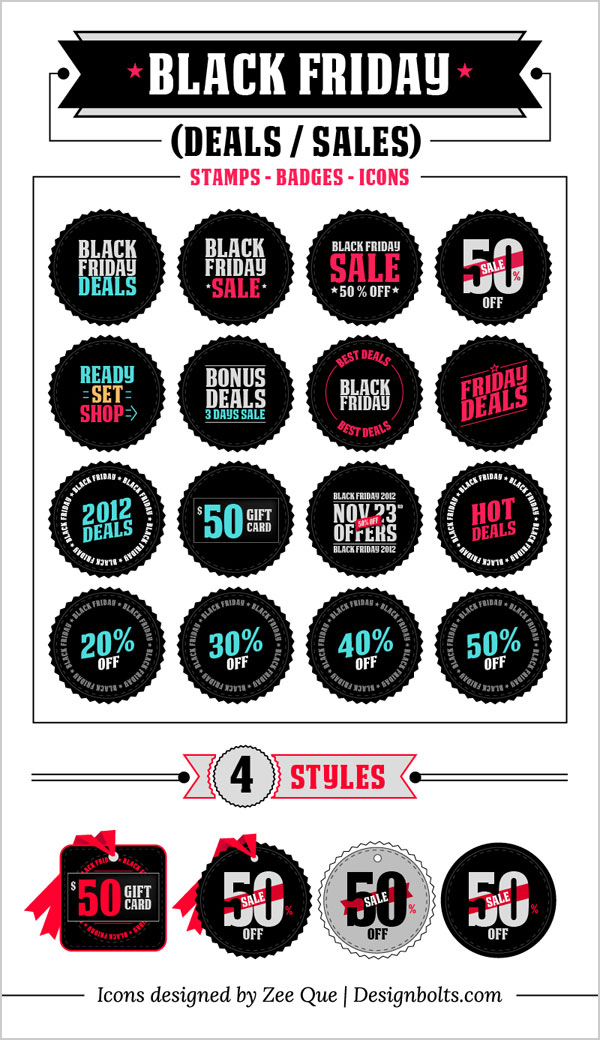 Black Friday Icons for only $ 5.00
Available Format:  Vector Illustrator (.ai) file
PNGs: 512 px, 256 px, 128 px
Software: Illustrator CS5
Font: Deathe Maach NCV

[paiddownloads id="14″ return_url="https://www.designbolts.com/thank-you/"]
—————————————————————————————————-
Recommended Posts of Christmas 2012
More Free Icons Download & Vectors: