Christmas is that special occasion of the year which is most awaited. This big event has big celebrations and big joys too. Large feasts, parties and get-togethers are arranged to enjoy this day to the fullest and why not? Life is too short so make the best use of every minute to please yourself and others.
As Christmas is round the corner, it offers great deals and sales before time. Sellers and retailers offer overwhelming deals for Christmas so that more and more people can avail them. If you own a site which provides Christmas sales to the visitors then today's post of free Christmas Balls gifts / sale icon set will be fruitful for you. You can use these icon set either in websites' banners, sliders, headers or place them wherever you wish to. Have a safe, warm and felicitous Christmas ahead.
Free Christmas Baubles Sale / Gifts Icon Set includes:
Awesome Christmas gift icon, awesome Christmas sale icon, Christmas sale 50% off icon, sale 50% off icon, ready set shot icon, Christmas sale 2012 icon, Christmas sale 2012 icon in green color, all gifts 50% off, sale 50% off with love, $50 gift card icon, upto 20% off, upto 50% off.
Don't forget to subscribe us for more Free Icons, free Vectors &  free logos in future.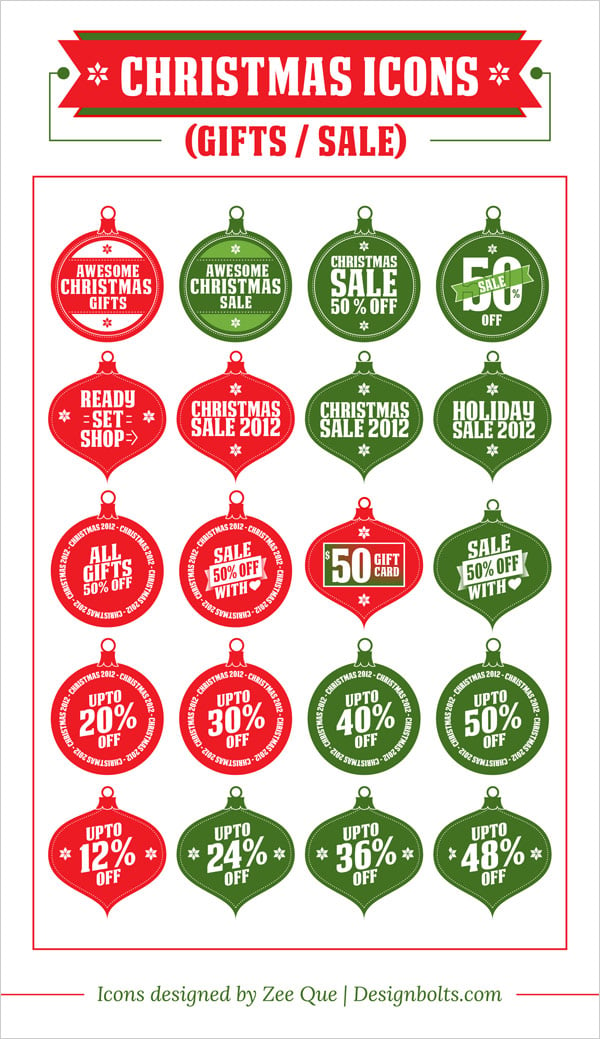 Free Version:
Available Sizes: (72, 128, 256) px
 Christmas Baubles Sale Icon Set
Premium Version for only $ 3.00
Available Format:  Vector (.ai) file | Very easy to edit
Available Size: 72, 128, 256 & 512 px
Software: Illustrator CS5
Font: Deathe Maach NCV
[paiddownloads id="17″ return_url="https://www.designbolts.com/thank-you/"]
—————————————————————————————————-
Recommended Posts of Christmas 2012
More Free Icons Download & Vectors: