Being a designer myself I have come along clients of every kind, some have actually got a degree in pissing off, some consumed my energy, some really troubled my brains, some were even so confused what design they actually wanted me to make, some were just so kind to ask me changing the design over and over again till I was lost completely but that's what my job is.
Each day is a different story having a different client with diverse demands. But make sure if you are a designer keep your patience scale left in your closet, you never know next morning what kind of client you are going to face & who is going to eat your mind and shrink your nerves to even breathe.
On tender shoulders of mine, so many 'No's and Never's' I come across each week, when considering an art work to be my epic of all, turns out to be depreciated and considered "oh! I did not ask you to make this", "This is certainly not my type", "Can you make it a bit nicer?", "It is all what I wanted, but please make my desire alterations". Not only me but the best designers around the globe undergo this brainstorming commonly.
Such a disaster when all efforts you put it turn out to be "change it a bit please". Whole day I keep on scratching my head and pulling out my hair upon this and no offence I have turned baldy this way. The trickiest thing is to rethink, redesign and take a 360 turn when a design is not accepted by a client. Trust me I will be rewarded for my patience on the judgment day. It is a lucky day when client really gets what I have made out. Of course it gives me experience of different sorts each day. My today's post will guide you; if you are thinking to become a designer or new in this field. Here comes top 5 tips for designers while dealing with clients Scroll down to eye up this infographic designed by Josuedric. Take it away & do check my post on confessions of graphic designers designed by me.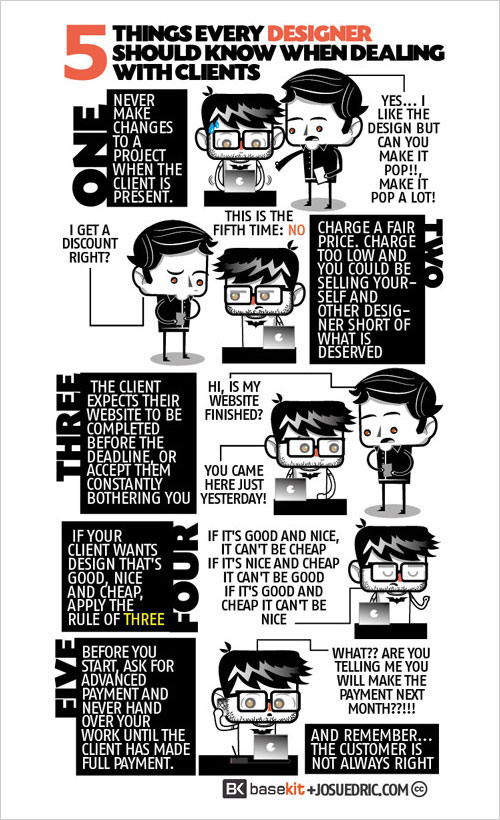 Designed by Josuedric
Looking for more fun posts here are few of them:
Post Tags:
 cool infographics, infographic, infographics, top 5 tips, tips for designers