Everybody is born with a specialty which makes one dissimilar from the other creatures. Some are just unflappable in their facade and charm, some can write well while other are good verbally, some are born painters and some can produce their art work in their own strong suit. Few can create epic stories while some others are perfect at playing an instrument.
All you need is to explore your hidden potential and polish yourself for the better of you. You never know what you hold in your bones until you make use of yourself to the fullest. Making a thing is normal and quite obvious but creating it with passion, inserting your whole devotion into it, your total asset & determination injected and putting love in your inventiveness actually make your work go to another level beyond the horizons of reality and make it look like a living fantasy.
Recently my eyes were bedazzled when I happened to see a most creative work of renowned Illustrator expert Tang Yau who is incredibly innovative in his thoughts and ideas that one can't envision what on earth has made him think to this level and how beautifully he conceptualized his work. I myself think he is a marvel because his creative impulse rules over him and makes him create supernatural oeuvre.
Today I am unlocking a door of a creative project by a famous Illustrator Tang Yau. His creative Illustration posters are astounding and just so flabbergasting that you would love to buy them. He incorporated quotes and illustrations that need no words but a big round of applause. Many people eye up to his work on daily basis and seek inspiration from his epic works. You will be baffled which one to go forth in first attempt. Scroll down to see the earthshaking posters. Each of the posters has a whole newfangled story of its own. Pictures are speaking in words and illustrating their exterior in an artistic way. I hope you have the same gesticulations as mine. Take it away!
Imagination is the beginning of creation. ~ George Bernard Shaw
It's not what you look at that matters, it's what you see. ~ Henry David Thoreau
Bring your own sunshine.
A journey of a thousand miles begins with a single step. ~ Lao Tzu
Always remember that you are absolutely unique, just like everyone else. ~Margaret Mead
Stay hungry, stay foolish. ~Steve Jobs
Creativity is intelligence having fun. ~Albert Einstein
Happiness Go 'Round
Music is my life.
It always seems impossible until it's done. ~Nelson Mandela
You light up my world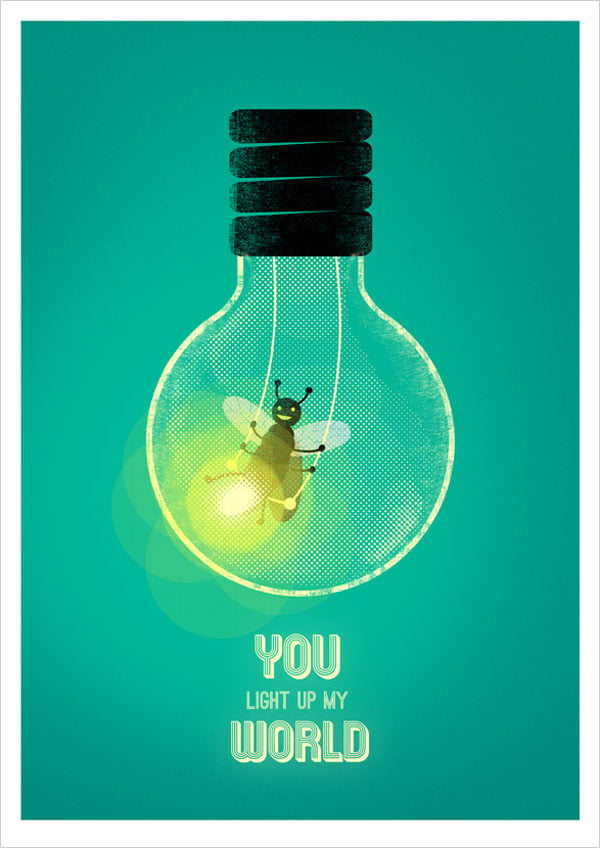 Sharpen your imagination
More Interesting Posts of Graphic Design & Typography
Post tags:
posters, creative posters, illustration, illustrations, creative illustration