We see people have been becoming advanced with the changing times. Much awareness has been sought by them with technology and advancement. Now we want to perceive something flabbergasting and really out of this world. Of course stereotypical things can't satiate our aesthetics for a long time and we get bored of the monotony.
Same happens when it comes to watch movies. Almost every genre we have already seen whether action, trill, adventure and comedy. So the 3D technology was introduced to get people connected with cinemas in a new and radical way. 3D technology takes you to experience a totally real fanciful world and you need to put your 3D glasses on to make this exhilaration happen.
There is a wind blowing about 3D movies. In the year of 2013 some marvelous 3D animated movies stroked the charts. As previously I have been posting social media icons of every type, I think only this type was left to unveil before you. So I tried my skill on something really novel and unique. Today's post is about Blu-ray 3D social media icons for which 3D glasses are required ;). You can use them in your personal project or buy the commercial license for only $3. I hope you would find them unconventional which you are not quite used to. Scroll down to get bedazzled.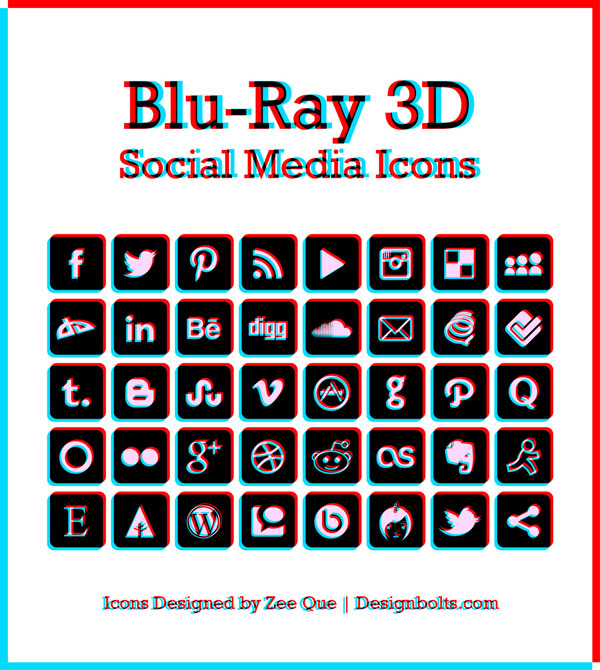 Free Social Icons Version:
Available Size: 48, 72, 128, 256 px
License: Free for personal use only + (Link Back to this Icon Set)
BluRay 3D Social Icons 
—————————————————————————————————-
Premium Version for only $ 3.00
Available Format:  Vector (.ai) file
Available Size: 48, 72, 128, 256 px
License: Creative Commons Attribution 3.0 Unported License
[paiddownloads id="52″ return_url="https://www.designbolts.com/thank-you/"]
—————————————————————————————————-
Check out some Amazing Social Media Icons: