Whenever a new app hits the globe a new fervor is generated and people quickly load it on their phones to see what the developer has done with this new app. With the technology getting better, each day a new invention comes forth baffling us likewise web developers try their hands on something innovative and original regarding fun apps to provide people quality and fun together.
An app called Vine is becoming widespread. You can create your own videos and share this jam packed fun with your friends. This app is so easy to use and you don't have to get your energy sapped by this, just hold on to the button on the screen of your phone as long as you want to record a video, when you put aside your finger, the video is stopped at once there and then. In the app you can follow the other app users to see their amusing videos. It is much like Instagram where people follow you in correspondence.
You can also embed your own videos and tweet them to your friends and family. Get connected to your friends' vine videos and see the updates on home screen, make you own vine page, customize it when you are signed up, and there it goes smoothly.
As Vine is created by Twitter so much of your bio data is extracted straight away from Twitter. The video would be taking 6 seconds to put together the total shots in order to make loop videos with "tap and tap" strategy. I guess you have pretty much understood the use of Vine app. Now here comes free Vector icons set you can use for only personal purposes on your blog/website. Are you ready to blow up your friends with crazy, fun and interesting videos? Do share your experience with Vine!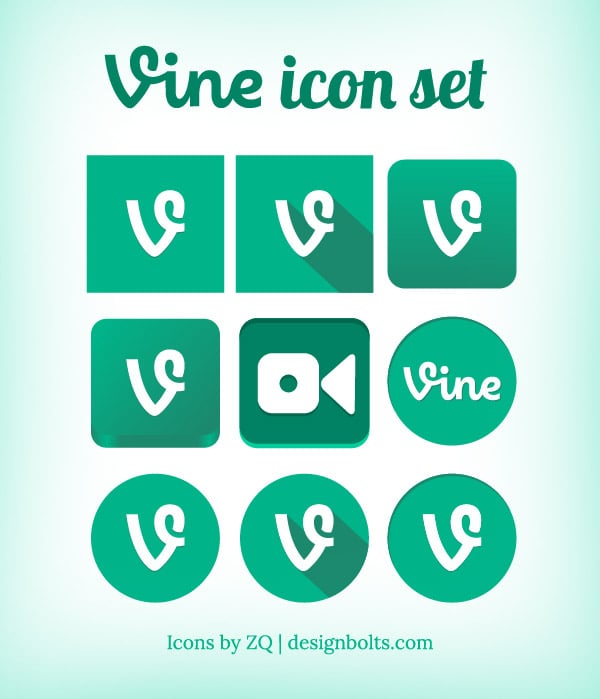 Format: Illustrator Ai & PNG Icons
License: Only for personal usage
Available Sizes: 256 px, 128 px, 72 px, 48 px
Vine Logo is all right reserved © vine.co
Vine PNG & Vector Icons
Make a donation if you like my Freebies

Looking for more Free High Quality Vectors: