I have been showing up social media icons of numerous types that can be used for personal and commercial projects. Today what I am unleashing is 40 free transparent social media icons designed by me. These icons can be just only for dark background of blog or a website, there is this restriction over here, but the result will be outstanding and worth commending.
A website having light background with darker typography is eminent but if you think out of the conventional way and break this monotony, a website with dark background can work better than you think. It is a great choice for highlighting design and visual content. Black is elegant, sophisticated, it implies empowerment, it's minimal.
You can now don't resist the importance of social media icons they have so become the immediate need of bloggers to boost the visitor's traffic and to make the blog look enticing.
Give a nice and classy look to your website/blog by having the icons set I'm presenting you today. I am hoping for a positive and appreciable response from you. These transparent social media icons are especially designed and would complement the websites having dark backgrounds and themes. For more new updates just cling with us. Have a gaze!
Do subscribe us for more free icons, free Vectors and other great graphic extravagances.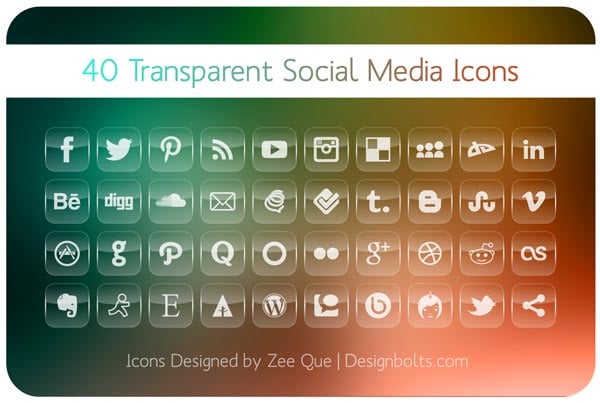 Free Social Icons Version:
Available Size: 48, 56, 72, 96, 128, 256, 512 px (Only for Dark Background)
License: Free for personal use only + (Link Back to this Icon Set)
New Icons Added: Imgur Icon, Dropr Icon, Houzz Icon, Pandora Icon, Spotify Icon
Free Transparent Social Icons
—————————————————————————————————-
Premium Version for only $ 3.00 [40 Icons]
Available Format:  Vector (.ai) file (Dark Background )
Available Size: 48, 56, 72, 96, 128, 256, 512 px
License: Creative Commons Attribution 3.0 Unported License
[paiddownloads id="55″ return_url="https://www.designbolts.com/thank-you/"]
—————————————————————————————————-
Premium 150 Transparent Social Media Icons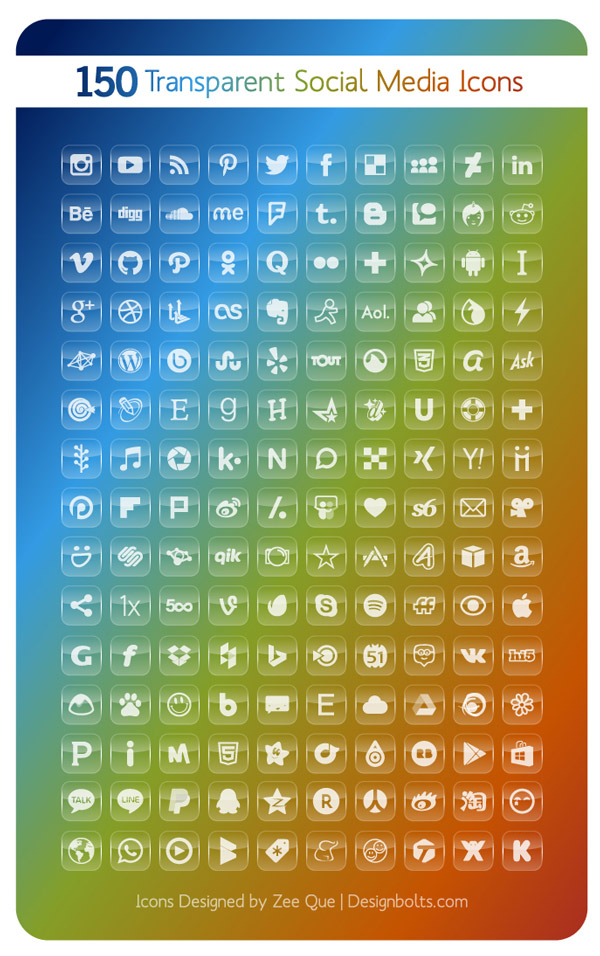 Premium Version for only $ 7.00 [150 Icons]
Available Format:  Vector (.ai) file (Dark Backgrounds)
Available Size: 56, 128, 256, 512 px
License: Creative Commons Attribution 3.0 Unported License /(Included in the file)
[paiddownloads id="111″ return_url="https://www.designbolts.com/thank-you/"]
—————————————————————————————————-
200+ Glossy & Transparent Social Media Icons

For only $ 15.00 [200+ Vector social icons]
Available Format:  Vector (.ai) file (Light / Dark Backgrounds) Very easy to edit
Available Size: 512, 256, 128, 64, 32 px
License: Creative Commons Attribution 3.0 Unported License /(Included in the file)
[paiddownloads id="121″ return_url="https://www.designbolts.com/thank-you/"]
—————————————————————————————————-
Looking for more Social Media Icons styles:
Post tags:
free social icons, social icons, social media icons, icon set, free icons, free icons download