Social media icons have a major role to play. They are not only appealing to eyes of the viewers but also heighten the standard of a blog/website. Without having proper icons set, a blog looks quite dull and not much productive as social media icons have become a part and parcel of the blogs and they give a boost by expanding the viewership through social media networks. Well suited social media icons set enhances the whole background and theme of the website/blog.
People will join you through these social media icons. Be careful in selecting the appropriate social media icons set that would work as 'step-up' and not as thumbs-down. They should be designed having in mind that outlook, uniqueness and fresh appeal are all that ingredients that are needed to create them.
Today I am unfolding 40 cute ribbon social media icons set which can be used in websites having light or dark themes all the same. These are way too cute so obviously you can put them on girls' blogs too.
Give a stunning look to your blogs by having these ribbon icons. You can avail them in email templates too, isn't amazing? Let's glorify our blogs and turn them into "worth to watch" platforms. Have a look!
Do subscribe us for more free icons, free Vectors and other fresh graphic goodies.
Free Cute Ribbon Social Media Icons 2014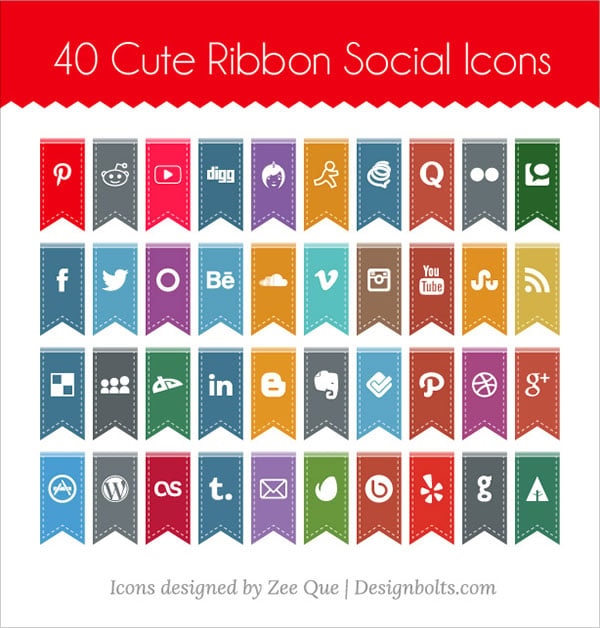 Free Social Icons:
Available Size:  72 px (White /Dark Backgrounds)
License: Free for personal use only + (Link Back to this Icon Set)
Cute Ribbon Social Icons
—————————————————————————————————-
Premium Version for only $ 3.00
Available Format:  Vector (.ai) file (White/Dark Background ) + PNGs
Available Size: 72, 128, 256 px
License: Creative Commons Attribution 3.0 Unported License
[paiddownloads id="63″ return_url="https://www.designbolts.com/thank-you/"]
—————————————————————————————————-
Looking for more Social Media Icons styles: