Social media icons have become the most significant feature of a blog or website. It is the requirement of every blogger who wants to see his audience intact and constantly viewing his posts on the blog. They are usually placed in the side bar, footer or on the header of the website so that people do look at them and would be so provoked to join your platform as their first hand choice.
Social media icons should be fulfilling, they ought to look popping and not submerging in the background of the website, if they don't protrude out who would even possibly bother their occurrence in the entire website? So a graphic designer is always prudent to design social media icons as standing out and not hidden in a quiet corner of the blog. They are the nitty-gritties of the blog so they must be noticeable enough.
Social networking icons are actually providing the audiences, a channel and chain to connect to a respective blog or a website through different social networks. Today I have designed some really nice neon free social media icons 2014 that would suit your blogs.
These social icons are the best pair with dark backgrounds and themes of websites, in this way they would appeal the eyes, become the focus of attention and look intriguing. Neon colors are always flashy and flamboyant so people actually love these hues to be used in the projects and obviously it is a bonus if you use neon social media icons in your blogs.
Social media icons are like nuts and bolts of a website/blog so of course these days, the enlargement of your work is not possible without having these intact to your website/blog. Make your blogs more verbal and striking by getting these free neon social media icons. They won't get dissolved into the backdrop of dark shaded websites and become the source of your audience's expansion. They can make a good match with the websites of movies and media. Have a look!
Do subscribe us for more free icons, free Vectors and other fresh graphic goodies.
Neon Free Social Media Icons 2014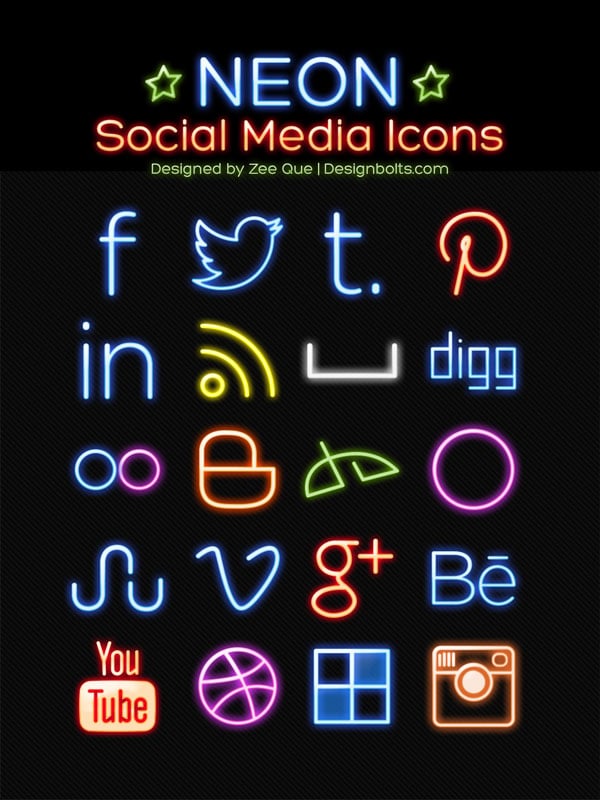 Free Social Icons:
Available Size:  256 px,  128 px, 56, 48 px (Dark Backgrounds)
License: Free for personal use only + (Link Back to this Icon Set)
Neon Social Icons
—————————————————————————————————-
Premium Version for only $ 3.00
Available Format:  PSD File (social icons in vector smart object)
Available Size: 48, 72, 128, 256 px
License: Creative Commons Attribution 3.0 Unported License (For Commercial Usage)
[paiddownloads id="65″ return_url="https://www.designbolts.com/thank-you/"]
—————————————————————————————————-
Looking for more Social Media Icons styles: