Graphic designers have different confrontations each day, they have to do justice with each of their design project, surfing and roaming site to site is a job of graphic designer, he does not do it for copying or plagiarizing stuff, but it is required from him to create something new and original each time, for this he has to look up to previous things shown around the web to seek inspiration and create his own designs in an elaborated and unique way. Reaching out for the professional work before plunging into his own designs, assist his brain to form ideas that totally belong to him and that have had never been used or implemented.
From t-shirt designing to the posters making, from typography design posters to business card designs, from icons and buttons to brochures and flyers, nothing can be swayed from the hands of a graphic designer. He probably have had worked on all such stuff in the past or probably be doing in future.
We have been showing off freebies to accommodate you all off and on, as it is in the demand and you have been asking for it too. So today I put together beautiful set of free arrows, icons and buttons that are designed by me and can be used in the software interface.
Arrow buttons are used almost everywhere online or offline, they are put in the sliders most notably. The arrow icons give the very implications of showing 'next and previous', 'go', 'play', 'rewind', 'forward', 'right & left' emblems, they may vary in shapes and sizes & may be available in various colors. Arrows may be put up in the slideshows and in other user interfaces as well. Where there is an Arrow, there is a way, look through the superb collection down below.
Do subscribe us for more free icons, free vectors and other fresh free download graphic goodies.
Free Arrow Icons & Buttons | PNGs & Vector File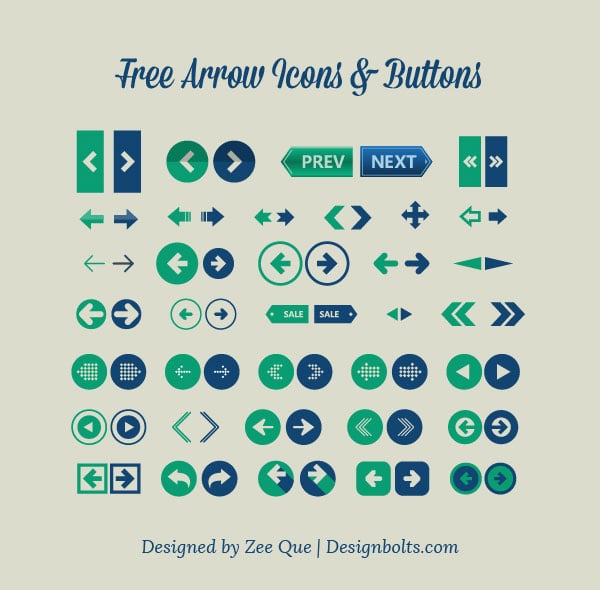 Free Arrows:
Available Size: 256 px only
Available Format:  PNGs
License: Creative Commons Attribution-NonCommercial 4.0 International License.
Note: These icons completely free for non-commercial usage. You are not allowed to modify these icons. To modify and remix you need to buy the commercial license.
Arrow Icons & Buttons 
—————————————————————————————————-
Commercial license for only $ 2.00
Available Format:  Vector (.ai) file + PNGs
Available Size:  256
License: Creative Commons Attribution 3.0 Unported License
[paiddownloads id="82″ return_url="https://www.designbolts.com/thank-you/"]
—————————————————————————————————-
More Free Vectors & Graphics Designed by Zee Que