Are you a beauty lover? If yes, then I am sure you can never compromise on the way a thing looks and how it should look like, some of us are blessed with more refined aesthetic sense and it never gets fulfilled unless properly fed, from the setting to the entire look should be pretty enough to be caught up by the eyes of an aesthetician. The rule goes same everywhere.
Graphic designers are beauty lovers too; they have artist's nature within their bloodline that's why they never overlook the element of "beauty" while making a design. When it comes to blogs/websites, their appearance & look matter a lot in order to come under the spotlight, obviously there are already bunch of platforms available on the web doing the same work as yours, why would people even scroll at your website unless it is attractive enough?
So in order to make your blog interesting and to keep the audiences intact you must include some really nice social media buttons so people can get connected to your platform and come right back whenever needed. Social media icons have a major role to play, they are the aspects through which different channels are offered to the visitors, and they click on the social networking sites' buttons in order to get connected to your blog via these buttons.
It is up to you where do you find these buttons good to place either on the sidebar, on the header or on the footer on your blog; all you need to do is to choose the place where eyeballs may roll to.
Today I am unfolding 126 Free Social Media Buttons | 256 Px PNGs & Vector Ai File. These will look good on the blogs/websites having light & dark and textured backgrounds. Any background can very well sync with these social media buttons. Give a boost to your website's overall appeal by having this social media buttons. Have a look
Do subscribe us for more free icons, free Vectors and other fresh graphic goodies.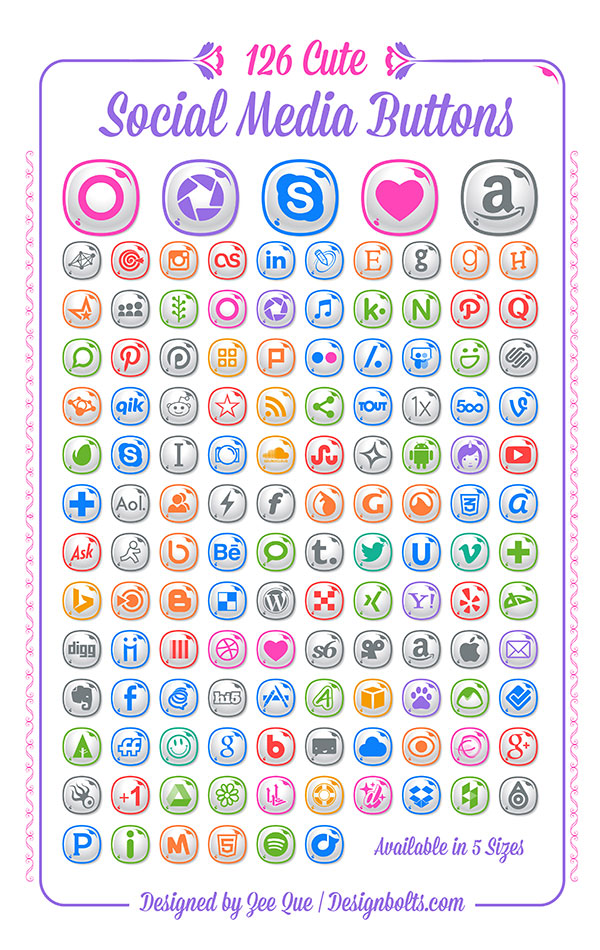 Free Social Media Buttons:
Available Sizes:  48px. 54px, 72px, 128px, for White & Dark Backgrounds
License: Free for personal use only + (Link Back to this Icon Set)
Free Social Media Buttons
—————————————————————————————————-
Premium Version for only $ 4.00
Available Format:  Vector (.ai) file Very easy to edit
Available Sizes:  48px. 54px, 72px, 128px for White & Dark Backgrounds
License: Creative Commons Attribution 3.0 Unported License
[paiddownloads id="88″ return_url="https://www.designbolts.com/thank-you/"]
—————————————————————————————————-
Looking for more Social Media Icons styles: