Shopping online has become way too common now, obviously we have hardly any time to "stand & stare" and it becomes difficult to take out time in order to wander in the huge marts and malls. We are curious to sightsee any platform where "purchase of goods"" is easy & accessible. In the 21st century, technology and advancement are ready to accommodate a layman who is not a techno minded person; we see an upgrade and most refined form of businesses in this era.
Through ecommerce, online shopping has become a hobby of many of us, it is like a child's play to simply log in, make an account, slog through the categories, pick an item, place an order & proceed to checkout. All the major sites like eBay, Amazon & Google shopping etc. are undertaking the same laid-back shopping procedures. Now from a big brand to a common man owns an online shopping blog/website. For this they go through some imperative business strategies to amplify the business sales and take hold of more patrons towards their stockpile.
I am entrusting you with a highly recommended online shopping experience that would let you save your money, eyeball at some mandatory professional solutions of ecommerce, a choice to choose from various available web themes to make you getting started with a dedicated support as well.
Company's Name:

Website: www.prestashop.com
Company's Outline:
Prestashop was launched in 2007; it has its roots in France, Paris, Miami and Florida. The credit goes to Igor Schlumberger and Bruno Lévêque who took the initiative to make the company in order to cater every layman in terms of ecommerce. Since the arrival of PrestaShop, 2.5 million people have so far downloaded the software; this shows its rapid usage and popularity on a massive scale. Reportedly 150,000 ecommerce sites are observed consuming the PrestaShop software for their online shopping stores.
What is PrestaShop?
PrestaShop is free software which is trustworthy, and way too flexible, it is packed with brilliant features to enhance the business sales, keep a quick check on transactions, deals & buyers. Its modern features involve Customizable URL, multi-store and Ajax compatibility.
The tools provided by PrestaShop are handy, consumers can receive shopping reminders, instant checkouts & Email marketing all at once, the worldwide payment methods catered by PrestaShop includes secured transactions through PayPal payment method, First Data, Authorize.net and skrill to meet the standards and to accommodate people via different channels. Prestashop also offers incorporation with eBay, Amazon, Facebook and many more. It has above 300 features to contribute in your online shopping store; you don't need to worry about its pricing as surprisingly each of the features is absolutely free.
User friendly:
Adding a product, its attributes & quality, availability & pricing are put up separately in individual tabs for the ease of the user, you won't find any problem operating & managing any displayed category. In PrestaShop, inserting the info of the goods is as easy as making a simple invoice.
Another user friendly feature is PrestaShop modules. Some of them I personally appreciate are "Live-Chat add-on" Through Live-Chat; your visitors can contact you to resolve the issues they are finding regarding the product. Through 'Amazon Market Add-on', you can get across more customers, enhance your sales and boost your business on a larger scale.
Other top sites like eBay and Google shopping etc. follow the same suit.  'Box Notification (Popup) add-on' is another good module, whenever an event comes, you offer discount packages to your customers, through pop up add-on, and advertisement becomes way too easy. There are several other modules to be explored in PrestaShop.
Experience with PrestaShop: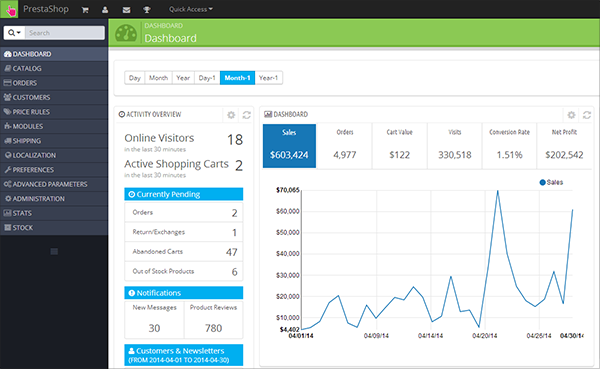 Here comes a complete insight into PrestaShop, how it manages to do everything smartly and comprehensively.
Lets try out prestashop shopping cart demo and take the quick ride.
PrestaShop Dashboard:
In the PrestaShop dashboard, the entire activity overview is depicted, you can eye up to the online visitors, active shopping carts, sales, orders, cart value, total visits, conversion rate and net profit. It is now quite at hand to get the glimpses of return/exchanges, carts, out of stock products, product reviews and new messages sent by customers. The total amount of Traffic and its sources are also mentioned in the sidebar so to keep a check on the unique visitors and their origins.  Who does not want to get everything on the single page? This user friendliness makes PrestaShop more popular.
PrestaShop Catalog:
In the PrestaShop 'catalog' tab, you can eye up to products, categories, monitoring, product attribute, product features, manufacturers, suppliers, tags and attachments.
In the "Add product", give the description of your product type, name, reference code, if you already have barcode of the product, don't forget to mention it too. Give a short description and add tags to the product as well. You get to click on the "prices" to add pricing details. You can also add SEO Meta tags. You can set pricing as per the weight of the product in the "Shipping".
If you have gotten your product photo-shoot, you can upload various images of it through different angles; the best of all images could also be put up as a featured image. Various Product "suppliers" can be added too
PrestaShop Orders: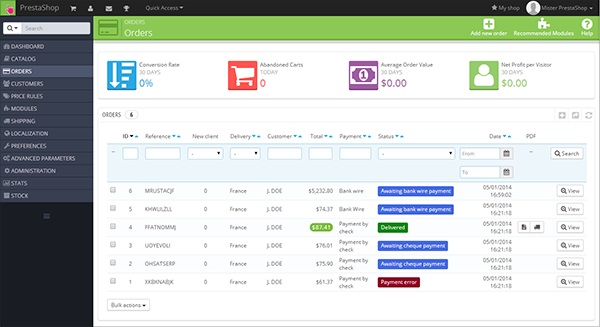 You need to keep a check on the database where orders are shipped/received and pending, in the 'Orders' tab, you can view the already placed orders.  Through "invoices", you can carry out the invoice PDF file of the respective product status either is delivered or not. You can set the returning time limit of your product in the 'merchandise returns". I liked the feature 'delivery slips' here you can print delivered items by exporting the PDF.
Search feature is most impressive of all here, you can surf the client by his name, and by his country as well. You can m also check how many products are ordered from a respective country.
'Statuses' will let you know about those products that are either shipped, received, pending, refund and each and every tiny detail about the product status, you have to visit this section on daily basis. Cater your customers by replying to their queries in the 'order messages' by your customers.
PrestaShop Customers:
In the "customers" section you can see the names of the customers, their addresses & their "groups" as (visitor, guest, and customer). The overview of carts of customers (what products are placed in their carts) can be looked up in "shopping carts" tab. Through "customer service" you will deal with the technical problems occurred in the website, you will also cater all the questions asked by visitors/customers here. Give your details (email addresses) in the "contacts" category so people will contact you for their queries. Through "Titles" you will get aware of the whole number of Mr. /Mrs. Currently present on your site.
PrestaShop Price Rules & Modules:
Here in the price rules section you can add cart rules, catalog price rules and purchase or install freely available add-ons.   You have to go in the module section furthermore to edit the add-ons as per your requirements.
PrestaShop Shipping:
Here you can add several carriers you offer, mention their delivery timings/rates, transit time, speed grade, and put their logos for a better understanding. You can also provide your customers with the tracking URL so they can locate their parcels during the delivery process.
For advance options you need to check out "Preferences" and "Advance Parameters"
If you're selling digital goods, you should mention the downloadable file size, you also need to mention the maximum file attachment/ maximum product image size in the "Administration" section.
PrestaShop Stats:
Stats is the overview of your best customers, best selling products, from which browsers and operating systems they are coming from, products are being bought by people, the available quantities of your products & much more.
Conclusion:
As I have examined and pinpointed each of the tiniest features of PrestaShop in detail to give you a complete insight, usage, proficiency, efficacy and excellence of the software, this would partake you to your own understanding of PrestaShop and how it works. It is by far one of the most profound open source experience to gear up an online store with premium features.
I personally recommend PrestaShop to you folks because it is user friendly, easy to operate, having stunning interface, time-saver due to Ajax compatibility, professional and award-winning software. It would be a great relief that you don't have to go back and forth to pages in order to slog through categories. On a single page, anything and everything can be kept on check. Themes can be switched as per your requirements, you have immense range of add-ons, some are free while others can be purchased, trust me it won't be a bad bargain to undertake since every add-on would bring you closer to a successful revenue generated on your online store.
Support is all the time available to you to sort out the glitches if you come across. It is a most reliable source to place an online store on a larger scale. Its help forum assist many of the users, you can find answers to your problems in the thread messages already being posted. The greatest customer services make PrestaShop friendly and accessible.
If you look through the reviews of PrestaShop available on the web, the feedback is more affirmative than negative. You can contact the team of PrestaShop between 9:00 a.m. and 6:00 p.m. EST, and they will reach out to you in no delay.
Moreover, PrestaShop is also active on their Facebook and Twitter pages; you can interact with its team and concerned department who can guide you to operate PrestaShop. It comes with no bugs that waste time.
Recommended Posts: