It must have happened to you. You are browsing the Internet and just randomly clicking on websites when a truly beautiful website pops up. The website is simply stunning, not because it has something technologically different but just because the designers seemed to have had that classic "Eureka" moment and come up with a quirky new take on a traditional website design. You were so impressed that you actually spent time reading the website even though you had absolutely no idea what the website was promoting.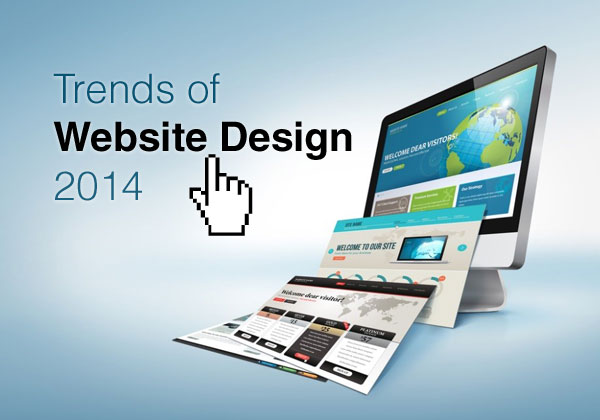 Imagine something like this happening to your website. Can you imagine customers visiting your website and being impressed with quality, color, design and display? Well, why not? As a website owner, it is your duty to make your website as beautiful, attractive and easy to use as possible and this is entirely doable. In fact, revamping your website every six months is a great idea and essential for website freshness. That does not mean you just change the website arbitrarily, but it does mean following the latest web design trends and adding them to your website. Moreover, to help you out, here are the 10 new trends of website design for 2014 that you should consider for your website.
1. Single Page Websites
Single paged sites are here to stay, says 99 Designs. Consider the fact that most people don't have the patience to keep clicking on NEXT buttons. With better image optimization techniques, touchscreen navigation and easy scrolling, single paged websites are here to stay. So infinite scroll is always a good option.
2. Responsive Website Design
Responsive design is also here to stay. There is no question about this as consumers are more likely to use tablets and smartphones to shop online; therefore, hundreds of online entrepreneurs are going with responsive design; moreover, it is not just them but in fact, leading companies like Shopify which offer top-of-the-line ecommerce solutions have started expanding their responsive theme database to cater to the growing demand. With more than seven billion smartphones being used all over the world, a website that does not resize and respond to the smaller tablet — or phablet — mobile screen is not going to succeed.  Here are wide variety of responsive themes to try.
3. Flat Web Design
Flat design is popular and it is going to be around for a very long time. Look at Apple's iOS7 with its dropping drop shadows and gradients and you'll understand why website owners are asking for flat design on their websites.
4. Hero Areas
Large hero areas are getting more popular than sliders. For example, look at websites like Realtii.com and you will understand why hero areas are working as attention grabbers.
5. Full screen Videos and Photography Images
Full screen Videos and images are going to overtake content. Content has always been primary on the Internet, but now full screen videos and images are growing more common by the day. These kind of website designs are becoming very famous in fashion industry and photographers.
6. Simple Content
Simplified content is the norm. As already stated, full screen videos and images are popular, and some huge commercial websites are using minimal content to describe images. Short bursts of content like on Twitter are popular and are already being seen on several websites.
7. Animated Infographics
Animated infographics are picking up in popularity. Simple animated images that describe all the content with a single animation and getting really popular online. Websites owners like to use animated infographics because they are appealing & catchy as compare to static websites.
8. Branded Typography
Branded typography is not new, but websites have now started creating fonts specifically for their websites. Of course, Google Fonts also offers more than a million different free fonts to choose from. Branded typography also indicates that the website is independent and wants to create a unique personal image for itself.
9. Background Images
Background images are also being seen all over websites. Blurred background design images with tweaked content are being seen on several websites and they seem to quickly convey the message to customers. Polygon backgrounds also look beautiful on website backgrounds and headers.
10. Compact or Non-existent Sidebars
Compact or non-existent sidebars are being seen across all websites. Sidebars have always been popular to help consumers navigate to the correct websites. Now, almost 60 percent of websites are doing away with sidebars or limiting them to the bare minimum in the form of sidebar scrollouts.
Of course, just because these are popular trends does not mean you have to add them to your website. Assess each trend for its feasibility for your product and store. Adapt the design only if you are happy about it, and if customers complain, modify or change the design back to the original format immediately. Remember, your customer is king. If they are not happy, even the prettiest site is useless.
Some amazing posts of web design 2014: