I guess Apple has taken this sheer responsibility to provide the consumers with the superlative degree of quality and proficiency, we simply can't believe the accuracy, crispness and excellence Apple offers with each of its gadget and device. It is always a step up and upgraded version of the previous train.
In the market even though big brands are taking up courage and dare to match the height and standard of Apple, they can't touch the charisma it has already obtained.  iOS 8 is reckoned to be the world's top fast operating system because it offers innovation, swift experience, and minute detailing. In iOS 8 you can roll out yourselves with different keyboard experience, you can add up your voice straight into text message, you can also edit and organize your photos the way you want; you will see iCloud and Touch ID differently like never before.
Share with your folks your prime location and the videos you are watching at the moment. iOS8 is a great boost and level up for iPhone, iPad and iPod touch, because you will be able to make shortcuts for all those conversations you want on 'one touch', get connected with people whom you talk to each day through quick shortcuts on your desktop, keep an eye on the apps related to health and fitness and they would work like magic for you seamlessly. iPhone Calls can directly be answered right from Mac or your iPad, the same goes with text messages.  In short, Apple is making life easier, simpler and more convenient with elaborated technology.
Today I am unfolding before you 50 free iOS 8 style social media icons I made lately. I was actually greatly inspired by the icons used in iOS 8 and made few such social media icons set that you can put on your blogs for quick audience's response and connection via social networking websites. Do let us know what you think about them and keep coming back for a lot more in stock for you.
50 Free iOS 8 Style Social Media Icons Retina Ready PNGs & Vector Illustrator Ai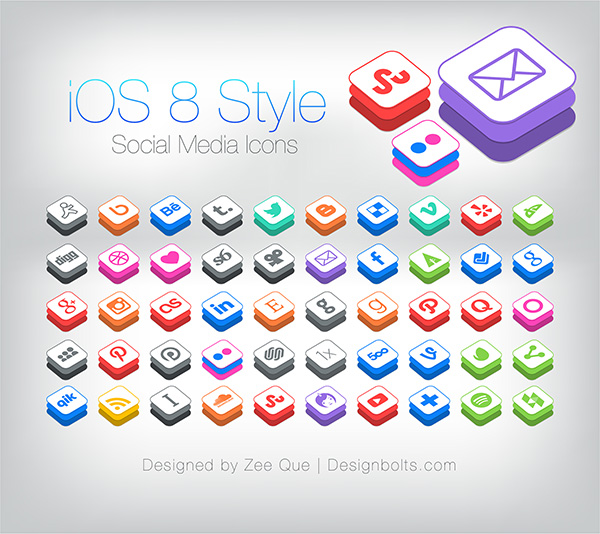 Free Social Media Icons:
Available Sizes:  1024 px for Light & Dark Backgrounds (All icons are named properly)
License: Free for personal use only + (Link Back to this Icon Set)
iOS Style Social Icons
—————————————————————————————————-
Premium Version for only $ 3.00
Available Format:  Vector (.ai) file + PNGs
Available Sizes:  1024 px for White & Dark Backgrounds
License: Creative Commons Attribution 3.0 Unported License (Link back not required)
[paiddownloads id="91″ return_url="https://www.designbolts.com/thank-you/"]
—————————————————————————————————-
More Premium Social Media Icons: