In the world of cyber where technology is stepping up the ladders, blogging is quite a common trend; people are opening up their own websites and accommodating the entire world through various phenomena. Social media icons cannot be avoided, no matter where you place them on the blog; they would for sure gain the gaze of the audiences.
I have been making quite a queue of social media icons and your feedback makes me motivated because somehow or the other, the ones I made, helped you. Nevertheless social media icons are like instruments that if you put them out, how you would gain traffic, that's the question.
The precise answer to this is that, social media icons work like a channel between the traffic (visitors) and the blog, by clicking on them people confirm the notion that whenever a post is updated on the blog/website, they will be able to check in.
It depends on what sort of background your blog has. If social icons are subtle and dull, they would get absorbed in the backdrop. Choose vibrant on light backgrounds, that's a tip to the bloggers. Today I am unfolding before you 50 free polygon social media icons.
Now decide where you want to place them, it may either be sidebar, top header or on the footer of the blog. The websites having dark and light themes both can very well collide with these polygon icons. The entire look of the website/blog is enhanced, elaborated, uplifted and stretched to beauty if complementary social media icons set is used on the podium.
Be prudent; don't make an error while picking up them. They should look eye boggling and intriguing and not rusty or unattractive in the background of the website. I hope you gain more audiences through them. Keep coming back for more such freebies and you won't regret.
Don't forget to Subscribe us for more Free Icons, free PSD and free Vectors.
50 Free Polygon Social Media Icons | 256 PNGs & Vector Ai File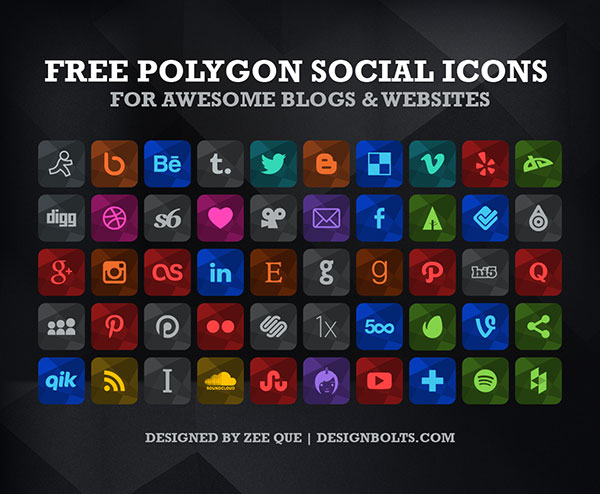 Free Social Media Icons:
Available Sizes:  256 px for both Dark & Light Backgrounds
License: Free for personal use only + (Link Back to this Icon Set)
Free Polygonal Social Icons
—————————————————————————————————-
Premium Version for only $ 3.00
Available Format:  Editable VectorAi  file (Can easily be edited, color or scaled to any size)
Available Sizes:  512, 256, 128, 72 px, (Even beautiful on 32 px)
License: Creative Commons Attribution 3.0 Unported License (Link back not required)
[paiddownloads id="95″ return_url="https://www.designbolts.com/thank-you/"]
Looking for more Social Media Icons styles: