There were many speculations roaming in the air about the new iPhone 6, we came across that the launch date is September 9th, 2014, so the wait is finally over for the iPhone fans that have been so anxious about the unveiling of iPhone6. The specifications of Apple iPhone 6 are dribbling and par excellence. It is the trademark of Apple; that they sell quality, glam, perfection and brilliance.
We are aware of the massive Apple market where no brand can beat Apple in its den. Time and again we get thrilled by the surprising features Apple comes up every year with astounding gadgets, devices and iPhones. Crazy is the fact that Apple breaks its own records too.
Here goes the quick overview of New iPhone 6 & iPhone 6 Plus: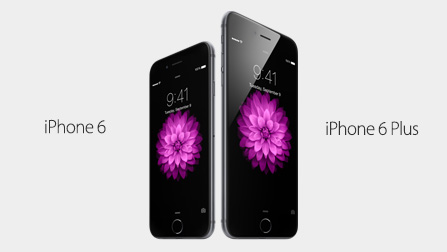 iPhone 6 Features:
There are no such distinct edges to be precisely. The cover glass curves around the sides to meet the anodized aluminum enclosure. Xcode is at the heart of app creation with advanced auto layout tools to help developers work with iPhone 6. iPhone 6 is extremely thinner. iPhone 6 now supports Voice over LTE. iPhone 6 has a barometer that senses air pressure to measure relative elevation.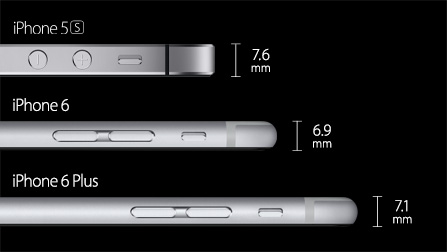 Wi-Fi calling is a new feature for making high-quality calls when cell conditions are poor. With 802.11ac, iPhone 6 Wi-Fi speeds are up to three times faster than iPhone 5s.
iSight iPhone 6 & iPhone 6 Plus Camera: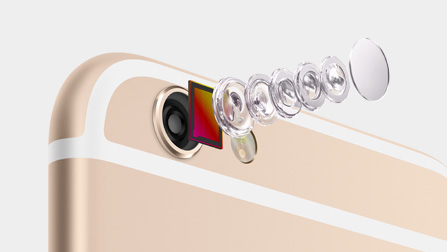 iPhone camera comes with the smashing camera results that captures the pictures with so much detailing, rawness and quality, it has a 8mp camera sensor.  The iSight camera was already incredibly capable. Focus Pixels in the all-new sensor help iPhone 6 focuses faster and better.
The new iPhone 6 And iPhone 6 plus Size & Screen Resolution: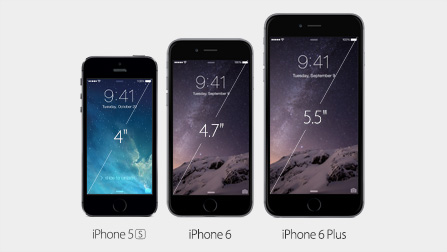 There is a rat race going on between the top smartphones selling brands, each of them is trying hard to bring a bigger screen to cater the people. The new iPhone 6 Plus has a resolution of 1920 by 1080 with 401 pixels per inch. That's full 1080 px HD resolution. iPhone 6 has a 4.7-inch display. iPhone 6 Plus has a 5.5-inch display.
iPhone 6 has over one million pixels. And iPhone 6 Plus has over two million pixels. iPhone 6 is merely 6.9 mm. iPhone 6 Plus is just a smidge more at 7.1 mm. iPhone 6 has a resolution of 1334 by 750 with 326 pixels per inch. For a more than 720p Retina HD display.
iPhone 6 Hardware specifications:
The A8 chip has up to 25% faster processing power and up to 50% faster graphics. Processor performance is 50 times faster than the original iPhone. iPhone 6 is up to 50% more energy efficient, so you can have higher sustained performance.
iPhone 6 Battery Time:
iPhone 6 offers a surprise package with a fantastic battery time.
Introducing Apple Watch with Digital Crown:
Apple iPhone 6 & iPhone 6 Plus comes with Apple Watch for the first time, which is multiplying its charisma. It's a versatile tool that answers the fundamental challenge of how to magnify content on a small display. With the Digital Crown, you can scroll, zoom, and navigate Apple Watch without covering the display. It's an extremely precise and customizable time piece. Apple Watch has a flexible Retina display. Apple Watch is going to change the way we look at fitness. It's going to help a lot of people live a better day and a healthier life. the plus point of this watch is that you can easily send customized emojis, your heartbeat or drawings to your friends straight away. You can track your progress over time in more detail with the Fitness app on iPhone. The Workout app shows real-time stats such as calories, time, distance, and pace for your workouts. Apple Watch measures three aspects of movement. The Activity app shows three rings: one for Move, one for Exercise, and one for Stand. Apple Watch uses the GPS and Wi-Fi in your iPhone to help track your distance. Apple watch will be available in early 2015 for $349.
Apple Watch Images: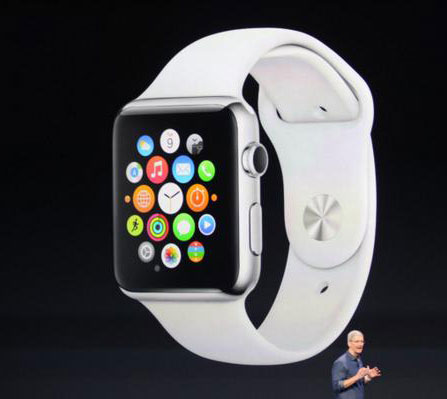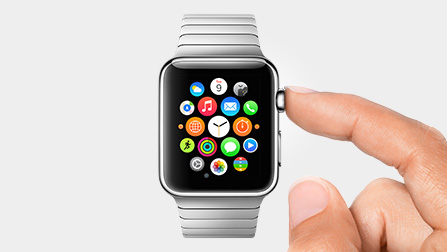 iPhone 6 Price: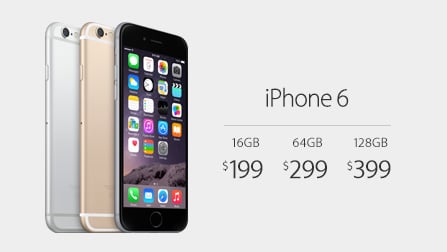 Well it is hardly possible that the quality of a good device would be cheaper so is the case with iPhone 6.
iPhone 6 16GB price = $199
iPhone 6 64GB price = $299
iPhone 6 128GB price = $399
iPhone 6 Plus Price: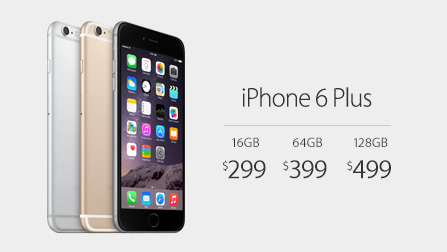 iPhone 6 Plus starts at $299 with a two-year contract. It comes in gold, silver, and space gray.
iPhone 6 Plus 16GB price = $299
iPhone 6 Plus 64GB price = $399
iPhone 6 Plus 128GB price = $499
iPhone 6 Availability
iPhone 6 is available in the markets from 19 September, 2014 in USA, Canada, UK, France, Germany, Australia, Hong Kong, Singapore & Japan.
New iPhone 6 & iPhone 6 Plus Images: