Microsoft announced the official arrival of Windows 10 in the middle of next year that is a bit not early. Although through a Windows insider program unveiling on Wednesday, fans would be able to download the technical preview before the actual launch of Windows 10.
We can hope for its user friendliness, more compact nature and surprising features, because that's what we expect from Microsoft. The response of people is neutral but overwhelming. Keeping the design and layout of Windows 10 in my mind, I have designed 130 free Windows 10 style social media icons.
Social media icons have become a mandatory aspect of a blog/website. Considering a body without a soul is impossible, rather it would lose all its importance and meaning likewise taking a blog having no social media icons would lose its charm.
Bloggers are very keen on making the right choice about social media icons set because they make the entire look of the blog; in short they are not only impression builder but also audience booster. They should be enticing and attractive for the visitors so they would click on them and get connected to your online platform through the channel provided by social networking icons' set.
I have been making various sorts of icons to accommodate the diverse sorts of blogs. Today's post is dedicated to both light & dark themed websites/blogs. You can check these 130 Windows 10 style social media icons; they would complement the dark and light backgrounds of the blogs equally.
Just be hassle free and take the tour down to gaze at the awesome newly designed social media icons set. Do let me know if they helped you out regarding the escalation of visitors (audiences) on your blog/website. Keep coming back or more such stuff in future.
Don't forget to Subscribe us for more Free Icons, free PSD and free Vectors.
130 Free Windows 10 Style Social Media Icons | Vector Ai + 512 px PNGs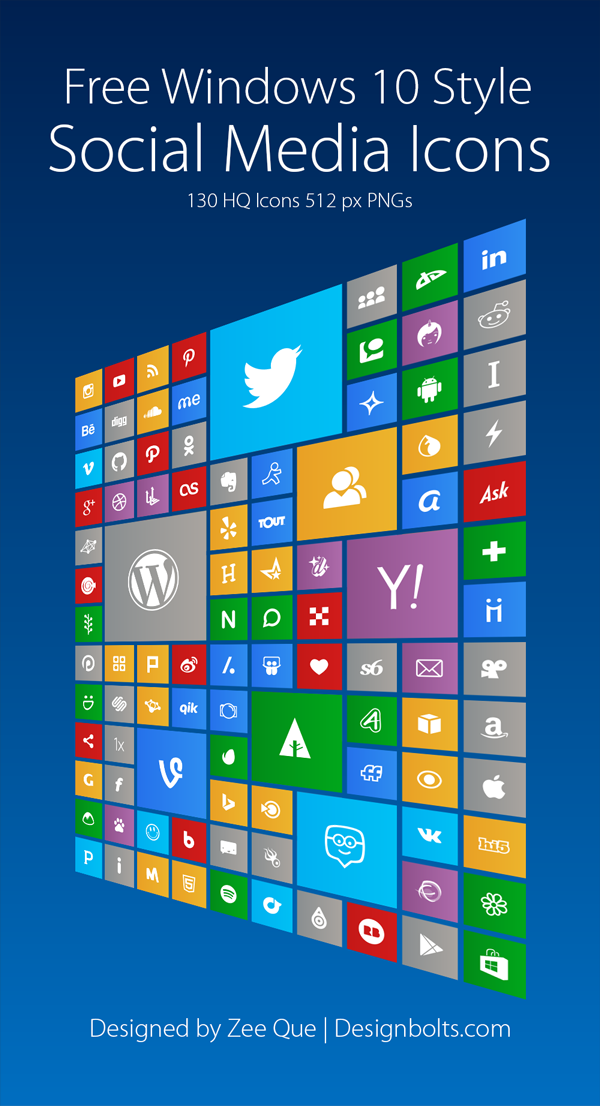 Free Social Media Icons: [60 Icons]
Available Sizes:  512, 256, 128, 72 px for both Dark & Light Backgrounds
License: Free for personal use only + (Link Back to this Icon Set)
Flat Social Icons
—————————————————————————————————-
Premium Version for only $ 6.00 [130 Icons]
Available Format:  Editable VectorAi  file (Can easily be edited, color or scaled to any size)
Available Sizes:  512, 256, 128, 72, 48 px (Looks beautiful on 32 px)
License: Creative Commons Attribution 3.0 Unported License (Link back not required)
[paiddownloads id="99″ return_url="https://www.designbolts.com/thank-you/"]
Looking for more Social Media Icons styles:
Tags: windows 10 icons, social media icons, free social icons, social icon set