There will be a time from now onwards when all of us would be breathing a life in space because that's what is left besides, technology has casted its wonders and we are familiar with the updated and upgraded versions of technology. It is mounting and going ahead better than before.
In this world of geek where every other day a big brand launches a new smartphone and a new super gadget, it makes us wonder what to buy as all seem equally enticing & alluring to the eyes.
But we must be prudent enough not to invest the money on a wrong device. Here I am presenting before you free Vector Google Nexus 6 Mockup and you will know how far this device is apt for your pocket suiting your demands & total need.
Google recently launched its bedazzling Nexus 6 which is commendable with its bigger screen, best audio experience, and fantastic camera with finest images' stabilization. The outlook is sophisticated, and the appeal is magnificent. It is a pleasurable & smarter technology experience at hand. Nexus 6 is certainly a must have.
You can use this mockup in your personal and commercial projects for free. In techno terms, Nexus 6 has done its entire job. It is available for pre-booking in the late October. So get your pennies drop with the upcoming purchase of Nexus 6.
I am sure it is going to tarnish every other device with its quality, standard and excellence. So let's switch to this new and charismatic unveil of Nexus 6 this year. Have a look down at the Google Nexus 6 mockup. To stay updated, for more freebies, keep yourselves locked up to the blog. We are here to accommodate you at our best!
Do subscribe us for more free icons, free vectors and other fresh graphic goodies.
Free Google Nexus 6 Vector Mockup (Ai & EPS) | Black & White Both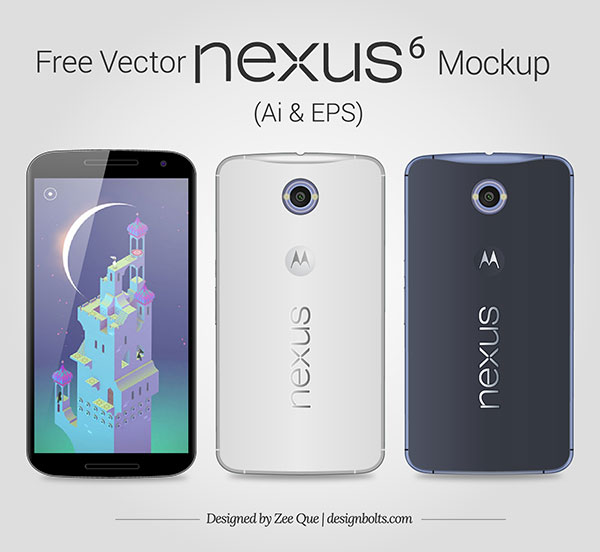 File Format: Adobe Illustrator CS3 (.ai, eps)
Licence: CC Attribution-Noncommercial-No Derivate 3.0 (For commercial projects link back to this mockup )
More Awesome Free Vectors Download:
 Tags: google nexus 6, nexus 6 mockup, nexus 6 vector