There are a lot of ways by which people and owners of brands draw people's attention towards their products. It is a tactic used in the process of advertising and marketing because unless a thing is presented before the eyes of people in an inviting way, they won't get the idea what your product is all about and how it can suit their needs.
In the cyber world where there is a lot of hustle and bustle, a rat race is going on between blogs. Every blogger wants his blog to go over to the cloud nine and for this, he keeps on beautifying his website/blog so it can come up in the search engines and he can earn a great deal of audiences out of it on daily basis.
There is nothing bad in doing so because each of blogger deserves a good and renowned place in the world of blogs. Now a single person is running almost a long chain of blogs and he wants maximum favor by the audiences so they may become the daily visitors of his blog. There are certain ingredients that can make a blog stand out and win over the presence of visitors. It is none other than the sublime social media icons.
These are like food, air and water to a person; they are like colors of rainbow that light up a blog. Social media icons are one of the cardinal aspects of any blog. So always be prudent to choose the best icons' set for your blog. Today I am bringing before you free cute shaded social media icons for 2015 blogs & websites.
These cute shaded social icons will look good on dark and light themed websites equally. They won't get absorbed rather they will make their existence noticeable. I hope you will have a pleasure watching them. Also check the social media icons I made previously.
These are my efforts to make you feel easy and provide you with variety of social media icons that can match up with the background of your blog/website. Have a look at the collection.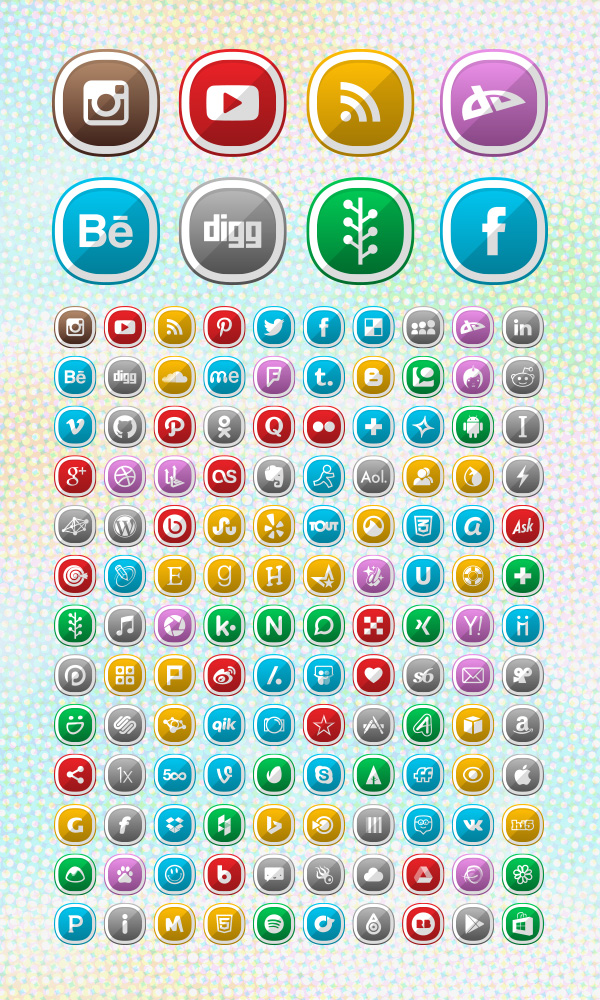 Free Social Media Icons:
Available Sizes:  512 px for both Dark & Light Backgrounds
License: Free for personal use only + (Link Back to this Icon Set)
Cute Shaded Icons 
—————————————————————————————————-
Premium Version for $ 6.00 only $4.00 [130 Icons]
Available Format:  Editable VectorAi  file (Can easily be edited, color or scaled to any size)
Available Sizes:  512 px
License: Creative Commons Attribution 3.0 Unported License (Link back not required)
[paiddownloads id="102″ return_url="https://www.designbolts.com/thank-you/"]
Looking for more Social Media Icons styles: