Events are reserved for particular days in the entire year so people can make full use of the happenings and celebrate them to the maximum. No matter how big or small an event is, if it scatters around love, it becomes special and way too adorable. Valentine's Day is one of those days when people can't resist the temptation to enjoy it thoroughly.
It is not compulsory that you will be celebrating it only when you have your other half around you. Even if you are single, you can still make best on February 14th, you can greet and make your friends feel special because it is a day to give gratitude and due affection to those who deserve it the most in our circle.
Grab a bouquet of red roses, a nicely wrapped chocolate box, maybe a coco donut, pastry, muffins or any sweet thing would do just fine to give elation. Surprise your mates, family and friend like never before with a delightful treat. Don't forget one of the most fundamental aspect of February 14th and that is, greeting cards. You can design handmade greeting cards to send away to your loved ones and they will love the effort being done for them. What more a lover can want other than that?
Today I am unfolding before you 20 Free Valentine's Day 2015 Love Icons. You can use them in your personal or commercial projects. These icons are very cute and depicting Valentine's appeal as red color is reckoned to be a color of February 14th.
Do let us know how much interesting you have found this collection and I will be bringing more cool stuff for your interest in future as well. I wish you all a very comfy and warm Valentine's Day with your mates. Make their day as happiest as possible; present them with cute big & little gifts to cast a lovely grin on their faces. Let the Cupid play the role and hit the heart that is ready to fall in love.
20 Free Valentine's Day 2015 Love Icons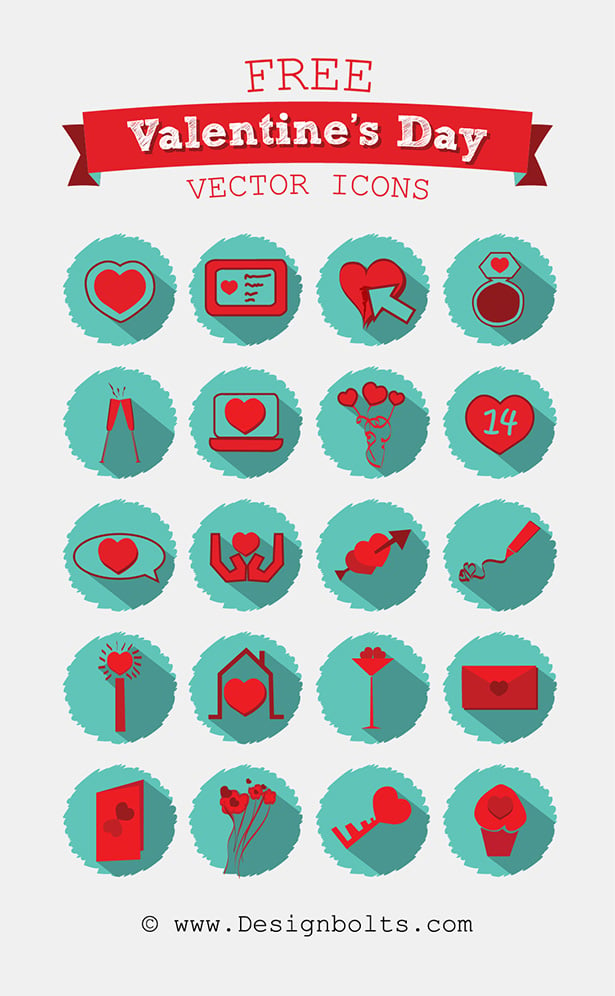 Free Valentine's Day Icons: [20 Icons]
Available Sizes:  1024 px for Light Backgrounds
Available Format: PNG Icons, Vector Ai File, Vector EPS File
License: Free for personal & Commercial use + (Link Back if you use online)
Valentine PNG Icons 
Valentine Vector Icons 
 More Free & Premium Icons 2015:
 Tags: valentine's day vector icons, love icons, valentine icons, valentines's day 2015 icons