Designers come across various tasks every day; some clients they meet almost eat up their brains and suck up their all energies. All such clients want pitch perfection and a complete redo of the design. At times it becomes almost unbearable for a designer to cater all these hasty demands, obviously he maybe all ears to what his client is demanding but cannot totally rely on the client's terms only, a designer also puts in his creative imagination to make a professional work piece.
People use a variety of advertising tactics to come into terms with consumers and to accommodate masses. Billboards, posters and roadside outdoor placards are used as emblems to give a shout out to "what it stands for" & "which stance it has to depict".
Millions are spent on advertising because that's the only way to make people familiar about your pursuits and excellence. Designers are hired for this to carry out the advertisements and other advertising tools so the market value will be gained and more people will become aware of the product/firm in the most convenient way.
I have been unfolding some really useful Free PSDs for all the designers so you can insert your own graphic design into these mockups for the sake of presentation purposes, it will become way too easy for you and you won't have to fret over every tiny aspect since it is already made.
All you have to do is to put in your design and show it to your clients for his satisfaction or to the organization/ business firm, to whom you are supposed to introduce your design capability. We will be bringing forth more of these kind of posts so you can get benefit from it.
Your response is always appreciated it makes us know we are doing well. Just stick around and do give us your feedback!
Don't forget to subscribe us for more free icons, free Vectors and other fresh graphic goodies.
Free High Quality Outdoor Poster Mock-up PSD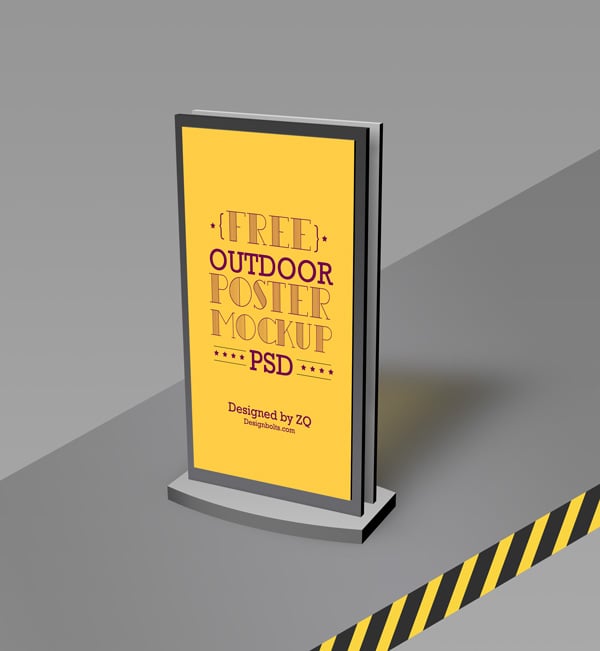 Available Format: Adobe Photoshop PSD (Version CS 6)
License: Free for personal and commercial use (Link back if possible)
Note: Linkback required for sharing online.
Designed by Zee Que | Designbolts.com
Outdoor Mockup
More Free High Quality Freebies
Tags: free mockup, mockup psd, outdoor mockup