Whenever we create emoticons we should keep this thing in mind that we allow ourselves to publicly execute the emotions one goes on with while they are texting someone, or are in a conversation with, but when emoticons are sent as part of a normal text message, they are sometimes being classified as images, thereby making the message a multimedia one, and the cost of these [MMS messages] is not included in any data packages. These emoticons will give you a perfect experience of having to express in a really good way . With the limited characters currently available on iPhones, custom emoji have become incredibly popular, including full sets for the emotions depicted in emoticons. Except, we quickly realized, they came with one giant flaw.We couldn't actually use them in real life.
According to Wikipedia Emoji are the smileys used in Japanese text e-messages meaning pictograph, the word emoji literally means "picture" (e) + "character" (moji). They are so, darn cute we love them and love to hate them.
Emoji meaning:
For those of you who may not be familiar to this phenomenon let me back it up for a bit. Emoji is the Japanese term for emoticons. You know emoticons, the cute little pictures we type in emails, test messages, and message board posts. Just to take it a little deeper, the "e" in emoji means "picture" in Japanese and the "moji" in emoji means letter in Japanese. See how that all works out nice and neat?
Icon Set Includes:
Amazed icon, Anger icon, blank icon, blushing icon, consoling icon, cute icon, gad icon, happy icon, helpful icon, helpless icon, nervous icon, rage icon, sad icon, sadistic icon, sadness icon, unbelievable icon, weird icon, whining icon, wink icon.
Subscribe us for more free icons, free Vectors, Free PSD and other exciting stuff.
20 Cool Free Vector Emoticons (Emoji) Icons in EPS, Ai & PNGs Format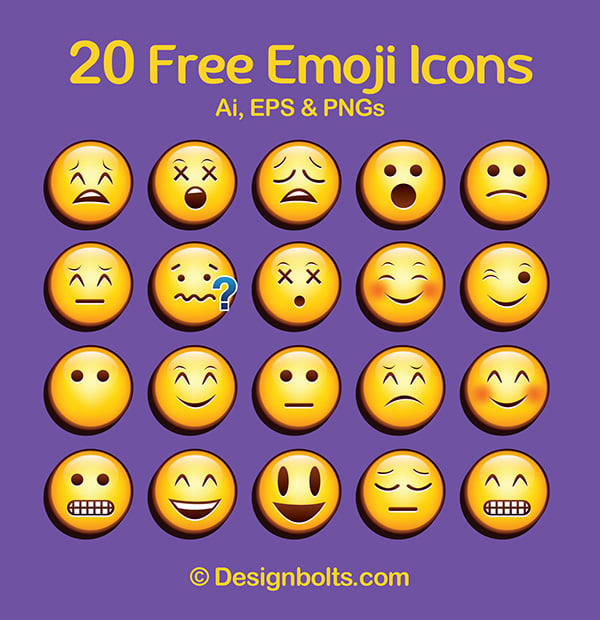 Available Format: Adobe Illustrator (Version CS 2)
License: Free for personal and commercial use (Link back if possible)
Note: Linkback required for sharing online.
Designed by the team of Designbolts.com
Free Emoji PNG Icons 
Free Vector Emoji Icons 
More Free High Quality Freebies