Social media icons are one of the preliminaries what bloggers think about, before setting up a blog. Now the icons have become indispensable that one can hardly imagine moving ahead without keeping social media icons set intact to the blog. The very presence of social media icons gives an ardent pull to the viewers; the number of audience is uplifted and the beauty of the blog is enhanced by having them pasted on the blog.
They make the stance of the blog more vivid and vivacious. Always choose the right and appropriate set of icons for your blog, they should be complimenting the blog theme so icons don't get absorbed in the backdrop rather they have to be eye popping and mind boggling so the more attention they clutch the more audience will be able to click on them to become a part of the blog.
Social media icons actually provide a channel to get connected to the blog via social networking sites. One can easily get up to date about the latest posts on the blog and give a quick visit back to it through these icons. Today I am unfolding before you 150 free high quality glossy social media icons.
These icons will look equally good on dark and light backgrounds of the blogs. So the themes that are darker or dimmer will accommodate these social networking icons correspondingly. Social media icons will be way too fruitful for your blogs so place them right on the top, in the sidebar or on the footer, wherever you think they will look captivating.
Have a look at the collection and do let me know how much you have found these glossy icons' set fit and a right match for your blog. Give us your feedback and let us have a clear view what more should we showcase in future for all of you.
 150 Free High Quality Glossy Social Media Icons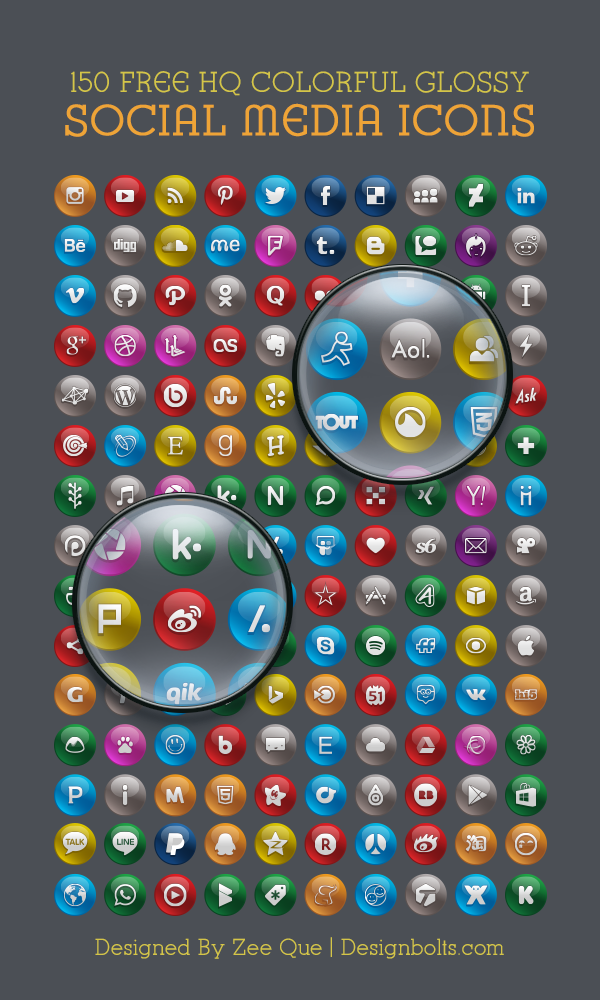 Free Social Media Icons:
Available Sizes:  512 px for both Dark & Light Backgrounds
License: Free for personal use only + (Link Back to this Icon Set)

—————————————————————————————————-
Premium Version for only $7.00 [150 HQ Icons]
Available Format:  Editable VectorAi  file (Can easily be edited, color or scaled to any size)
Available Sizes:  512 px
License: Creative Commons Attribution 3.0 Unported License (Link back not required)
[paiddownloads id="108″ return_url="https://www.designbolts.com/thank-you/"]
More Awesome Free Social Icons: