Every field demands from a person—his total inclination, his focus and how well he carries out his task. In the busy routine of the world, where nobody has enough time to 'stand & stare' some artistic souls still exist, who take time out of the humdrum and enjoy the beauty of nature around. Artists are always chirpy, lively and full of flamboyance.
They know how to live life to the fullest, they take pleasure out even from minute things, and they observe every tiny object to extract the positivity out from every possible thing. That is how they get along with their life and this is the reason they perform really well in their day-to-day tasks.
Graphic designer are artistic souls, they know how to create something magical out of awfulness, and they know the ways to turn an ugly thing into something really beautiful. Graphic designers time and again have to make logo designs, business cards and typography posters so they always look up for inspiration from the experts and professionals. It is basically a way to get ideas that how well a design can be made.
Graphic designers meet up with tons and tons of clients on daily basis; majority comes with the demand of making an apt business card for them to be their landmark. A business card is more like a spokesperson , it holds a company's stance and perspective so it has to be stunning and well made in its appearance that only by seeing one can assume what the company is all about, how does it work and what are its objectives.
Today I am unfolding before you beautiful free business card mockup PSD file. Have a look down at it, you can insert in– the respective business card which you want to present before your client. Remember, presentation is all that matters!
High Quality Free Business Card Mockup PSD File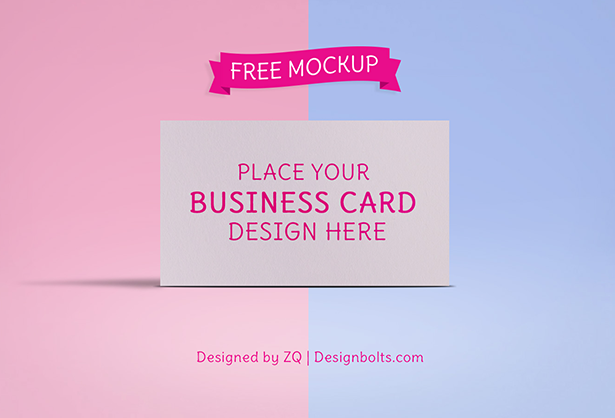 Available Format: Photoshop PSD
License: Free for personal and commercial use (Link back if possible)
Note: Linkback required for sharing online.
Designed by Zee Que | Designbolts.com
Business Card Mockup
Buy me a coffee if you like my Freebies 🙂

More Free High Quality Freebies