Photography has taken the form of a profession. Now people are inclined to learn the art of photography. Holding a pen cannot make you a writer, cooking noodles can't make you a cook likewise holding a DSLR camera can't make you a photographer.
You have to get this skill through proper tools, functions and practice to get the best results. Photographers prefer tripod/monopod stands to place their cameras just to avoid hazy or blurry images. The more static a camera is; the more quality will be attained in the snapshots.
Male photographers want their tripod/monopod stands to be firm and portable. Female photographers want their tripod stands to be of light weight so they can easily pick it up. Tripod stands should be handy that's why I am bringing before you top 10 best DSLR camera tripods & monopods you should not miss.
1. Ravelli APGL4 Professional 70 Inches Cheap Camera Tripod for DSLR | Best Travel Tripod So far
Description: This camera tripod stand has quick release camera plate with pistol grip tilt adjustment head; it also has a quick release leg locks for proper accommodation. Quick release center column makes it a best choice to be picked. If you are looking for quality with economy this is the best choice, so there is no need to check out the list.
2. AFAITH Professional SLR Camera Tripod & Monopod With Ball Head | Best carbon fiber Tripod for outdoor
Description: This professional camera tripod/ monopod will be double securing your camera from any accidental dropping. So relax and keep your hands on it. It has a portable pocket and it is very easy to carry! This is actually the one i bought last month. Quality tripod with best price!
3. Gitzo GT2542 Mountaineer Tripod Series 
Description: What to say about this tripod stand mountaineers most popular choice, it is simply the best tripod stand with reversible column. There is built in hook. Support nearly 20 Kg. Made with carbon extract. Extremely rigid with light weight. What a handy experience! A Touch expensive but top quality, worth to buy.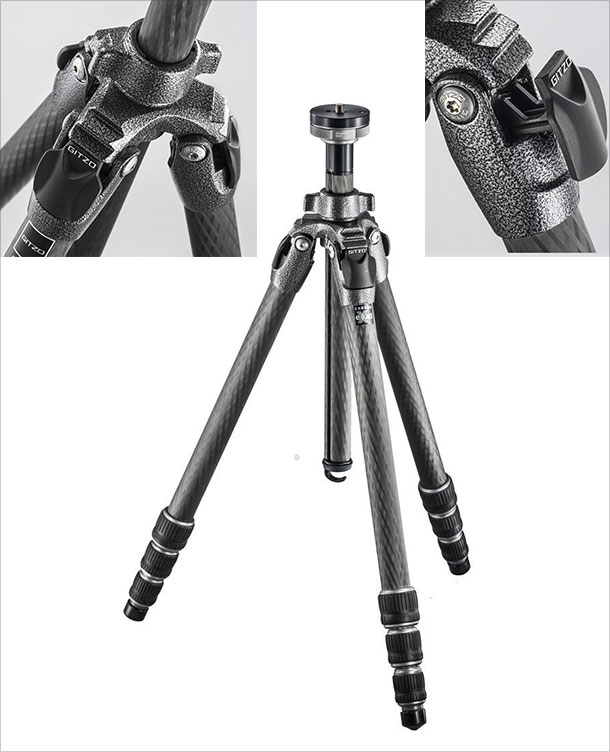 4. Ravelli APGL5 Professional 65 Inches Ball Head Camera Video / Photo Tripod / Monopod with Quick Release Plate
Description: This tripod stand will provide a solid base for high-end photographic equipment. This model is made from pure Aluminum to create a light weight so it will be easier to carry it all along the way. Dual foam grips, quick release leg locks and the best part it is lighter as well not like other heavy aluminum tripods.
5. XCSOURCE  Magnesium Aluminium Alloy Tripod / Monopod & Ball Head SLR Camera for All cameras including Canon, Nikon, Pentax & Sony
Description: This traveler tripod is simply best with ball head design. It will be an apt choice for outdoor photograph activities, which is going to make your trip more enjoyable. Weight is just above 1Kg, with 8Kg load capacity. So why not to give it a try?
6. Magnesium PRO 62″ DSLR Digital Camera Tripod with Detachable Monopod
Description: This tripod is ready to bedazzle you; it is very well constructed aircraft-grade with Magnesium Alloy for durability, sturdiness, and light weight. It will be a very pleasurable experience for the photographers to have it. Compatible will almost all Canon, Nikon & Sony DSLR and SLR cameras.
7. MeFoto Aluminum A1350Q1RWB Roadtrip Travel Tripod Kit
Description: I am totally impressed by this form of road trip travel tripod kit. It comes with two leg angle positions & 360 Degree panning; there is a carry case with shoulder strap included to make it convenient. If you are looking for an Aluminum Tripod with Monopod this is the best choice comes with many colors. One of the best Travel camera Tripod so far.
8. Koolehaoda Kq-999 Lightweight Travel Camera Tripod
Description: It is the best choice Gold version koolehaoda Tripod for outdoor photograph activities. It comes with flexible handling that makes your trip more gratifying. It has magnesium alloy legs and magnesium alloy composition. Also good for macro shooting.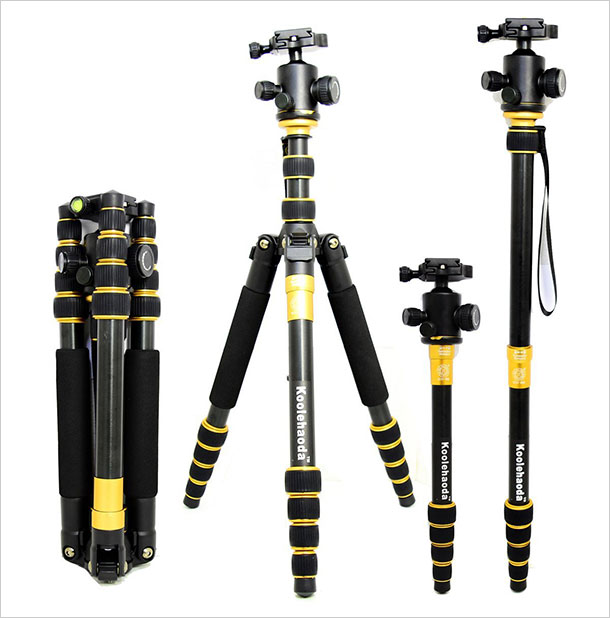 9. Koolehaoda Carbon Hydraulic Tripod / Monopod for DSLR
Description: Professional camera tripod panoramic head has 360-degree scale, to facilitate the splicing of the shooting. Removable quick-release plate, comes with 1/4 "screw, suitable for all SLR cameras; ball head comes with a 1/4-3/8" adapter screw at the bottom, can be widely applied to numerous specialized tripods.
10. MeFoto A1350Q1T Roadtrip Travel Tripod Kit (Titanium) Heavy Duty
Description: It's available in eight different colors and can be used for many dissimilar style cameras such as: point and shoot, mirror less and DSLR with a zoom lens. The 'RoadTrip' comes with a dual action Q series ballhead with Arca-Swiss style quick release plate. There is shoulder strap also included in the package. This is one of the most premium Heavy Duty Tripod Kit on the list and my next choice is Mefoto Titanium.
I am sure now you have a diverse range to go with as per your own choice's camera tripod/monopod stand. Feel free to give us your feedback. Make the direct purchase from the respective website and have an awesome photographic experience.
 More Stuff You would love to buy:
 Tags: Best tripods, Best tripod, Best monopod, Best Monopods, Buy best tripod, DSLR Camera Tripod, DSLR Tripod