Being a graphic designer I have to deal with various tasks each day and my best efforts are done to fulfill what is demanded from me. I cater and accommodate all of you and hold you all in reverence because your feedback makes me know what more I have to be unleashing in the future posts and it makes me know about your interests as well.
Social media icons are now considered to be the cardinal aspect of a blog because they provide a source, to be precisely, a channel to get connected to the blog and get latest updates through social networking sites that are associated with the blog. I have been designing tons and tons of variety that suits both dark and light backgrounds.
It is up to you to decide which pack will settle the most onto your blog. Today I am unfolding before you 150 free & Premium transparent social icons that are especially made on your demands; I got a chain of messages where people were showing great interest to get more of this kind. I am deeply overwhelmed and thank you all for the appreciation. So here is a bonus for all those who wanted to have them.
These transparent social networking icons will complement dimmer & lighter tone backgrounds and themes of the blogs. You can place them on the top, in the sidebar or on the footer. The main aim is to attract the visitors so they can click on them and stay hooked to the blog via networking sites.
It is a great way to hold a big amount of people that will be visiting your blog over and over. Besides, these social media icons are a tremendous help to escalate the audiences and obviously it will do a good turn in the long run. It enhances the stance and overall feel of the blog. Take a look down here and do let me know how far you have found these appropriate for your blogs?
Do subscribe us for more free icons, free Vectors and other great graphic extravagances.
Free 40 Transparent Social Media Icons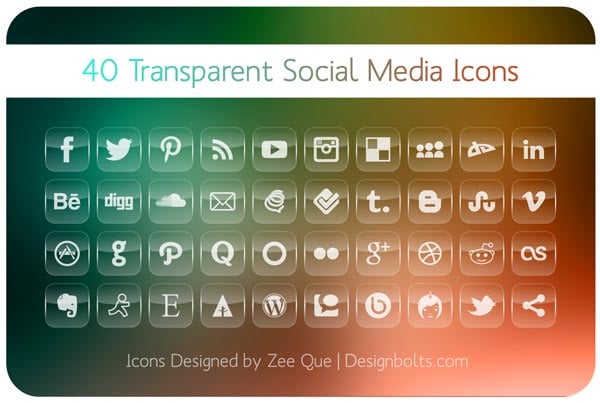 Free Social Icons Version:
Available Size: 48, 56, 72, 96, 128, 256, 512 px (Only for Dark Background)
License: Free for personal use only + (Link Back to this Icon Set)
New Icons Added: Imgur Icon, Dropr Icon, Houzz Icon, Pandora Icon, Spotify Icon
Transparent Social Icons
Premium 150 Transparent Social Media Icons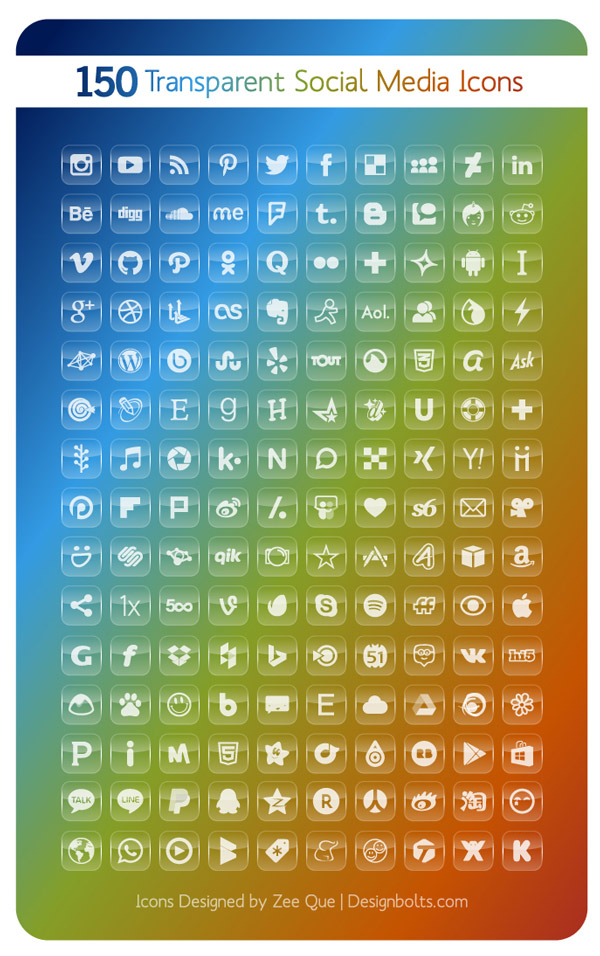 Premium Version for only $ 7.00 [150 Icons]
Available Format:  Vector (.ai) file (Dark Backgrounds)
Available Size: 56, 128, 256, 512 px
License: Creative Commons Attribution 3.0 Unported License /(Included in the file)
[paiddownloads id="111″ return_url="https://www.designbolts.com/thank-you/"]
200+ Glossy & Transparent Social Media Icons

For only $ 15.00 [200+ Vector social icons]
Available Format:  Vector (.ai) file (Light / Dark Backgrounds) Very easy to edit
Available Size: 512, 256, 128, 64, 32 px
License: Creative Commons Attribution 3.0 Unported License /(Included in the file)
[paiddownloads id="121″ return_url="https://www.designbolts.com/thank-you/"]
—————————————————————————————————-
Following icons are included in 150 icon set:
1x Icon
500 px Icon
Aim App Icon
Aim Icon
Amazon Icon
Android Icon
Aol Icon
Apple App Store Icon
Apple Icon
Arto Icon
Ask Icon
AWS Icon
Baidu Icon
Basecamp Icon
Bebo Icon
Behance Icon
Bing Icon
Blinklist Icon
Blip Icon
Blogger Icon
Bloglovin Icon
Bnter Icon
Buddypress Icon
Carbonmade Icon
Cloud App Icon
Coroflot Icon
Delicious Icon
Designbump Icon
Designfloat Icon
Designmoo Icon
Deviantart Icon
Digg Icon
Kaixin Icon
Rdio Icon
Kakaotalk Icon
Line Icon
Paypal Icon
Diigo Icon
Dopplr Icon
Dribbble Icon
Dropbox Icon
Dropbox Icon
Dzone Icon
Edmodo Icon
Email Icon
Enveto Icon
Etsy Icon
Evernote Icon
Facebook Icon
Flickr Icon
Flukle Icon
Formspring Icon
Forrst Icon
Foursquare Icon
Frendster Icon
Friendfeed Icon
Fresqui Icon
Friendster Icon
Gamespot Icon
Github Icon
Goodreads Icon
Google Drive Icon
Google Plus Icon
Google Play Store Icon
Grooveshark Icon
Houzz Icon
Hyves Icon
HTML3 Icon
Hi5 Icon
QQ Icon
Qzone Icon
Rakuten Icon
Renren Icon
Sina Icon
ICQ Icon
Identi.ca Icon
Instagram Icon
Instapaper Icon
iTunes Icon
Kik Icon
Lastfm Icon
Linkedin Icon
Livejournal Icon
Metacafe Icon
Myspace Icon
Netvibes Icon
Newsvine Icon
Ning IconOrkut Icon
Odnoklassniki Ok Icon
Pandora Icon
Path Icon
Photobucket Icon
Picasa Icon
Pinterest Icon
Plaxo Icon
Plurk Icon
Flipboard Icon
Qik Icon
Quora Icon
Ravelery Icon
Redbubble Icon
Reddit Icon
ReverbNation Icon
RSS Icon
Share Icon
Taobao Icon
Tudou Icon
Website Icon
Whatsapp Icon
Youku Icon
VK Icon
Skype Icon
Slashdot Icon
Slideshare
SmugMug Icon
Society Icon
Soundcloud Icon
Specificfeeds Icon
Spotify Icon
Spring Me Icon
Squarespace Icon
Squidoo Icon
StumbleUpon Icon
Technorati Icon
Tout Icon
Tribenet Icon
Tumblr Icon
Twitter Icon
Twylah Icon
Ustream Icon
Viddlr Icon
Vimeo Icon
Vine Icon
WordPress Icon
Weheartit Icon
Weibo Icon
Windows Store Icon
Xanga Icon
Xing Icon
Yahoo Icon
Yelp Icon
YouTube Icon
Blogmark Icon
Creativemarket Icon
Meneame Icon
Travbuddy Icon
Tagged Icon
Wix Icon
Kickstarter Icon
—————————————————————————————————-
Looking for more Social Media Icons styles: