Social media icons are like nuts and bolts of a blog. These days you can never negate this fact that without these icons' set there will hardly be any chances to live up to audiences' demands and to fetch them on daily basis to the blog. Social network icons provide a direct channel to the audience through which they can hold onto your blog via social networking sites.
This actually works like wonders for a blogger to bring people to his blog because once they begin to follow you through subscription they will pay you a visit over and over and what would be more apt than having a lot of followers who will actually look through what you have come out with? I have already designed plenty of social media icons that are suitable for diverse themes and backgrounds of the blog.
Today I designed something for girls' blogs. Pink and purple are the colors reckoned to be of girls. They keep having these colors in their wardrobes and whatever they get. So we can name pink and purple as girly colors. All the girly blogs having adorable themes will for sure be great companion with these icons.
You can get them attached to your blog, either on the bottom, top or in the sidebar. It depends where you want them to be since they are eye popping and attractive, wherever you place them they will eventually turn out to be magical. Have a look at the collection. Try out any of these icons' set to give a boost to your traffic.
As social icons are the best ingredients to build a positive stance and outlook of the blog, why not to give them a go? Stick to us and you will not regret your time here. As our best endeavors are done to update you as much as we can!
300 Pink & Purple Girly Free Social Media Icons | 512 Px PNGs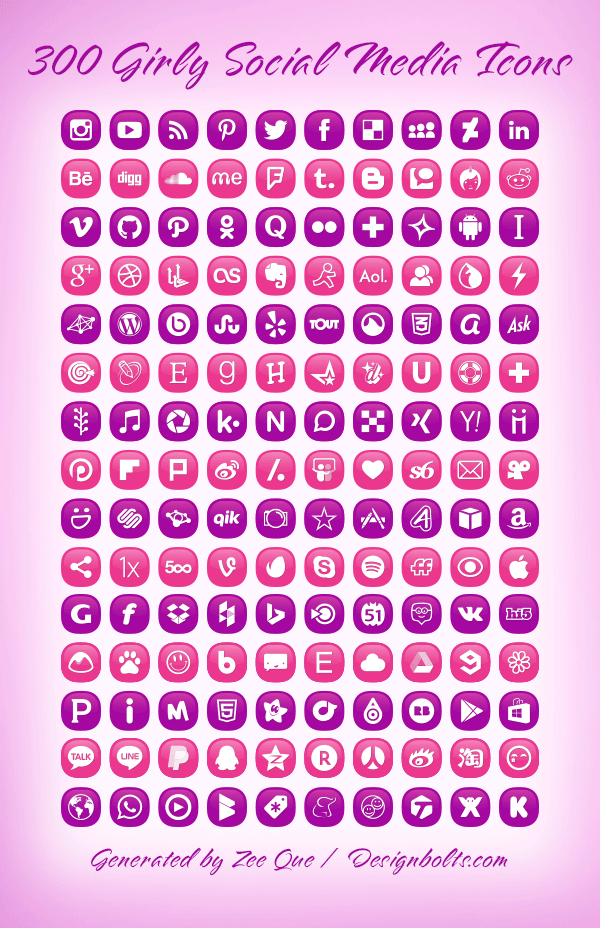 Free Version [300 PNG Icons]
Available Format:  PNGs (Dark/Light Backgrounds)
Available Size: 512 px
License: Free for Personal use
Pink Social Icons
Purple Social Icons
Premium Version for only $ 9.00 [300 Vector Icons] | Pink & Purple
Available Format:  Vector (.ai) file (Light / Dark Backgrounds) Very easy to edit & can give desired colors
Available Size: 512 px
License: Creative Commons Attribution 3.0 Unported License /(Included in the file)
[paiddownloads id="114″ return_url="https://www.designbolts.com/thank-you/"]
Following icons are included in 150 icon set:
1x Icon
500 px Icon
Aim App Icon
Aim Icon
Amazon Icon
Android Icon
Aol Icon
Apple App Store Icon
Apple Icon
Arto Icon
Ask Icon
AWS Icon
Baidu Icon
Basecamp Icon
Bebo Icon
Behance Icon
Bing Icon
Blinklist Icon
Blip Icon
Blogger Icon
Bloglovin Icon
Bnter Icon
Buddypress Icon
Carbonmade Icon
Cloud App Icon
Coroflot Icon
Delicious Icon
Designbump Icon
Designfloat Icon
Designmoo Icon
Deviantart Icon
Digg Icon
Kaixin Icon
Rdio Icon
Kakaotalk Icon
Line Icon
Paypal Icon
Diigo Icon
Dopplr Icon
Dribbble Icon
Dropbox Icon
Dropbox Icon
Dzone Icon
Edmodo Icon
Email Icon
Enveto Icon
Etsy Icon
Evernote Icon
Facebook Icon
Flickr Icon
Flukle Icon
Formspring Icon
Forrst Icon
Foursquare Icon
Frendster Icon
Friendfeed Icon
Fresqui Icon
Friendster Icon
Gamespot Icon
Github Icon
Goodreads Icon
Google Drive Icon
Google Plus Icon
Google Play Store Icon
Grooveshark Icon
Houzz Icon
Hyves Icon
HTML3 Icon
Hi5 Icon
QQ Icon
Qzone Icon
Rakuten Icon
Renren Icon
Sina Icon
ICQ Icon
Identi.ca Icon
Instagram Icon
Instapaper Icon
iTunes Icon
Kik Icon
Lastfm Icon
Linkedin Icon
Livejournal Icon
Metacafe Icon
Myspace Icon
Netvibes Icon
Newsvine Icon
Ning IconOrkut Icon
Odnoklassniki Ok Icon
Pandora Icon
Path Icon
Photobucket Icon
Picasa Icon
Pinterest Icon
Plaxo Icon
Plurk Icon
Flipboard Icon
Qik Icon
Quora Icon
Ravelery Icon
Redbubble Icon
Reddit Icon
ReverbNation Icon
RSS Icon
Share Icon
Taobao Icon
Tudou Icon
Website Icon
Whatsapp Icon
Youku Icon
VK Icon
Skype Icon
Slashdot Icon
Slideshare
SmugMug Icon
Society Icon
Soundcloud Icon
Specificfeeds Icon
Spotify Icon
Spring Me Icon
Squarespace Icon
Squidoo Icon
StumbleUpon Icon
Technorati Icon
Tout Icon
Tribenet Icon
Tumblr Icon
Twitter Icon
Twylah Icon
Ustream Icon
Viddlr Icon
Vimeo Icon
Vine Icon
WordPress Icon
Weheartit Icon
Weibo Icon
Windows Store Icon
Xanga Icon
Xing Icon
Yahoo Icon
Yelp Icon
YouTube Icon
Blogmark Icon
Creativemarket Icon
Meneame Icon
Travbuddy Icon
Tagged Icon
Wix Icon
Kickstarter Icon
—————————————————————————————————-
Looking for more Free Social Media Icons styles: