Designers are always up to facing the challenges in their workplace because a lot more is expected from them and they want to give their 100% every time without any offense. A designer at first has to brainstorm about the thing he is to design, he looks up for inspiration, he wanders from site to site, he thinks outside the box, he generates numerous ideas, he then ponders over the do's and don'ts, he manipulates the techniques, he undertakes something risky, he doesn't fear the denial, he is determined and focused henceforth he goes through everything that comes in his thought process to ultimately give a profound shape to his idea.
Every design has a meaning, a thought and a motive behind, some makes it vague, some uses direct technique, some goes overboard while making designs, and others keep them simple. Now it entirely depends on the demand of the client what he wants. A designer is always bound by some constraints that befall upon him by the clients. He has to live up to their expectations and should not let them down. In the field of advertising; brochures, billboards, leaflets and pamphlets are the best business tactics to go forth. If in any case, you need a good business essay, then you can get reliable essay help from a team of experts.
Through this advertising strategy, people can come to know about a company's stance or what the product is all about. Today I am showcasing before you 18 beautiful examples of pamphlet & leaflet designs. There is a diverse range in this post you can seek inspiration from, there are some really vibrant, colorful, energetic and lively designs of leaflets whereas there are some dull and subtle pamphlet designs too to suit your need.
Have a look at the collection. Do stick to us so we will keep on bringing some really nice stuff for you that can accommodate you in the long run. Do give us your remarks, they give us an extrinsic motivation to work harder and bring out the best for our people.
1. RHYTHM Typo San Francisco Pamphlet Designs
2. Kerala Tourism Pamphlet Design
3. Food Waste Pamphlet Design Inspiration
4. Creative Portfolio Pamphlet design for inspiration
5. World Water Crisis Pamphlet design
6. WWF Climate Change Publication Pamphlet
7. UNICEF Press Kit Pamphlets
8. 12 WAYS TO LIVE HAPPILY Leaflet Design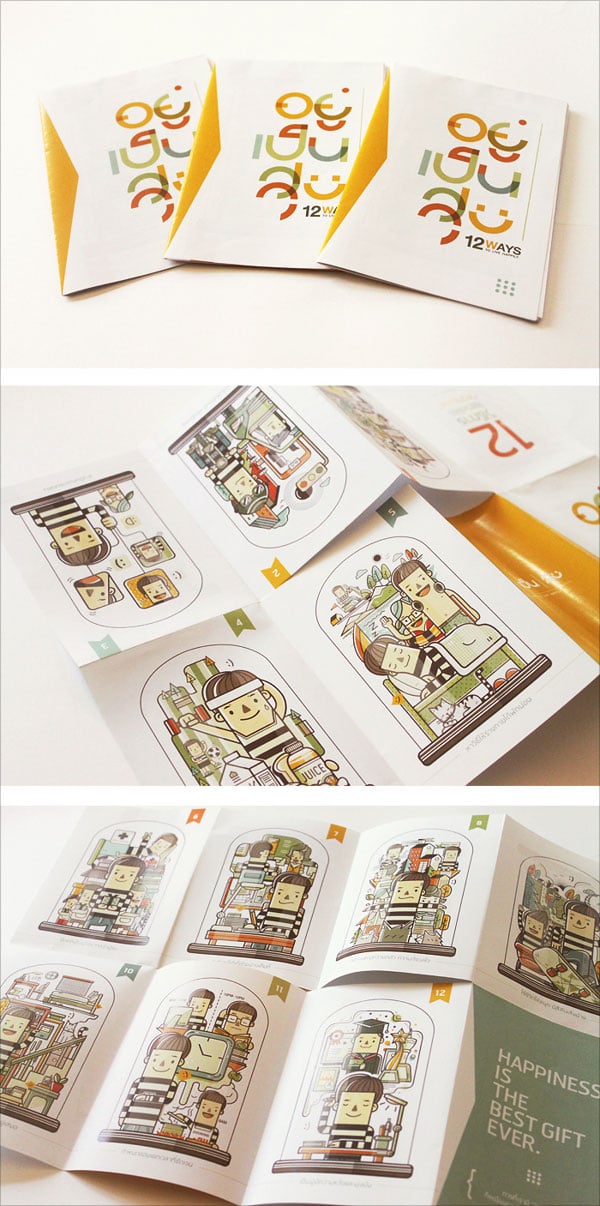 9. Motivati pamphlet Design Example
10. SHIMADZU DESIGN Corporate Pamphlet
11. Foods Market Brooklyn Opening Pamphlet
12. You Friend In Moscow Flyer Design Example
13. Panfleto Beautiful Pamphlet Design Example
14. Staple Food of 7 Continents Leaflet
15. Masterpiece Pamphlet
16. BCAA Assorted Pamphlet Design
17. TechnoCity Pamphlet Design Example
18. Austrade Pamphlet Design
More Interesting Posts of Graphic Design
Tags: pamphlet, pamphlets, beautiful pamphlet designs, pamphlet design examples, pamphlet examples, leaflet design