You never know what you will be getting before you actually try, so always believe in yourself trust on your potentials and try to find what is inside you, we are all born with a hidden talent and all our lives are spent in the struggle for the unattainable. Making big dreams is something natural but following the dreams to make them a reality is another important thing to do.
Designers are always seen busy, doing their tasks and trying to deliver them on time. They have to deal with various and diverse range of clients, sometimes it is also hard to tackle the things all at once, it is tough to cater everyone at a busy workplace. Clients come up and ask for designs and their quick redo, if they are not satisfied.
Especially for advertising purposes, clients become way too restless and designers get burdened to live up to the expectations. Advertising for a product or brand has now become a preliminary to start off with; even the big brands never stop advertising about themselves because it will get them more buyers and customers.
Especially roadside advertisements play a vital role in gaining more consumers because even the pedestrians will stop for a while and pay a look back at the wall posts or the banners hung up along the way. It is a business tactic to get the firm footings and to make a company/brand's stance clear to the people. The more an advertisement is attractive the more people's hearts it will win.
Today I am unfolding before you free high quality road streamer (Roadside Banner) Mockup PSD. Insert in your own design and show it off to your client in a way to make him know how his roadside streamer is going to look like in tangible form. Have a look and do let us know your take on it, what more are you looking up to? So we will shortlist the posts for you in future that go with your demands and interests.
Free High Quality Road Streamer (Roadside Pole Banner) Mockup PSD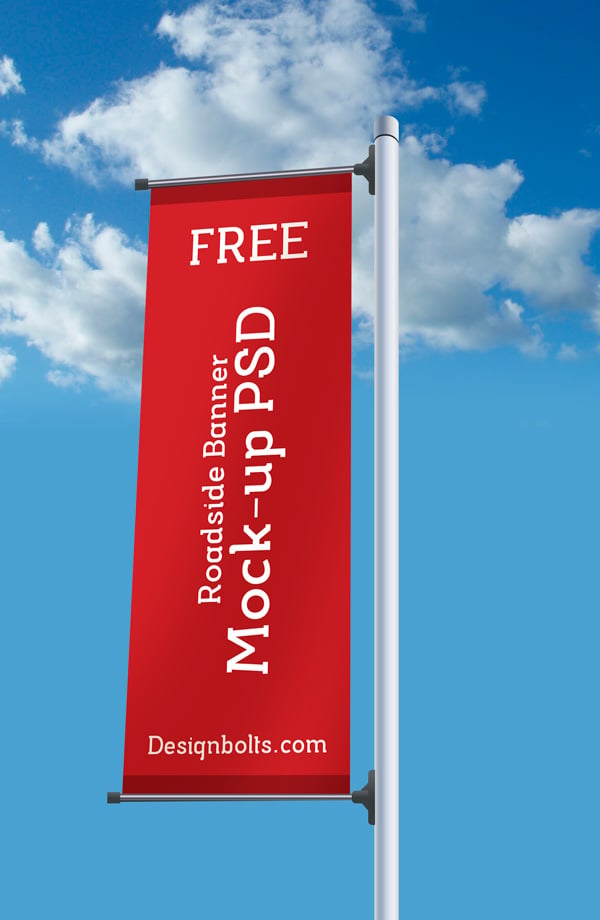 Available Format: Layered PSD with smart object insertion
License: Free for personal and commercial use
Note:
1. Mock-up is not allowed for redistribution
2. Layers are hidden to decrease the size of file kindly unhide, ungroup and place your design on red color layers
3. Linkback if you want to share online
Free Road Streamer Banner Mockup PSD
More High Quality Free Mockup PSD Files
Tags: roadside banner mockup, free banner mockup psd, psd mockup, mockup psd