In this vast world, nobody can ever recognize you if you haven't got any specialty. You have to go an extra mile now to make yourself notable, why would someone even remember you if you got nothing at your disposal, it is a mean and selfish world where people will only come to you as long as you help them and give them favors.
Well in the cyber world, there is nothing change, where people are pulling each other's leg, bloggers are more into making their blogs rise and shine with some surprising features and outclass outlook of the blogs. If you are somewhere in that rat race then here comes something cool for you. Have you ever made an application for the smartphones and want its buttons that can straight drive people to the app store/play store?
Shopping podiums are very common, people want the applications in their cellphones now because nobody will ever take the hassle of opening up the laptops or desktops just to get the shopping done. So shopping applications are now in your pockets if they fix themselves into cellphones. Alongside are some music websites too, that offer you free application to download in the smartphones and quickly load the song of your desire, there are a lot more websites offering these service and it will end the day if I start quoting each one of them.
Today I am unfolding before you free available on App Store / market download buttons. Use these buttons onto your blogs and websites to provide a quick channel to the app store/play store, so people without wasting them don't get deviated and reach out to the respective application.
These buttons are attractive, handy and easy to place, I have generated the Vector file to accommodate you if you want to change their colors. It is recommended if you place them on the bottom/footer of the webpage for the notable ease of the visitor. Have a look at the collection, stick around for more such fruitful posts that are lined up for you in the coming weeks up ahead, subscribe us so you don't miss out on any new update.
Available on App Store Buttons Include list:
Available now on the iOS App Store Button
Download App from App Store for only $0.99
Available now on iTunes Button
Available now on App Store Button
Download it from Google Play Button
Download Android App Button
Get it on Google Play Button
Download for Android Button
Get it at Blackberry World Button
Download on the Windows Store Button
Available at Amazon Button
Available on Kindly Fire Button
Available at Amazon App Store for Android
Free Available on App Store / Market Download Buttons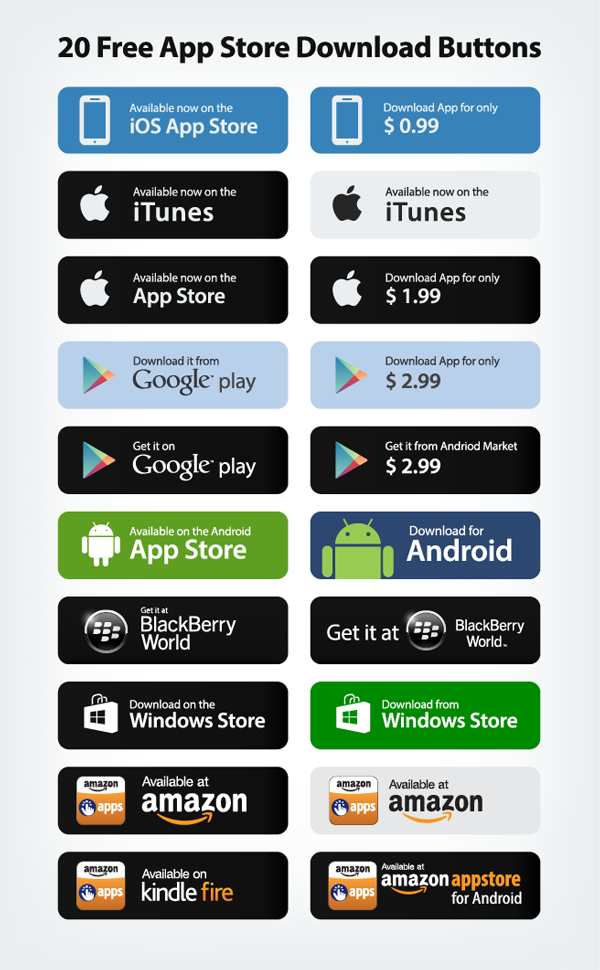 Free Available on App Store Buttons: [20 Icons]
Available Sizes:  256 x 80 px
Available Format:  PNGs
License: Free for personal use
Available on App Store Buttons
Premium Version Buttons: [20 Icons]
Available Sizes:  256 x 80 px
Available Format:  PNGs, Vector Ai file to change the color & Editable and Outlined file
License: Commercial use
[paiddownloads id="128″]
More Amazing Useful Freebies you would love to download: