As a graphic designer my biggest daily challenge (apart from getting out of bed) is finding fonts that compliment my clients work. So I have perfected the style, the layout, the colors of their latest design, but yet I cannot seem to find the right fonts to finish off the design.
After trialling what seems like 1000 different fonts, I finally find a font I love.
But I cannot find another to go with it. Arghhh
By this point I have been staring at the first font, I originally loved so much, and have got bored of it, and still can't find a second font to sit perfectly underneath it. Having spent an hour on the rest of the design, I have now wasted a day trialling fonts out to finish off the design, and have still not made any progress. These really are first world problems, well for a designer anyway.
So when the opportunity of purchasing 50+ awesome fonts for under $30 was brought to my attention, I jumped at the chance. Honestly, as a professional designer I have been known to spend $500 a month, just on fonts. I probably shouldn't admit that, but its true. See all of the fonts included via the image below.
After discovering TheHungryJPEG.com (love the name by the way as well) and their awesome monthly packages, it was kind of a no brainer. Some of these fonts are priced at $30 alone. Everything comes with commercial licenses, even for printed goods, and the guys there are quick to respond to any questions I may have before and after purchase, which is super important.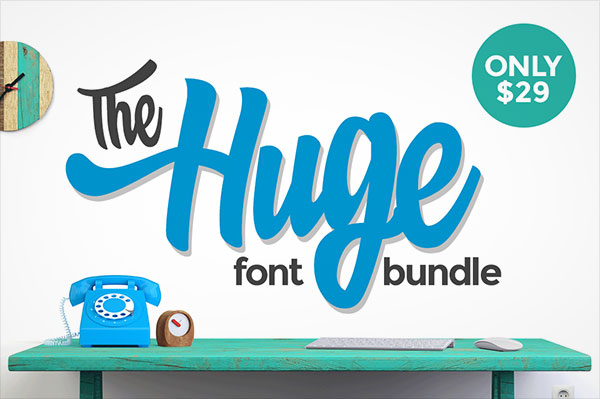 But hurry, these packages only last for a single calendar month. Luckily, I just managed to squeeze my purchase of their August bundle in with just a few hours left to spare. They also have a ton of freebies available, in their freebies area (obviously) and am re-launching their site to include a marketplace as of October 2015 as well. Check out their website by clicking the link below, and visit their latest bundle by clicking here
Thanks for reading everyone, have a great day and an awesome September.
50+ Absolutely Lovely Fonts collection
Limited time offer for Only $29 | Buy Fonts

More Premium Files you would love to buy:
Tags: buy fonts, premium fonts, commercial fonts, lovely fonts, girly fonts, logo fonts, best fonts