Designers have to do a lot on daily basis they are very much conscious of their whereabouts and they know how to handle the situations. No matter what sort of clients they come across they know how to tackle them with all their hearts. Being a designer I guess I can better define a designer's state as, he is wiser, prudent and efficient to perform on their workplace, he can do multitasking, he is all active and frequently can compose piece of innovation and creativity.
Anyway, coming towards the post that I managed for you is about social media icons. Well social media icons are like nuts and bolts of a blog and they can never be separated from the website because they are one of the reasons of fetching audiences to the podium, people can get an easy access to all the posts being published on the respective blog and hence pay it a visit over & over.
These icons can be placed anywhere on the blog, it's up to you how do you manage them either on the header, footer or in the sidebar. The excellence and quality of social icons is mandatory because they will make the people notice them and will be provoked to click on them, so make sure that these icons should be going with the background texture of the blog otherwise it will only lose its marks and impression.
The more they are appropriate to the theme the more chances of success is expected. Have a look at the collection of 20 free Vector flat social media icons of 2015. I have also designed new Google logo Google plus icon as an update from the old official look so get its glimpse too down here.
Stay hooked for more, and we will keep updating the stuff for your interest. Your subscription will do a great deal to us so encourage us with your good/bad feedback and keep us going ahead!
20 Flat Free Vector Social Media Icons 2015 | Ai + 1024 PNGs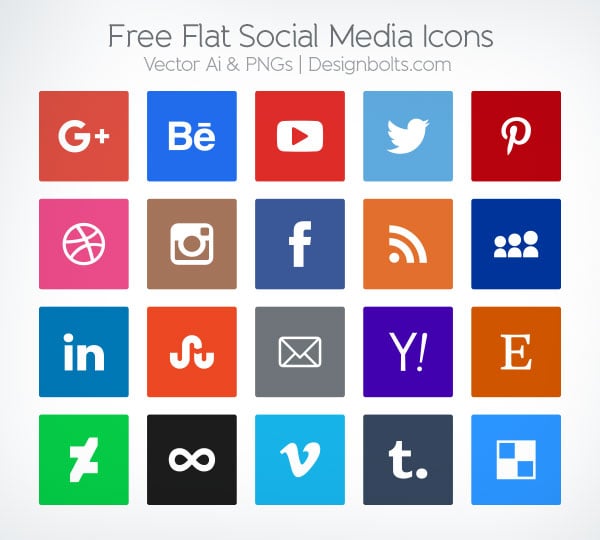 Free Version [20 Vector social Media Icons]
Available Format:  Vector (.ai) file (Light / Dark Backgrounds) Very easy to edit
Available Size: 1024, 512, 256, 128, 64, 32 px
License: Free for personal and commercial use (a link back is must)
Note: If you don't want to link back you have to purchase the premium version down below.
Free Social Vector Icons 
200 Vector Flat Social Media Icons 2015 | World Largest and latest Social Media Websites collection

Premium Version for only $ 15.00 [200 Vector social Icons]
Available Format:  Vector (.ai) file (Light / Dark Backgrounds) Very easy to edit
Available Size: 512, 256, 128, 64, 32 px
License: Creative Commons Attribution 3.0 Unported License /(Included in the file)
[paiddownloads id="116″ return_url="https://www.designbolts.com/thank-you/"]
—————————————————————————————————-
More Social Media Icons: