There is a huge rat race going on in the tech world, where now flying to the moon is a child's play, where machinery and robots are all in our way, when devices and gadgets are all in the pockets, where GPRS can make us go anywhere, where even the little kids know how to use touchscreens and everything depends on our fingertips.
Welcome to the geek world where breathing would almost be impossible to get going without having those gilts and glams. Now unless you own a branded commodity, you aren't worth a life, unless you flaunt your style and brag about your top brand device you are not worth talking to. Yes, this world is too much mainstream especially in terms of high profile things.
Apple is one of the top brands that rules over the hearts, in this entire globe, people sing praises about iPhones and iPads. Who does not have the idea of excellence and quality that apple holds? We all know how big the market value it really has and how people act crazy just to get handful of Apple gadgets and devices. Believe me, there is no stopping to that, from 10 years now on, I can see even a brightest future of Apple gadgets with all the more distinctive features and surprising facilities, no doubt it secures life and helps us getting connected to the world with simple swipe.
Nobody can beat it in its den no matter how many companies and brands are endorsing their expertise, Apple will remain on the top charts forever more. I have been showcasing mockups previously too to help you using them with ease. Well today I am presenting free Vector Apple iPad Mini 4, Air 2 & pro mock-up that I designed.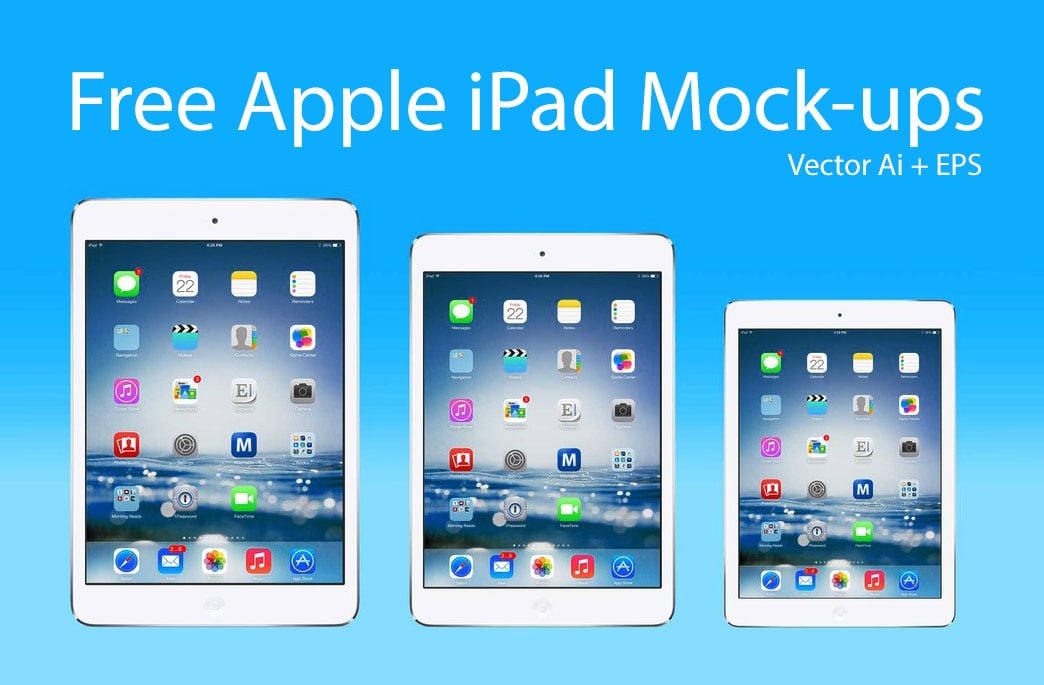 If you are going to make applications these mockups are a great way to present the app icons & app UI through these iPad mockups straight away to your clients. Subscribe us for more and we will keep entertaining you with more stuff.
1. Free Vector iPad Mini 4 Mockup Ai & EPS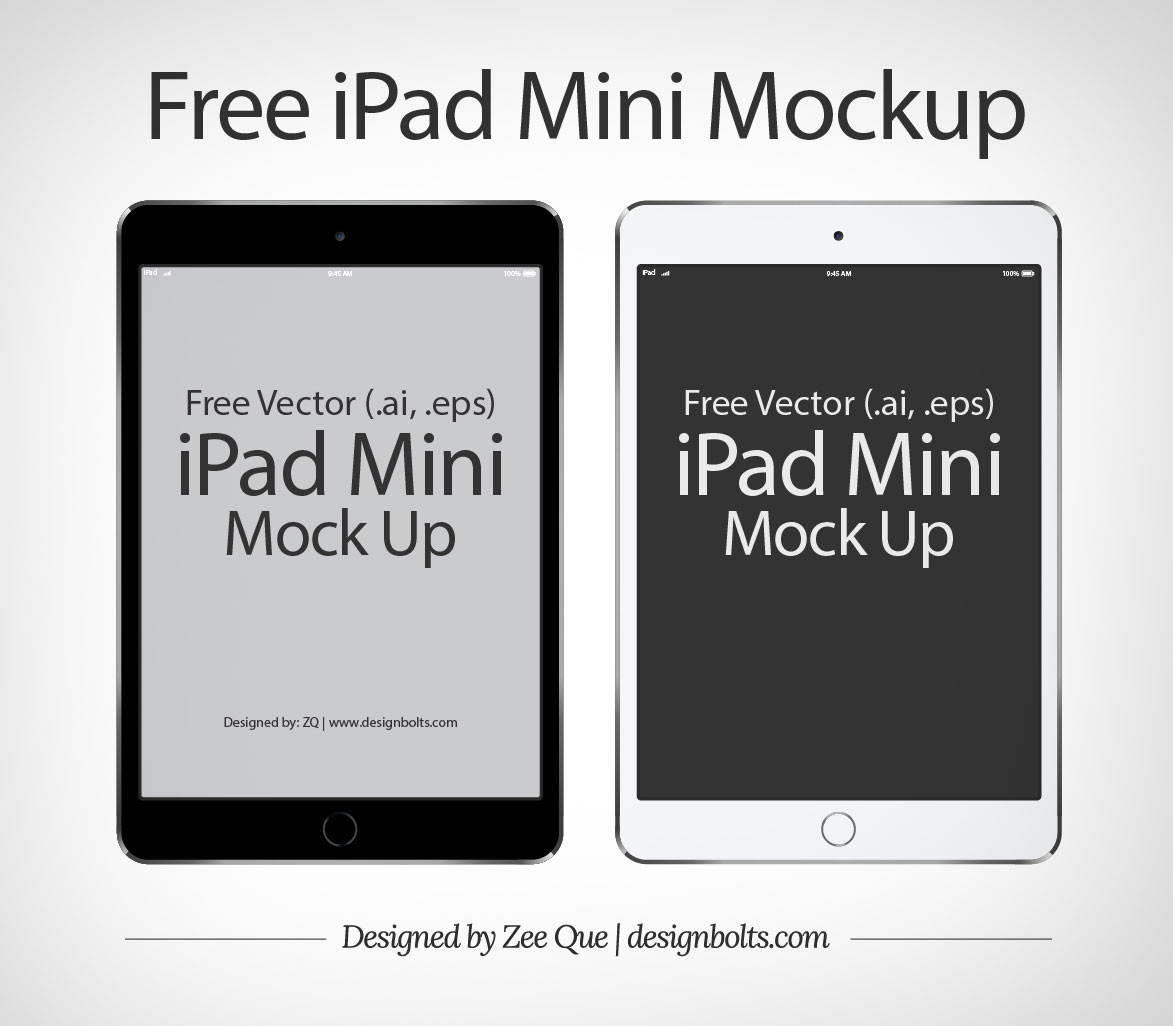 Vector iPad Mini 4 Mockup file is designed by Zee Que | designbolts.com
Format: Vector Ai & Eps
Commercial Use: Allowed
License: Credit back to to this page
Free Vector iPad Mini 4
2. Free Vector iPad Air 2 Mockup Ai & EPS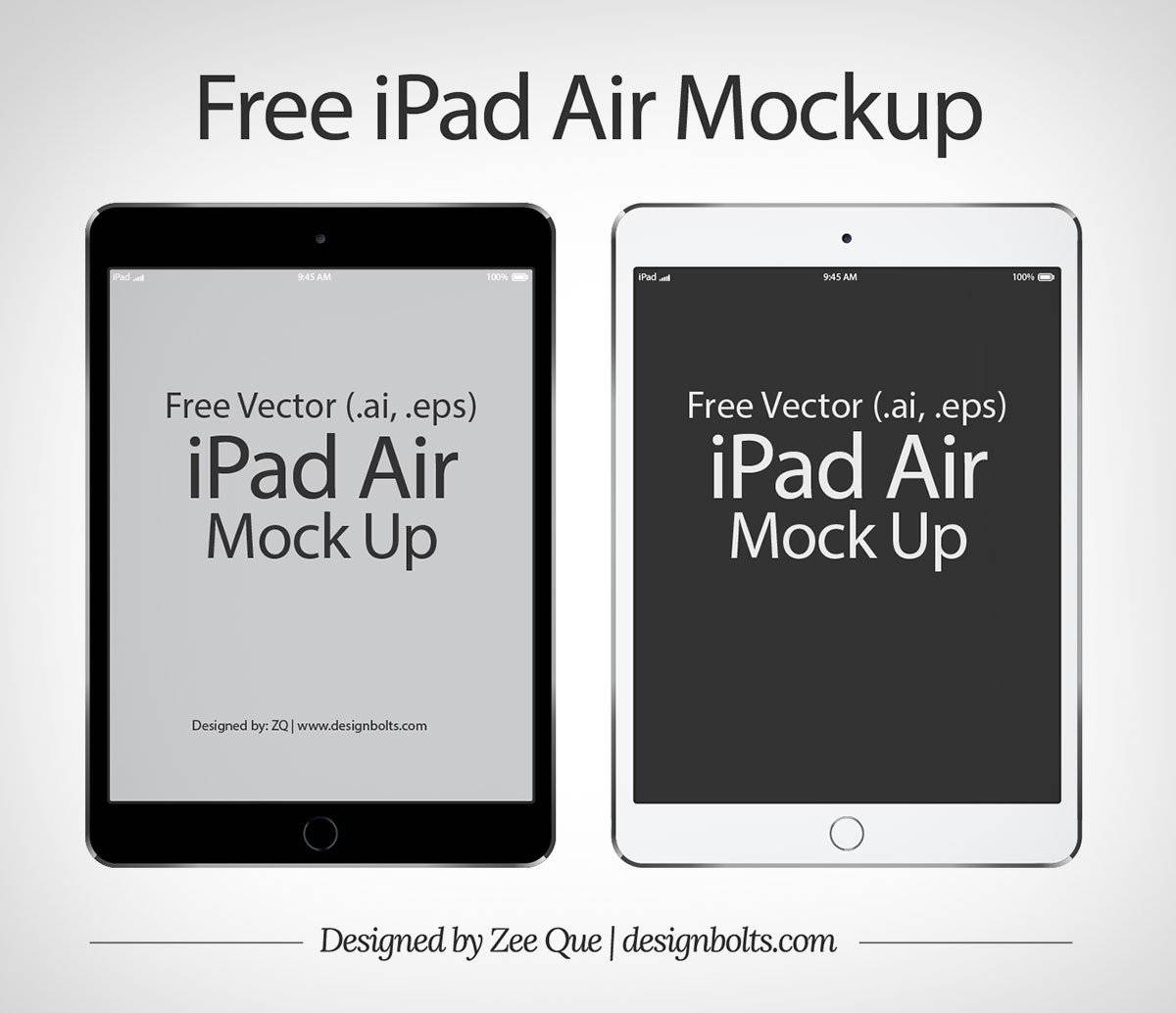 Vector iPad Air 2 Mockup file is designed by Zee Que | designbolts.com
Format: Vector Ai & Eps
Commercial Use: Allowed
License: Credit back to to this page
Free Vector iPad Air 2 
3. Free Vector iPad Pro Mockup Ai & EPS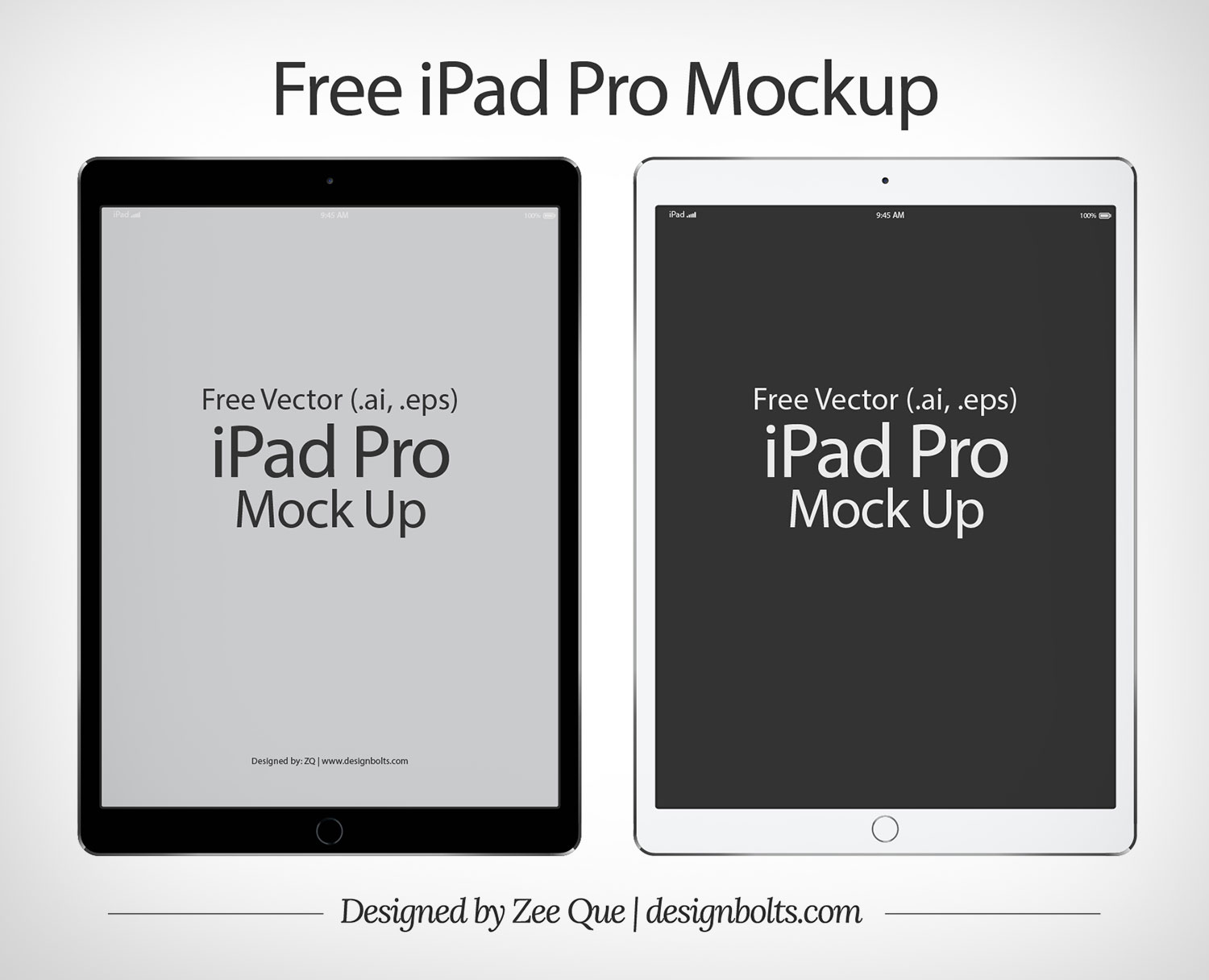 Vector iPad Pro Mockup file is designed by Zee Que | designbolts.com
Format: Vector Ai & Eps
Commercial Use: Allowed
License: Credit back to to this page
Free Vector iPad Pro 
Let me have a cup of coffee and make more freebies for you 🙂

More Amazing Free Mock-ups Download: