Jingle bells, jingle bells, jingle all the way, just wait and pray for a best day, when snow will be falling and covering the floor, when the whole atmosphere will turn grey and white, when Christmas gongs will be rung, when churches will be filled with people, when Santa Claus will be skiing wearing his red livery, and a backpack from which gifts will be oozing out.
When Christmas bobbles will be used as decoration, when buntings of Christmas will be hung, when Christmas trees will be placed indoors/outdoors, then the event will fill us with great pleasure. Christmas is here again when winter will be looming and blooming and we are darn excited to live it up as we are expecting it to be, every year the enthusiasm is to some other level and we really have to gear up in order to celebrate it to the maximum.
We have been presenting before you Christmas posts to accommodate you as much as we can. Now here my today's post is again Christmas related.
Social media icons are most renowned among the bloggers of today because they are keen about their significance, they know it is a tool to keep the audiences hooked up, you can place them either on the top header, on the footer or in the sidebar, and well it depends on how you want them to be. But they must be eye catchy so people will pay a look at them and will be forced to click on them and get connected to the blog/website for latest updates.
Have a look at the collection of 20 free Vector Christmas social media icons of 2015. Apply them on your blogs in the season of Christmas and show the true spirit of December 25th. Have a very warm winter ahead, I hope you have a greatest time with your family & friends.
20 Free Vector Christmas Social Media Icons 2015 | Ai + 1024 Px PNG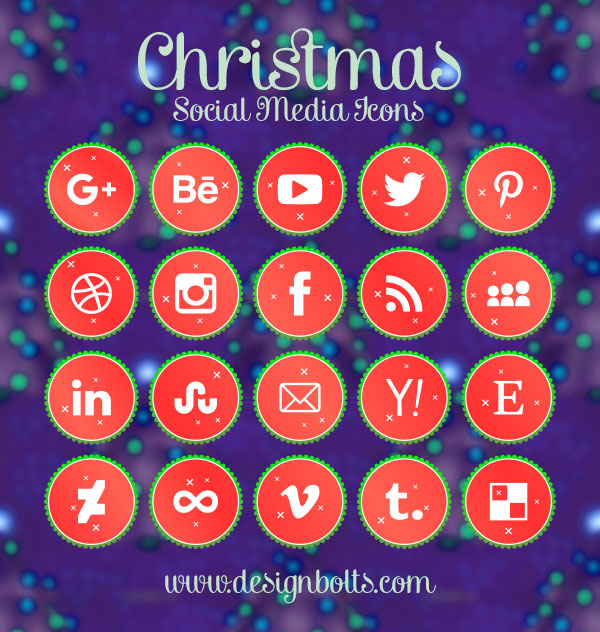 Free Version [20 Vector social Media Icons]
Available Format:  Vector (.ai) file (Light / Dark Backgrounds) Very easy to edit
Available Size: 1024, 512, 256, 128, 72, 48 px
License: Free for personal and commercial use (a link back is must)
Free Christmas Social Icons 
More Social Media Icons: