Well give a keynote to a designer and he will show you how to make a story out of it, not in words but in his pictorial depiction of designs that can cause a ripple in stagnant water, that can glorify an ugly thing or that can boost the images like nobody would expect them to be. A designer is more like an artist full of ideas because there are a chain of strategies and tools that he uses to form a work of art.
I know some designers who work like scientists because their minds are real, practical, brainy and imaginative as well that helps a lot in creating something magnificent. Every now and then a designer comes across the project of making packaging designs. Well it depends what sort of prospective is to be implied, what stance a company holds, is it a food packaging or other packaging stuff, every project has its own constituents and a designer knows how to turn tables, make a story and sense out of it.
When it comes to beverages and eatables the packaging designs should be mouthwatering, appetizing and scrumptious so whenever it hits the market, shoppers would definitely pay it a look. When there is a huge queue of similar eatables why would the customer buy your product unless it is attractive enough? Once a good impression is built up, people start trusting the product and buys it over and over.
Today I designed something to help the designers if they are up to make an eatable packaging for their client. Here goes a free jelly packaging design template & mockup. You can simply put in your own jelly design or fetch an element that you like. The game will be sorted out and it won't waste your time. Presentation is the key to success so it will do a great deal if you show it off (after inserting your own design in this packaging mockup) to give him the clue how his jelly packaging design would actually look.
For more freebies, don't forget to subscribe us. We will let you have more interesting posts in future too.
Free Jelly Packaging Design Template & Mockup PSD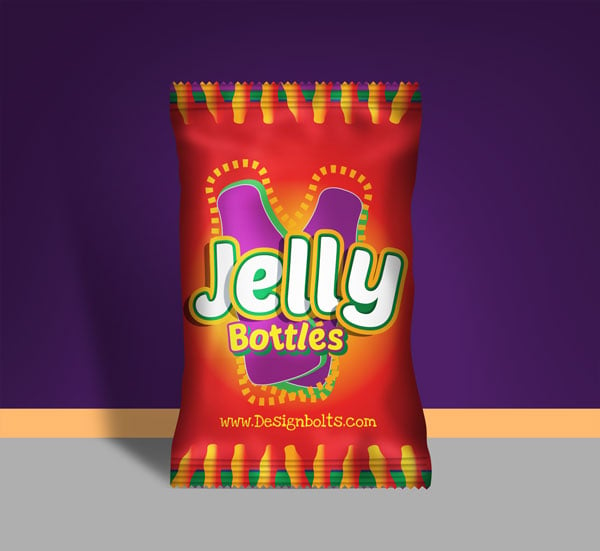 Available Format: Photoshop Mockup PSD & Packaging Template Ai
License: Mockup & Template are free for personal and commercial use so enjoy and don't forget to say thanks
Note: Linkback required for sharing online.
Designed by Zee Que | Designbolts.com
Jelly Packaging Design Template
Packaging Mock-up PSD
More Free High Quality Mock-up PSD Files & Design Templates: