There is no profession that is underrated because every person is putting an effort to make its recognition probable in this world of hodgepodge. There are so many artists who are earning but only few of them are actually making a big difference in the creative world, drawing new skylines, reaching out to make the impossible-possible, they are leaving their benchmarks for the learners to follow suit.
That is called professionalism when you raise a high bar for others to cross it, the standards are way too high in the world of design that every newbie has to grind himself in order to get out of his comfort zone and be the best. Proving oneself isn't a piece of cake, because now, vitality and versatility are the ingredients to get success.
Clients don't want an artist who is only good at one genre, they want an all-rounder who is good at all software, at all design genres, so they can take benefit out of him in a maximum way possible. Designers are always in contemplation mode because they have to be extra quick in order to meet the demands and requirements of their tasks on their office desk. They have to keep a check & balance, with open eyes, open ears, and up to date to meet the successful end. Today I am unfolding before you a collection of top 10 best Adobe Illustrator CS6 & CC video tutorials for beginners. I am sure it is going to help you out through the ways to follow Adobe Illustrator rightly.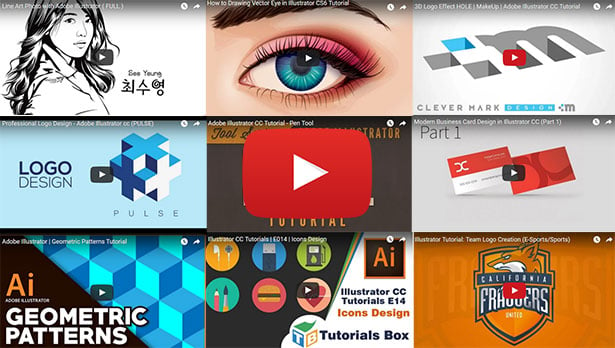 Your skill will be polished and enhanced by learning from these tutorials. It is very important to have a firm grip on the skill otherwise you will only end up having errors. For the beginners, adaptability is the toughest thing, they must go through the online tutorials to get the know-how of the actually ways. Stay hooked to us because our best endeavors are done to bring you with the best of all art and design posts.
Do give us your feedback and motivate us for a better design post tomorrow, you response keeps us going, believe me it means a lot to us.
1. Line Art Photo Adobe Illustrator Video Tutorial
2. Illustrator video Tutorial: Team Logo Creation
3. How to Drawing Vector Eye in Illustrator CS6 Tutorial
4. 3D Logo Effect HOLE | MakeUp | Adobe Illustrator CC Tutorial
5. Professional Logo Design Video Tutorial
6. Pen Tool Adobe Illustrator CC Video Tutorial
7. Modern Business Card Design in Illustrator CC
8. Adobe Illustrator | Geometric Patterns Tutorial
9. Illustrator CC Tutorials | E014 | Icons Design
10. 3D Colofull Bulb Graphic Design | Illustrator CC Tutorial
More Illustrator Tutorials for Beginners, Intermediate & Advance levels:
Tags: illustrator video tutorials, adobe illustrator tutorials, illustrator tutorial for beginners