It is said, 'Fortune favors the brave', well that is so true, you need to buck yourself up in order to carry the burden all along. A person can always fight back his circumstances because life is like an ebb and flow of water, and with every chase there is peace and attainment at the end. Proving oneself on the professional front is difficult but you can always convince others with the kind of quality work you do.
Every job has its responsibilities and hassles but one must confront the challenges manly and take it with comfort and ease. Especially when it is about the artists and designers, they really have to accept criticism and also should remain humble with the appreciation that comes their way. Today I am bringing before you a collection of top 10 best Adobe Photoshop CS6 & CC Video tutorials for beginners to enhance skills.
Now create magic out of ugliness, glitters out of dullness, perfection out of flaws, and reality out of fantasy to give dreamy touch to your pictures and more. With Photoshop, life of every person has become simpler. You can create wonders yourself, just by having the grip on the software fully. However if you are not good at something, you have to hold on with patience, first learn the tools and all the tactics that are needed to operate and then you can try your skill out at it.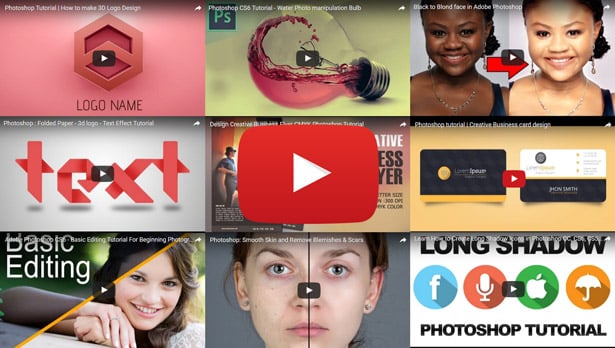 Photoshop comes with a lot of surprise packages and it depends on you totally that how to go about it and use it to create a difference. We try our best to bring the best things regarding design and art so the learners can get inspiration and they feel motivated enough to get going. Remember, when you are not good at something, surf it out, look up to the work of experts and video tutorials can provide you great deal of help.
My post is a little help for you, I hope you can now have clearer ideas that how you can make 3D logo designs, how you can add text effects easily, how business flyers/business cards can be made smoothly, how long shadow icons can be made on Photoshop, how skin can be beautified and more editing of such kinds. Do give us your feedback.
1. Photoshop Tutorial | How to make 3D Logo Design
2. 
Photoshop : Folded Paper – 3d logo – Text Effect Tutorial
3. Design Creative Business Flyer CMYK Photoshop Tutorial
4. Photoshop tutorial | Creative Business card design
5. Learn How to Create Long Shadow Icons in Photoshop CC, CS6, CS5, CS3
6. Photoshop: Smooth Skin and Remove Blemishes & Scars
7. 
Adobe Photoshop CS6 – Basic Editing Tutorial For Beginning Photographers
8. Black to Blond face in Adobe Photoshop Video tutorial
9. Photoshop CS6 Video Tutorial – Water Photo manipulation Bulb
10. Blend and Retouch Soft Light Tutorial Photoshop
More Stunning Adobe Photoshop Tutorials to Learn in 2016: