Whoever you are, breathing on earth is difficult if you don't have a good job because there are so many expanses to bear that living has become harder, people grind themselves just to make their both ends meet.
Therefore it is necessary to get the degree and start investing in your field, then gaining a skill and getting experience out of it really helps you to get going. Becoming a professional then comes on the secondary term when you get years and years of involvement you finally develop a sense of trust between you and the masses who then believe in your capacity, faculty and talent & rely on you with extreme confidence.
It is only in the beginning when you bite the bullets, later things come handy and you also get the belief that you are able to do something out of the blue. 'Gilded tombs do worms enfold', therefore never part with the creativity and skill you have, your work will chant itself, you won't have to introduce yourself then once your recognition becomes your name. Well coming towards my post so here I have a free one side vertical business card design template & mock-up PSD.
You know that a business card is the foremost important asset that a company holds, business card is like an endorsement of your status, stance and perspective, what sort of work you do under your banner, what excellence and quality is kept in hand while working and all such ingredients can easily be reflected on the business card, so always choose the vocal, communicative and clearer business card that does not lead to any confusion about you. It has to be unambiguous so the masses will know what you hold and unfold.
Check out the mockup where you can insert in your own design and put forward to the client to make him know that how his business card will look like. Subscribe us for more design and art posts in the coming weeks, they are set to be uploaded in no time.
Free One Side Vertical Business Card Design Template & Mock-up PSD File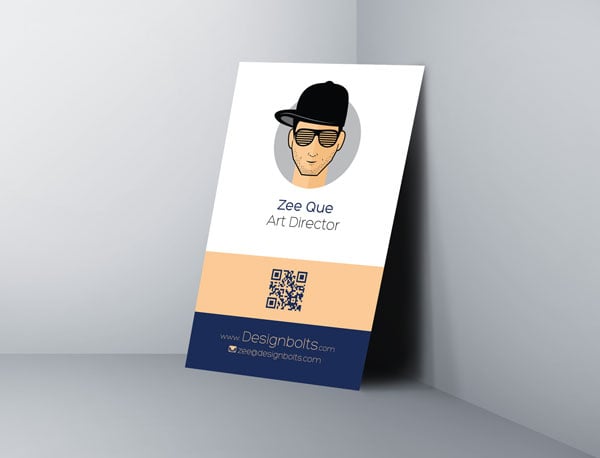 Available Format: Layered PSD with smart object insertion
License: Free for personal and commercial use
Zip File Includes: Business Card design Template Ai File & Mockup PSD
Note:
1. PSD Mockup is allowed for sharing online (Linkback to this page)
2. Layers are hidden to decrease the size of file kindly unhide, ungroup and place your design on red color layer.
3. Say thanks if you like
Free Business Card & Mockup PSD 
More High Quality Free Business Card Template Design & Mock-up PSD Files