If there is a genie, what wish you want to be granted? Getting new clothes, building a castle, touring around the world, meeting the top-notch celebrities, conquering the world, to be the ambassador of fashion, to become the president, or reaching on top of the sky? Well not everybody wants the same as this.
Some people want money, some want food, some only want shelter for their entire life, some want family love too. While there lives a clan, we call them artists, who would only wish for the ultimate supply of ideas if they ever get a chance to meet a genie. Yes, that's right! Artists only seek for inspiration, they watch the elating work of motivation, they check out the latest trends & techniques, they want to play with creativity, they want to be innovative; all this and all that just to be successful and be on the edge of glory.
Therefore designers are always engrossed into the process of experience, learning, observation and implementation. How many artists do you know in your whereabouts, who are inspirational? Who love their job not for earning but for the sake of loving it? Well there are only few who want to make their name bigger with their work roaring out loud of their potential.
My today's post is for all those designers who are currently working on branding and packaging. Here I designed a mockup for your ease and comfort, you can simply add in your element and it is done. So check out right below a free cone ice cream packaging mock-up, this is a great idea to showcase your design to the client straight away. It will make the ultimate approval a lot easier. You can play with colors, textures and schemes but the basic idea would remain the same.
This cone ice cream packaging is tantalizing, scrumptious and mouthwatering. And that's how eatables and beverages should look like. Unless they are delicious no one would buy them. So here get the glimpses, use it in your project and let me know what you think about it. Your feedback is welcomed.
Free Cone Ice Cream Packaging Mock-up PSD File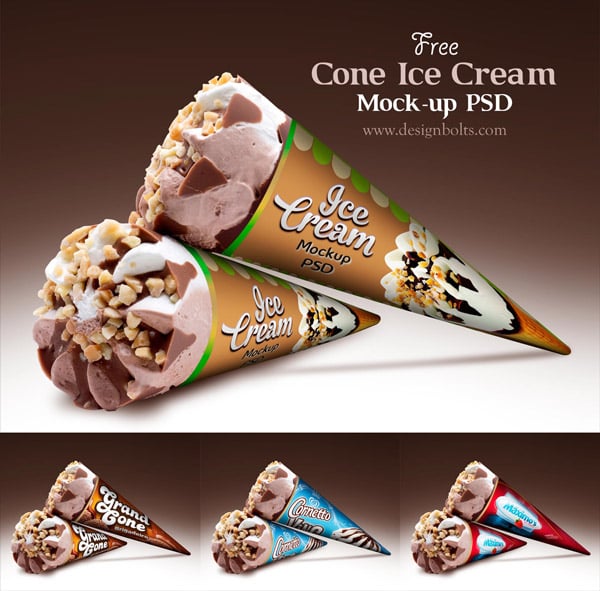 Available Format: Layered PSD with smart object insertion (2000 Px Width)
License: Free for personal and commercial use (Link back to this page)
Note:
1. Mock-up is not allowed for redistribution
2. Layers are hidden to decrease the size of file kindly unhide, ungroup and place your design
4. Don't forget to say thanks
Cone Ice Cream Packaging Mock-up
More High Quality Free Packaging Mockup PSD Files