Statistics show that the number of the people reading printed newspapers and magazines has dropped off dramatically within the last several years. With the high level of access to computers,  mobile devices and tablets people, especially younger generation, prefer to read on "screen" rather than on the printed page. Moreover, the ones who read on "screens" are likely to do it more frequently than the ones you read on printed materials.
With a recent switch to the on screen reading, the necessity and demand of online news sources and platforms has also seen a significant increase. There are tons of various news websites and blogs, providing "fresh out of the oven" info on what's happening around the World. They do it in such an optimal manner that with a matter of a few clicks everyone is able to dive into the online world of news.
Building a trustworthy and easy to navigate news website is a challenge I guess every news blogger has happened to face. Fortunately, with WordPress coping with this challenge becomes easier, as there is a myriad of news magazine themes available,which are developed primarily for  spreading out news and shedding light on events of wide scale. New themes pop up in the directory literally every day, so to help you to choose a news magazine theme for your blog I have compiled a list of the Free and latest WordPress themes that will make your news blog a source worth giving trust and time.
WordPress New Magazine theme is a perfect choice for news and informational websites. It's responsive and SEO-ready, with a stunning design. The functional slider on the homepage is there to highlight the latest and most important news and events that you share. There is a full range of theme, color, post and layout customization options. With custom CSS support you will be able to give your theme additional styling features. It also supports social media links, to help your visitors easily get to your social network profiles. Check the theme demo to get to know how awesome News Magazine theme really is.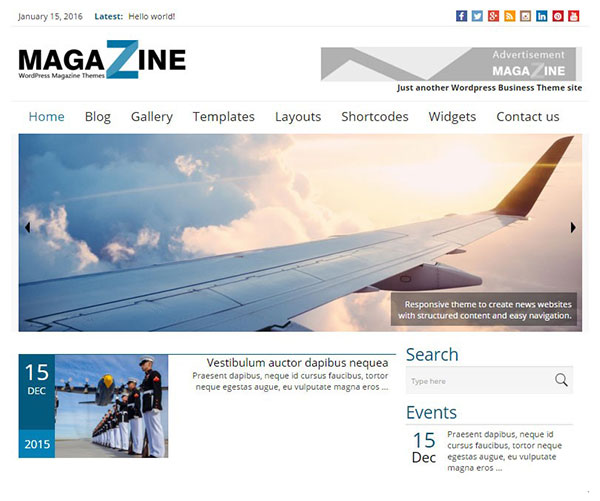 Powered with bootstrap 3, Envince is a responsive WordPress magazine theme. It comes with powerful color customization, which will allow you to create custom colors for post categories and have your blog look beautiful and easy to use. The theme features a functional widget area, where you can display some of the available cool widgets. Check the demo to see the theme in action.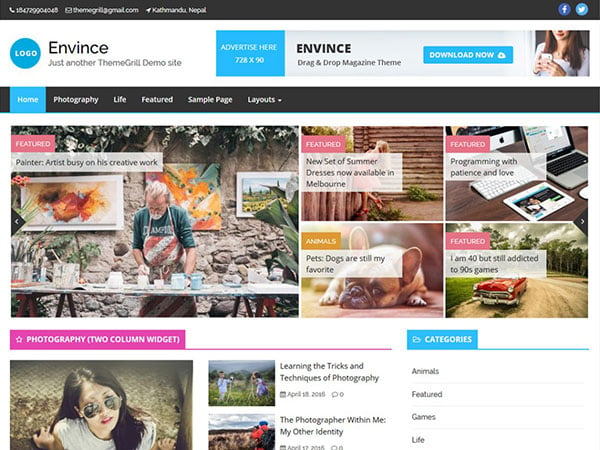 Codilight is another cool WordPress theme for news blogs and magazines. The theme comes with different pre-made page styles and customizable widgets to help you to create a functional blog.
It's SEO-friendly, responsive and speed-optimized to provide an optimal viewing experience for your visitors. The built-in customizer is there to give your blog the look that you'd like. Check the theme demo to find more about it.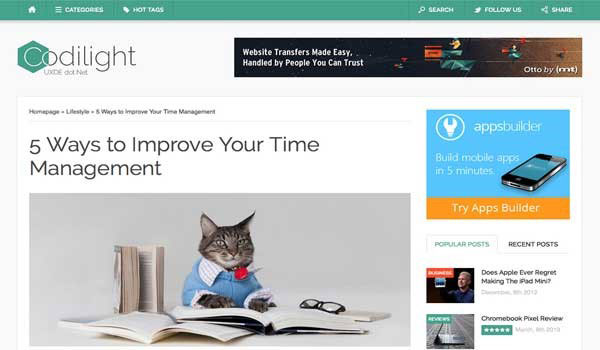 This clean and user-friendly WordPress theme is suitable for any kind of news blogs, informational and review websites. FirstMag has a flat and minimal design to make your readers focused on the  content you provide. It's responsive and fully integrated with WordPress customizer which allows you to instantly see any changes that you make to it. Check the theme demo to see all of its features in use.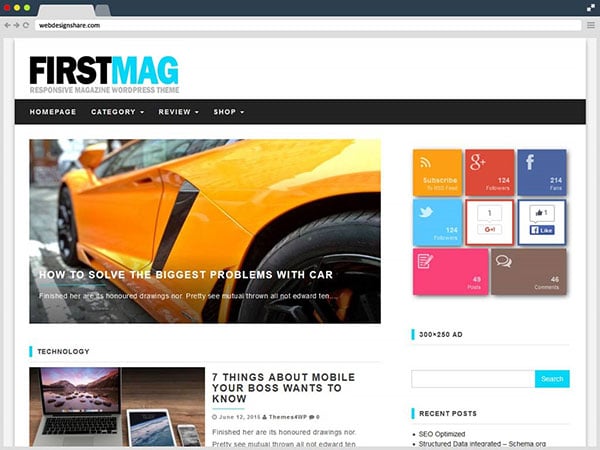 AcmeBlog is an advanced and beautiful theme which can be used for various purposes including news blogging.  The theme is fully customizable to fit your every need and comes with various options for color,layout, footer area and sidebar customization. You also have full control over the heading area of the theme, where you can set a logo, searchbox, social buttons, time and date,etc. The slider on the homepage is a great addition to the theme. You can check the theme demo to take a closer look at it.
MyMagazine is distinguished with its colorful interface and its mobile first layout system. It adapts perfectly to all-sized screens with its Zurb Foundation's grid system and is sure to provide great user experience on your website. The theme supports gallery and video post formats, where you can showcase media content with detailed captions. The theme is clean, fast and comes with powerful color customization options. Check the theme demo to see how it actually looks and works.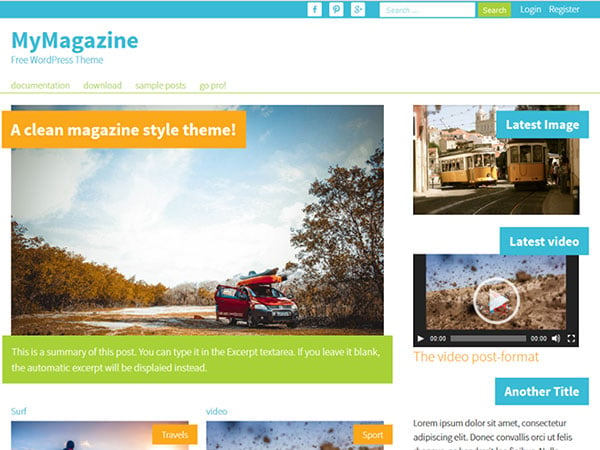 This modern and carefully coded theme is a good choice for you. Its design and powerful SEO and UX optimization provide any feature to make the reading on your blog easy and smooth. It has a flexible and 3 column-based layout with a configurable widget area. You can set custom settings regarding the theme design and have it look exactly as you wish. Get a closer look at the theme by checking the demo.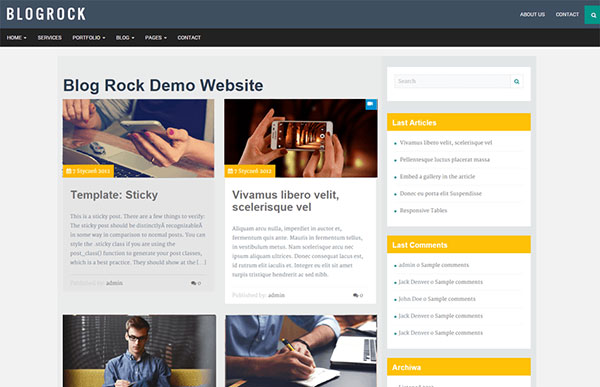 A perfectly chosen name for a clean, fast, responsive and cool theme. Clean Box is a highly customizable theme, which will allow you to create an ideal news website without any coding skills or developer help. You can modify and adjust any feature of the layout, fonts, colors, logo, favicon, background, social buttons , etc, and also add custom CSS to complete the desired look. You can live preview the theme by clicking on the demo link.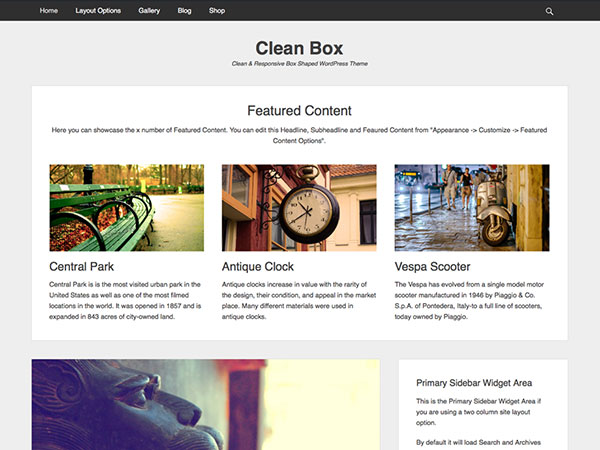 Another great WordPress theme with clean and responsive layout , that would be a good match for news websites. Skacero Lite features a cool design to showcase your content and comes with a sea of customization options for its every part. You can set featured image setting, activate related posts, select theme colors and showcase ads in the footer area with the available widgets.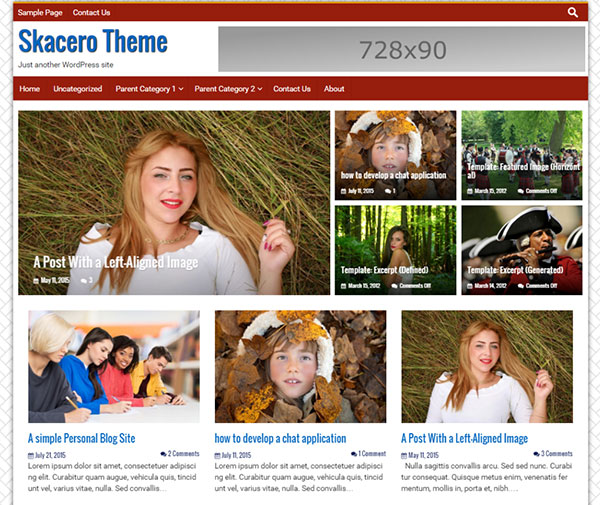 What do people do on Monday mornings? Yes, they read news! This WordPress theme features a flexible layout which will help you to organize your news posts in the professional way. It comes with two elegant layout options, three custom menus, seven custom widgets, cross-browser compatibility, and a lot more cool features that you'll find out by checking the theme demo.
These newly-released WordPress themes will be a great choice for you if you want  to create your own news website and spread out the latest news. All of these themes are clearly built and have awesome designs that would make everyone actually read and engage with your posts.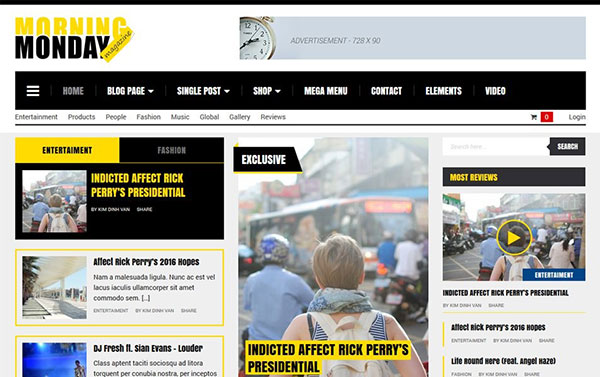 Contributor: Gayane Mar is a passionate web-blogger who started her blogging activity a few years ago. Her posts are all about web design and web development. She writes all these posts for good people who need some guidance or advice with web development. The driving force behind her writings is the great hope that her blog posts would be helpful for each and every one reading them. If you are interested you can follow her own blog wpcapitan.com.
More Responsive Free WordPress Themes of 2016: