People these days are so much aware of the trends and latest happenings around the world, half and I guess most of the credit goes to the social networking sites that are serving a great purpose of educating people and making them familiar with day to day newsfeed. One day if you log out of the social website you feel totally abandoned, disconcerted with your friends' circle and oblivious of the entire social globe.
Therefore logging in, searching and surfing is a common habit observed among people of this era. This is not going to end even generations after generations. Cyber world has webbed this universe; communication, buying and selling of merchandises, advocating political affairs, getting in touch with celebrities, getting oneself entertained by movies and music hence from anything to everything, this internet has made so easy for all of us from kids to adults.
Opening up a new website is a child's play we have so many teenagers running online blogs and earning mighty. But there are certain aspects that have to be kept in check while running a blog or website. It is the traffic and the number of visitors that come to your platform and makes you popular. Once you build up a good stance having rich quality posts, you will win over people's hearts quickly.
They will log back again and again to you if you provide them authentic source and information that is liable to believe in. On a blog social media icons' set are like nuts and bolts. Through them handful of channels occur that may connect people to your blog for always. They will get the latest updates and will notice all the stuff you put up on your website. Lately I made 20 free social networking icons for art websites.
They look so creative, bedazzling and worth seeing. You can paste them on the footer/header or in the side bar wherever you think is appropriate to attract people on your blog. Equally good for both light and dark backgrounds of the blogs. Stick around for more freebies that we are ready to blow before you and surprise you with in coming days. Here we go!
20 Free Social Media icons for Art Websites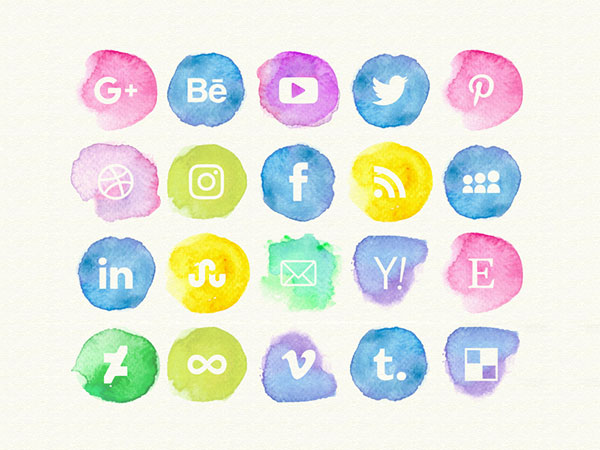 Free Version: 20 Icons
Available Size: 512 px
License: (free to use for personal blogs and portfolio website only)
Social Icons for Art websites 
—————————————————————————————————-
More Vector Social Media Icons 2016:
Tags: social media icons 2016, Free social icons