The illusion of a 2D environment is achieved by means of the front and background layers of a design moving at different speeds. The parallax scrolling effect is being widely used by the owners of such creative projects as photography showcases, art portfolios, etc. However, it doesn't mean that the technique is not applicable to any different web resource. In a list provided below, you can find ready-made themes intended for business, advertising, agriculture, sports, science, food, and other purposes. All themes from the compilation are designed and developed by TemplateMonster. This means that in addition to the rich functional filling of each design, you will get free 24/7 support and extensive documentation. Step-by-step guides on how to get the best out of the themes, as well as video tutorials and eBooks for startupers are available for the public use online.
20 Best Parallax WordPress Themes for 2016
1. Sensei WordPress Theme
This responsive parallax scrolling template is a perfect match for sports related blogs and websites. Its layout looks powerful and energetic due to the chosen color scheme of canary yellow and dark hues. Designed in an easy-to-follow manner, the theme is intended to be quick and easy to navigate even for the first-time visitors to your website. A set of social media icons is placed at the very top of the page. Thus, people can reach your official Facebook, Twitter and other profiles with a click.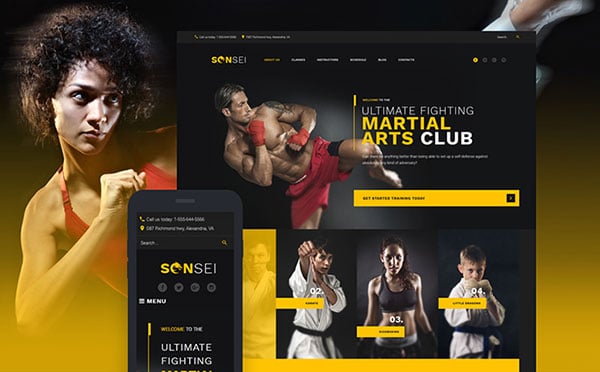 2. Neuton – Science Lab Responsive WordPress Theme
A futuristic look of the template is best suited for scientific web resources. However, if you run a different project, the theme can be quickly customized for the purpose. Neuton is a GPL-licensed WordPress template that comes integrated with TemplateMonster's custom drag-and-drop page builder. WordPress Live Customizer is also included. With its help, webmasters can see all changes that they apply to the theme's layout right away, without the necessity to reload the page.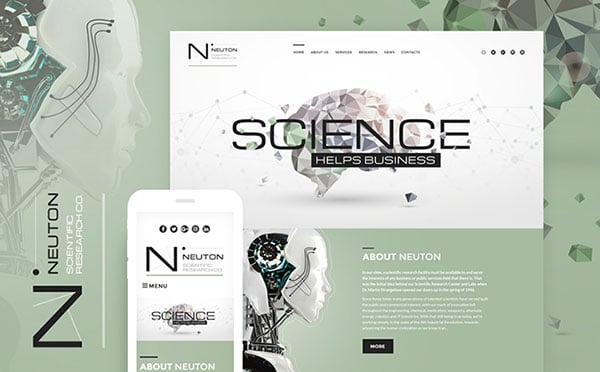 3. Jorden – Food & Drink WordPress Theme
The theme is hand-crafted for food and drink related project. In addition to the parallax scrolling effect, the theme also features a functional image hover effect, which reveals more information about a specific piece of content on the mouse-over. The theme is integrated with a number of social media features. Thus, a set of social media icons can be located at the top of the page, whereas Instagram feed widget is in the theme's footer.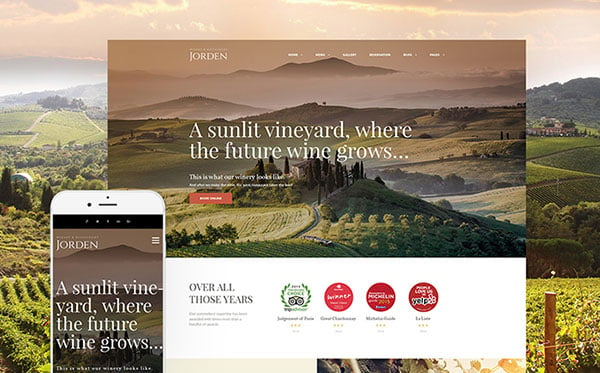 4. Shanti – Yoga Studio WordPress Theme
The theme is designed in clean and clear style. Fair color scheme with the use of elegant purple elements brings a refined yet usable presentation to yoga studio website. You can also apply the theme to spa and beauty web resources. The front page is spacious and quick-to-scan. Different content blocks are separated one from another by means of visuals and bold headlines, enhancing the theme's readability.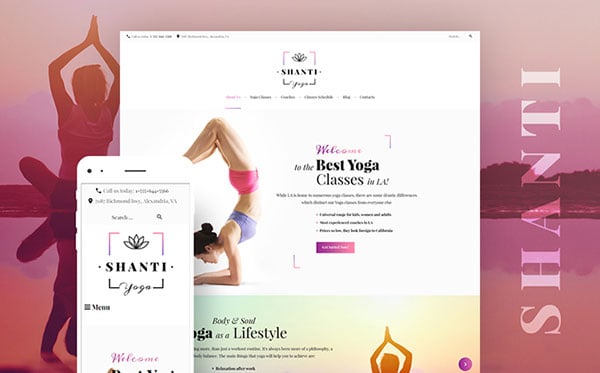 5. Fenimore – Law WordPress Theme
Fenimore is intended for lawyers and attorneys. Flat layout style is enhanced with the parallax scrolling and hover effects, which bring a sense of interactivity to the theme's pages. The header of the front page includes a carousel slider, which can be tweaked via an advanced admin panel of the theme. You can tweak any other element of the design as well. WordPress Live Customizer is intended to let you see the results of your customization work live.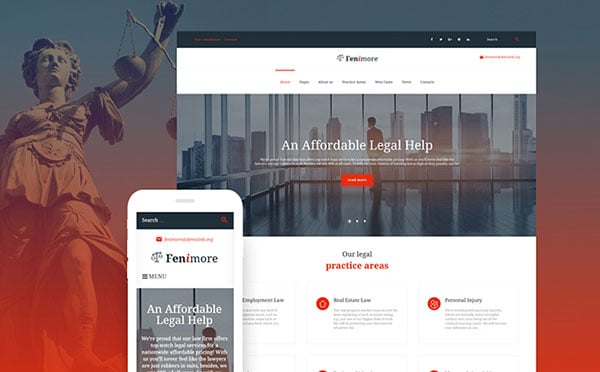 6. Harvest WordPress Theme
Harvest is a touch-friendly WordPress template intended for agriculture-related web projects. The header makes use of a split-screen technique, which allows you to present different types of content simultaneously. On the front page, the featured content is organized into a carousel slider. Placed on top of the parallax scrolling background images, neat ghost elements look very elegant and stylish.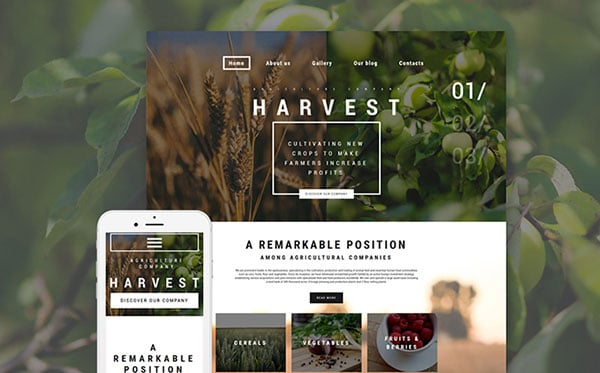 7. Mechanna – Locksmith WordPress Theme
Mechanna is a ready-made solution for presenting locksmith services to the web community. The theme's header features a large hero slider, which is intended to help you present your services and featured content in an eye-catching style. The key advantages of working with a company are organized into a grid-based list of banners. User testimonials are also provided on the theme's front page. In such a way, you can grow the users' trust in your business to a great degree.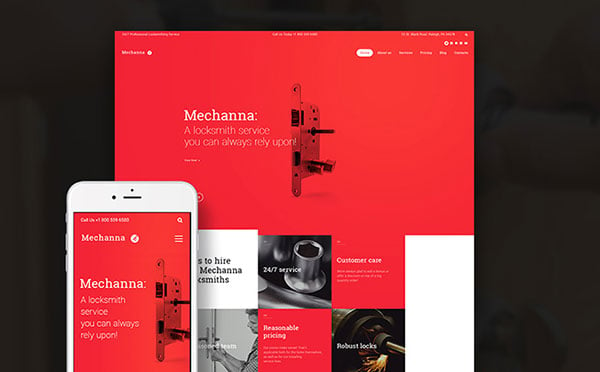 8. Advisto – Financial WordPress Theme
Here is a great example of a ready-made template that can be used to present business and financial web projects. The layout is built in a clear and concise style. The front page is designed in a way that can handle loads of different types of data in a manner that is quick and easy to scan. In addition to the presentation of the company services, user testimonials, and staff, the template has a separate block with the latest blog updates.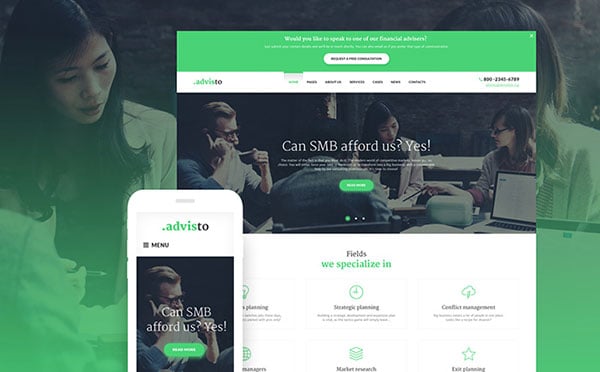 9. Effective IT Solutions WordPress Theme
IT, software, accounting, business, and a number of other projects can benefit from this clean and user-friendly template. The main navigation elements are bold and touch-friendly. The theme runs on a 100% responsive framework, which guarantees that all content will scale up and down to a variety of screen sizes automatically.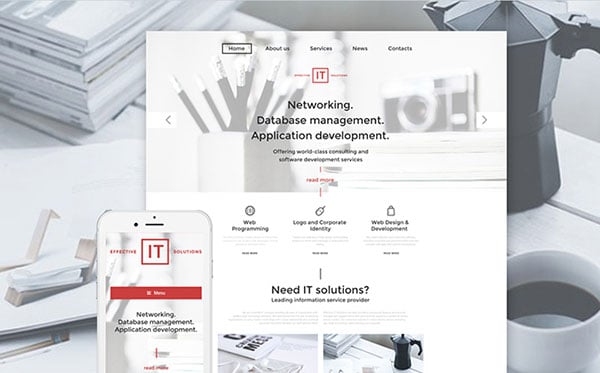 10. Bettaso – Barbecue WordPress Theme
The theme is best suited for presenting traditional and exotic cuisines online. Quality images are featured in every element of the theme's design. A large her image, sets of dishes that are served in a cafe or restaurant, menu gallery, and other aspects of the site are enhanced with bold visuals. The backgrounds are enhanced with niche-specific photos, making the web community get immersed into the interactive browsing.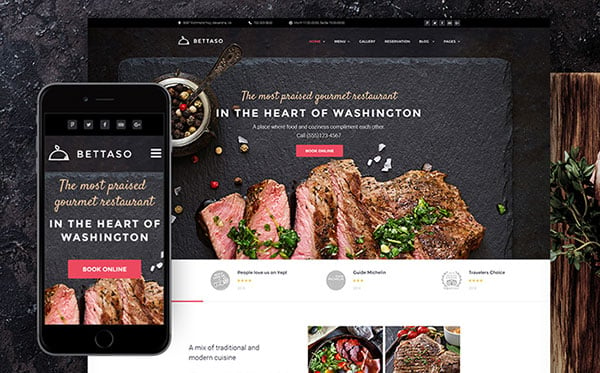 11. Interna WordPress Theme
Interna is a ready-made solution that will fit design, art, photography, real estate, and hotels websites. The layout of the template is focused on the effective presentation of the gallery of company services. The parallax scrolling effect and image hovers provide for a more captivating presentation of the site's content. Clear content hierarchy and the visual division of multiple content blocks enhance the theme's scannability.
12. Architecture WordPress Theme
Clean, flat, and minimalist design of this template is hand-crafted for architecture, industrial, construction, and real estate websites. The theme is responsive and retina ready. It runs on Cherry Framework, which is well-known for its ease of installation and customization. A handful of Cherry features come pre-loaded into the theme's pack. A variety of shortcodes is included to present content in a smart and appealing manner.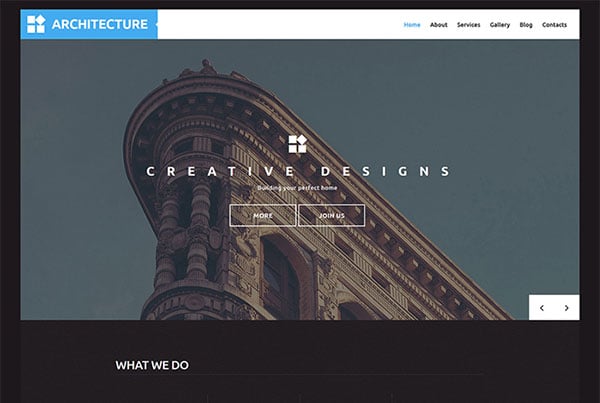 13. Jo Invest WordPress Theme
Jo Invest is a ready-made solution for financial and business websites. Its fully responsive layout is designed in an easy-to-scan manner. Texts are readable, images are quality and eye-catching, CTAs are bold and outstanding. The front page of the theme features everything needed to bring a professional and trustworthy presentation to corporate or personal business web pages. In addition to a newsletter subscription form placed at the bottom of the page, there is also a set of social sharing options guiding the users to your social media profiles.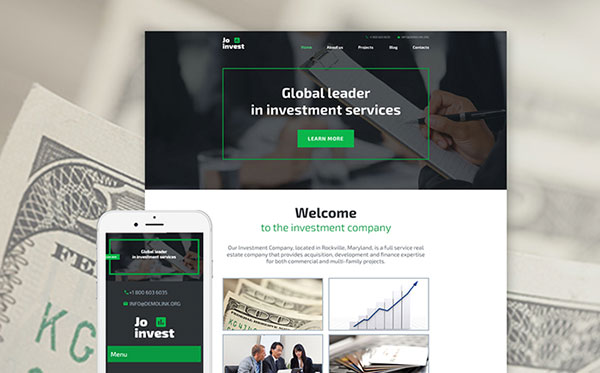 14. Deltex WordPress Theme
The theme runs on Cherry Framework 4. A responsive and cross-browser compatible layout is enhanced with a hold of Cherry options providing for a quicker and simpler customization of the template. On top of that, the theme is enhanced with such premium WordPress plugins as MotoPress Content Editor and MotoSlider, which are available to all owners of the theme for free.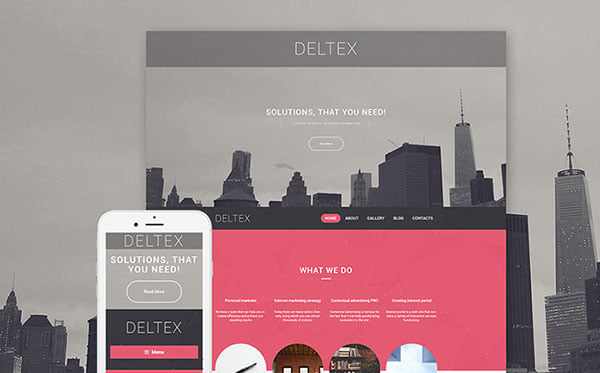 15. 7 Level WordPress Theme
7 Level is a ready-made solution for a business website that needs to look trustworthy ye elegant and stylish. The theme features a powerful set of tools and features that are intended for its quicker and simpler modification. Highly professional and businesslike, the theme is an ideal solution for a variety of businesses looking forward to establishing a rock-solid online presentation of their venture.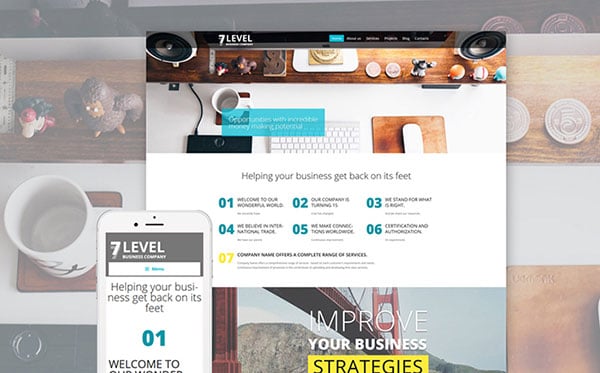 16. HostPro WordPress Theme
As the name implies, HostPro is intended for building hosting, IT, and software websites. Its clean, flat layout is built with attention to details. Thanks to a grid-based content structure, you can locate loads of data in a balanced style on the theme's pages. The front page is highly informative. Alongside with a bold header slider welcoming the audience for a deeper investigation of your business, there are quick-to-scan sets of company services and pricing plans.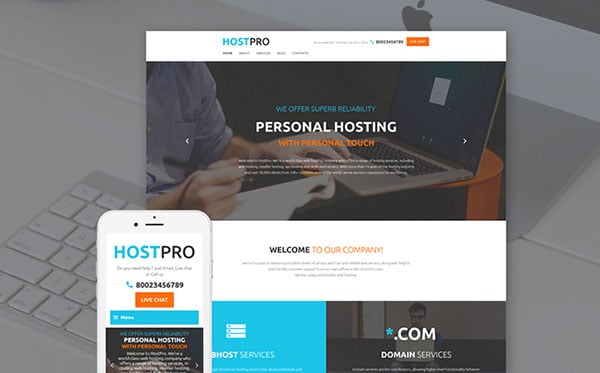 17. Stock Feed WordPress Theme
Stock Feed is a fully featured business theme integrated with blog functionality. A neutral design of the template keeps the audience focused on the content provided on the pages. Images are accompanied with texts for a better comprehension of your business objectives by the audience. The latest blog publications are featured in a page-width header slider. You can also let people meet your company's editorial team members in person while sharing a list of editors on the front page.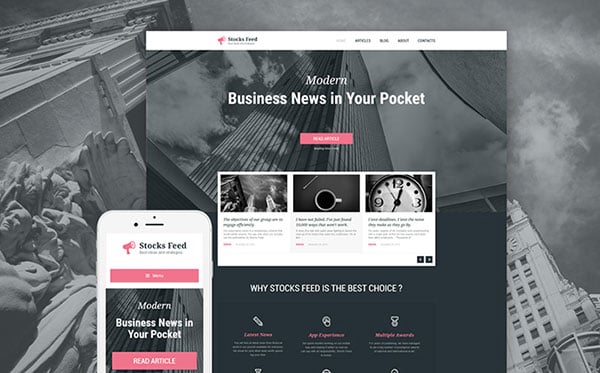 18. AutoTowing WordPress Theme
The theme is mainly targeted on the car and bikes related web resources. The design is enhanced with page-width background videos. The template is built in dark-grey colors. Bold orange design elements look outstanding and eye-catching when opposed to such dark backgrounds. The homepage is not content heavy. However, it features everything needed to guide the users through your content. A Google maps widget is also available. You can find it at the very bottom of the page.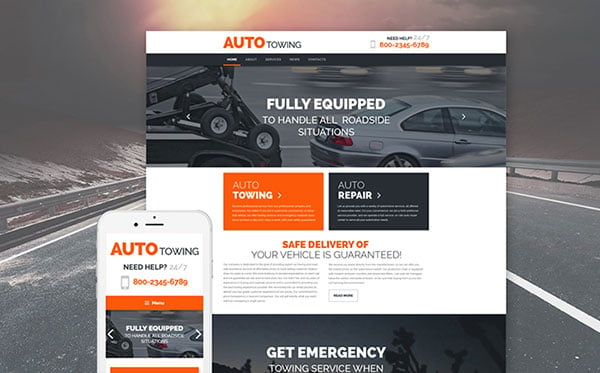 19. Houston WordPress Theme
The theme will appeal to the fans of retro-styled web designs. Brownish hues add special charm to the template, making you feel like you are back in the 80's. The images are retina ready and are intended to perform nicely on the last-generation devices. The theme runs on Cherry Framework 4, which adds a drag-and-drop functionality to the admin panel.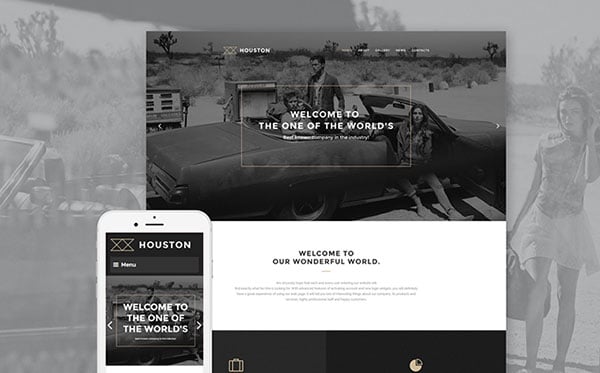 20. Adv WordPress Theme
Simple yet functional design of this template can be adjusted to any business niche easily. Designed and developed for advertising agencies, it will work well for any different business as well. The SEO-friendly structure of the template is intended to attract more visitors from the search engines. The theme is pre-loaded with several gallery scripts, allowing you to create a professional and captivating presentation of your content.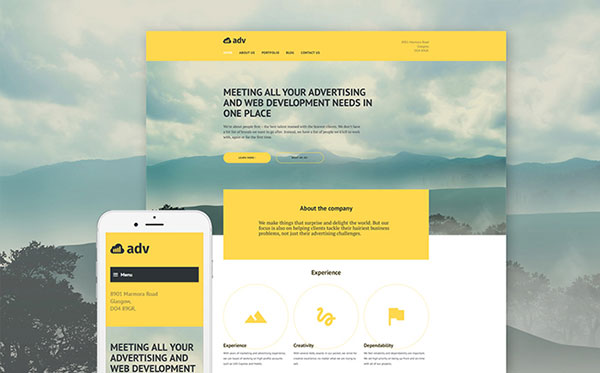 More Premium WordPress Themes You would Love to Check out: