We all like comfy stuff that does not give us fatigue or brain strain, we are so laid back that anything at arm's length naturally sedates us. Being a couch potato myself, I like to make things simple for myself as well as for others.
Yeah, it is being philanthropic approach and therefore I decided to make you familiar about something you would love to have. The online market has spread itself like a spider web; it is enveloping all the bloggers, buyers and website owners. They open up online shopping stores where people can easily get across the things they want. Shopping has always been pivotal in any person's life; not even girls, but boys too have a craving to buy stuff online.
Especially designers and artists do make big and small purchases every now and then to enhance the feel and look of their designs and projects. Today I am unfolding before you 20 free useful App Store, compatibility buttons for online products, shops &  websites. These buttons are cool and colorful, will totally fit into the website and will give out a pop up feel. Remember whatever you put up on the website/blog, must be eye-catching so that people would notice them.
Stay hooked for more posts in future as well, we are working hard and fast to meet into terms with your demands, we make sure that the quality and excellence of every post must benefit you now and also in the long run. Here we go to come right back with a bang tomorrow. Our design factory doesn't stop producing the best that we can to entertain your design and art requirements.  Get these free buttons and use them in your current or upcoming projects!
Let us know how they work for you, we are always overwhelmed by your feedback. It is valuable!
20 Free Useful App Store & Compatibility Buttons For Graphic Designers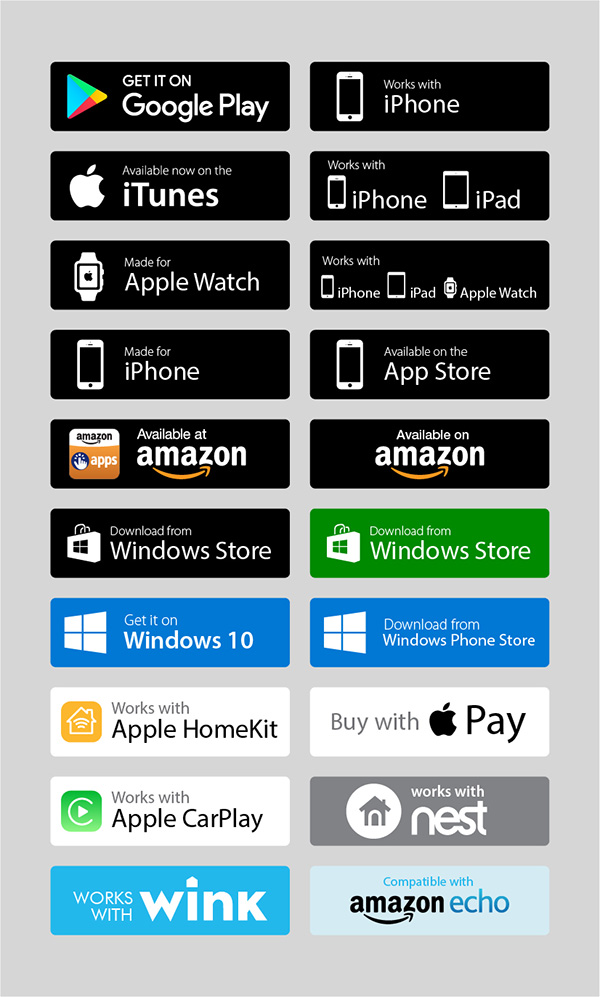 Freebie : [20 buttons]
Available Sizes:  330 x 96 px
Available Format:  PNGs
License: Free for personal use
App Store Buttons 
Following Buttons are included in this buttons set:
Get it on Google Play Button, Works with iPhone Button, Available now on the iTunes Button, Works with iPhone & iPad Button, Made for Apple Watch Button, Works with iPhone, iPad & Apple Watch Button, Made for iPhone Button, Available on the App Store Button, Available at Amazon Apps Button
Available on Amazon Button, Download from Windows Store Button, Get it on Windows 10 Button,
Download from Windows Phone Store Button, Works with Apple HomeKit Button, Buy with Apple Pay Button, Works with Apple CarPlay Button, Works with Nest Button, Works with Wink Button, Compatible with Amazon echo Button
More Free freebies you would love to download: