A man is known by the company he keeps, but a man is recognized by the name he has, name is his identity, it is what makes him unique and different. Your identity works everywhere you go, especially when one has to apply for a job, your name speaks much about you. Before entering into a job the first thing that helps you getting into the firm is your CV which is something pivotal.
Without having to introduce yourself lacking –your bio data will not work at all in the job premises. So make sure you get yourself a good and well-made resume that consists of all your credentials, potentials, certification, experiences, qualification, hobbies, activities, your marital status and your other important working pursuits.
A good CV can help you getting a good and reasonable job, of course the first impact that you make– is by the way you carry yourself and by the resume that you have at your disposal. People don't consider it as important for themselves, but this piece of paper can change your fate. You can get into any firm you like if your all details are comprehensive and yet precisely are written in your resume proving a doorway to your mindset.
Here I am providing you a post of 10 all-time best premium simple & infographic resume/ CV templates in Word that may provide you a great help to peep into the ways CV can be built up, resumes should be elaborated, giving a total and real picture of yourself. Well, there are no points to exaggerate or quote the things that don't belong to you, because at the end it will merely give you an embarrassment and nothing else.
So make sure whatever you quote must be genuine and supported by all the valid documents that you take with yourself while going to the job interview.  A CV is just a first step into the workplace, later on comes and counts every penny and inch of your courage to bear the brunt and face the challenges. All the designers who have been looking up to make a good CV for themselves, for a comrade or for a client, can get a look at it. Here we go!
1. Premium Resume Template in Word, PSD & Indd
Price: $6 | Buy From Here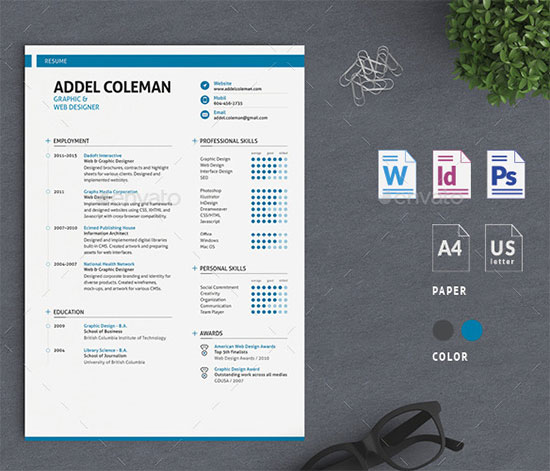 2. Simple premium resume template in Doc, Docx, Ai, PSD, INDD & EPS
Price: $8 | Buy From Here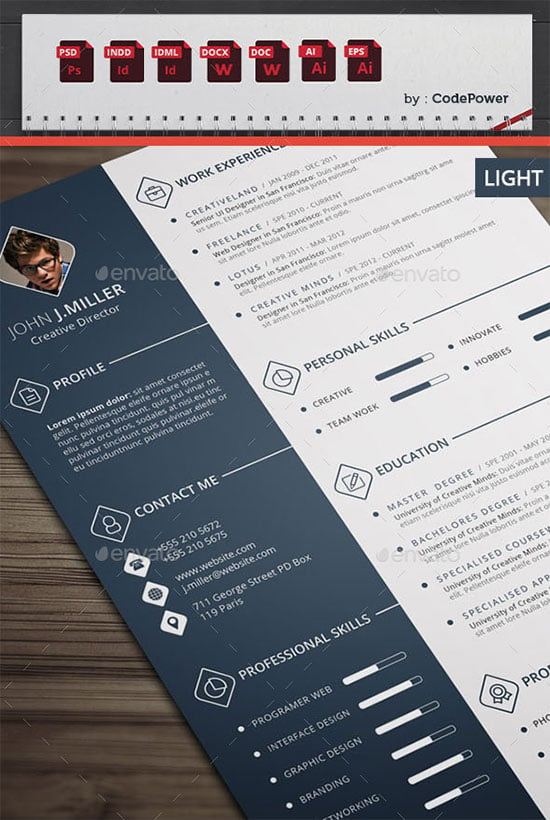 3. Infographic Resume in Photoshop PSD, Word Doc & Indesign INDD
Price: $7 | Buy From Here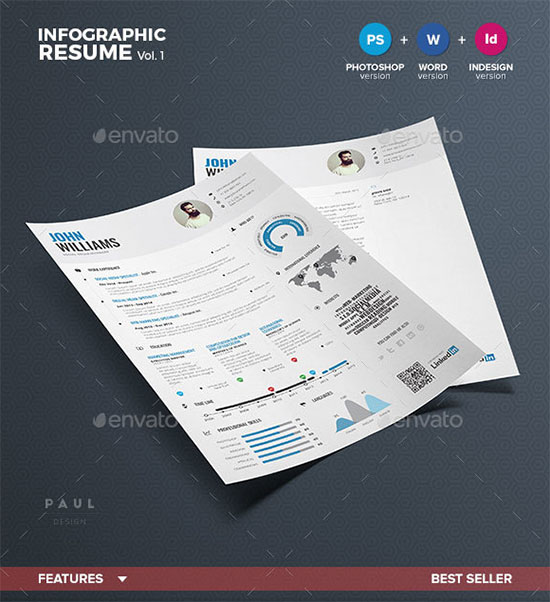 4. Resume/CV Cover Letter Template PS ind doc
Price: $7 | Buy From Here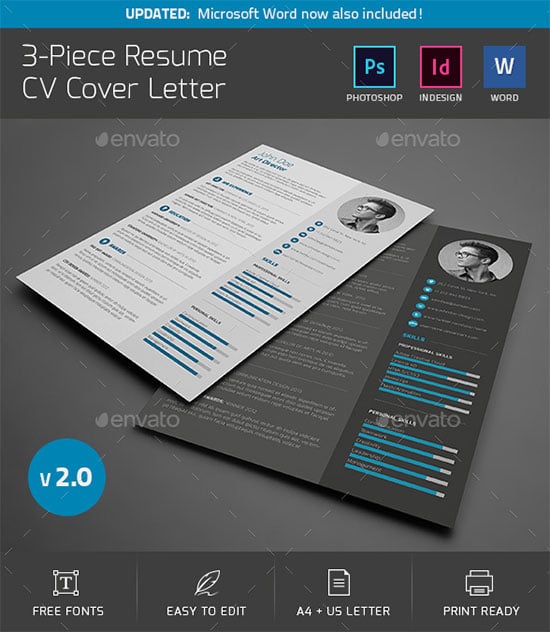 5. Modern Resume CV Cover Letter Template PS ind doc
Price: $5 | Buy From Here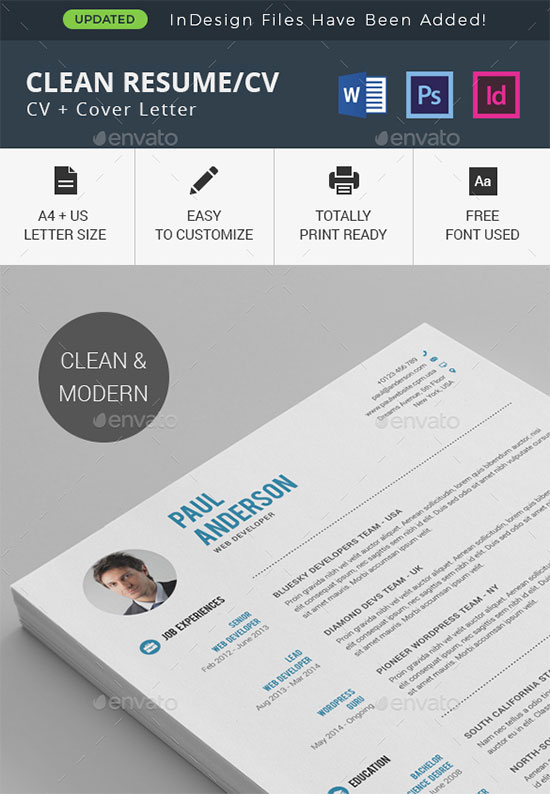 6. Black White Resume CV Template in Ai, ID, PS, DOC
Price: $8 | Buy From Here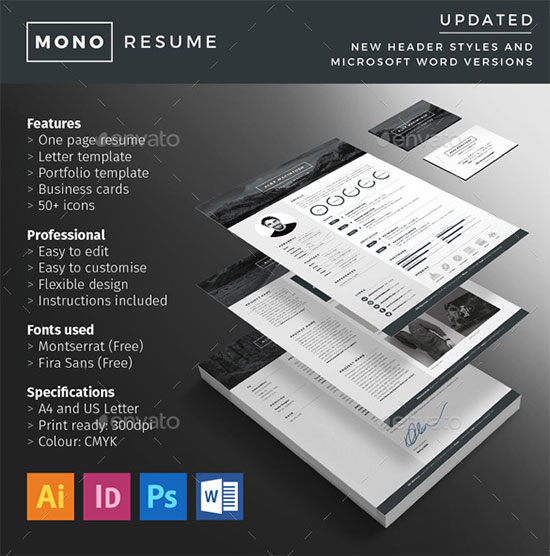 7. Simple CV Template in ID, MS, Word, PS, Illustrator & EPS format
Price: $7 | Buy From Here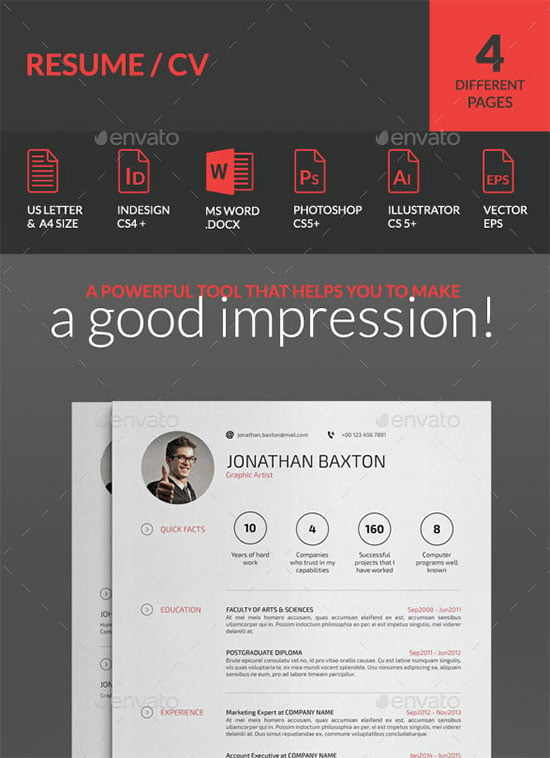 8. Professional Resume template in WORD, INDESIGN & ADOBE ILLUSTRATOR
Price: $7 | Buy From Here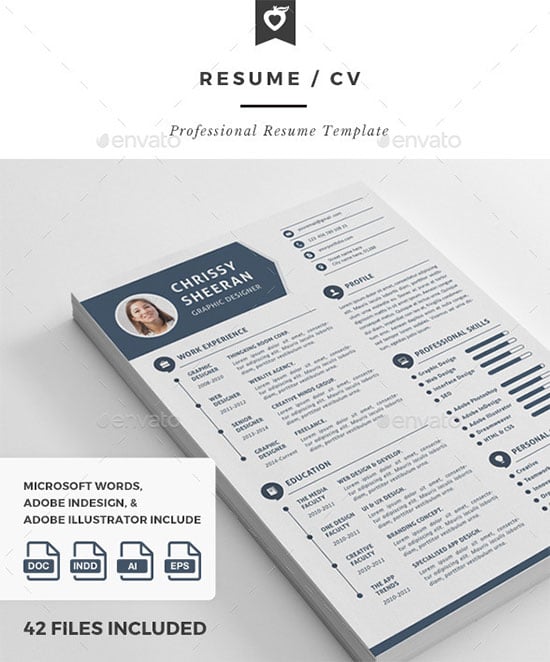 9. Simple Professional Resume Template In Ai, Word, CDR & INDD Format
Price: $5 | Buy Resume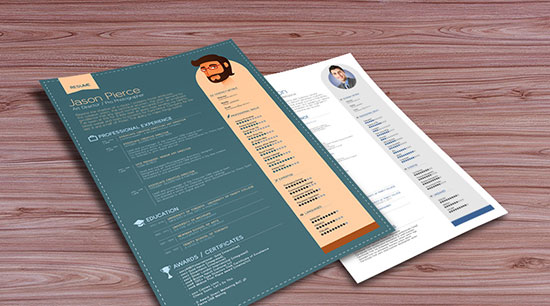 10. Flat Resume Template For Developers
Price: $1 | Buy From Here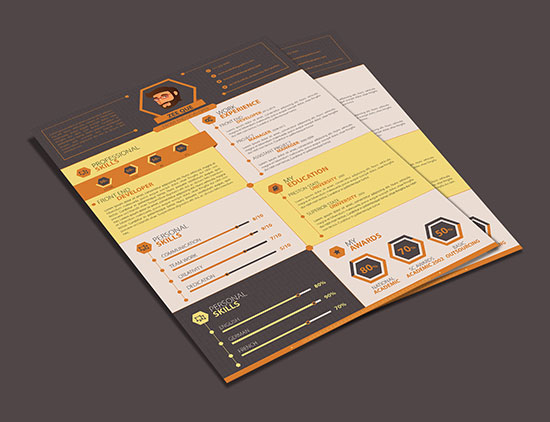 Buy The Best Recommended Posts:
Tags: cv template, cv format, resume template, resume format, resume examples, cv letters