I am a kind of person who loves to switch to newer smartphones because I like to keep myself up to date being a tech freak. Even if you are not much into technology and in all its specification, you still want to get the best smartphone and gadgets for yourself so that when you move in the circle of your friends, at least you have something to flaunt before your friends.
Technology is so fast pace that we need to run with it. With every new handset there are some surprising features enveloped that we unfold and live up to the tech happenings. There is no denying to the fact that Apple and Samsung has been the best in the cellular networking. However Google too is never behind in this race. You must have used Nexus and its versions & hoped for something new in the next launch of some Google device.
Let us throw light to what it has brought lately.
Google Pixel was launched in the beginning of the month October, it has been excelling in so many features, running down iPhone 7 in so many ways, because of is better camera results it is getting popular– its size touches 5 inch display, storage is mighty and much more. This is the most recommend phone to get your hands on—in the year 2016.
Today I am putting forward a free mockup of Google pixel mobile to download; you can use it in your current or upcoming personal projects. This mockup can be used to showcase it before your clients as presentation. Stay tuned for more design and art posts on the blog, we never compromise on the quality and excellence of the blog & therefore we only bring the interesting posts out every day to benefit you and to accommodate you all as much as we can.
Subscribe us for more posts. Here we go!
Free Vector Google Pixel Mockup in Ai & EPS Format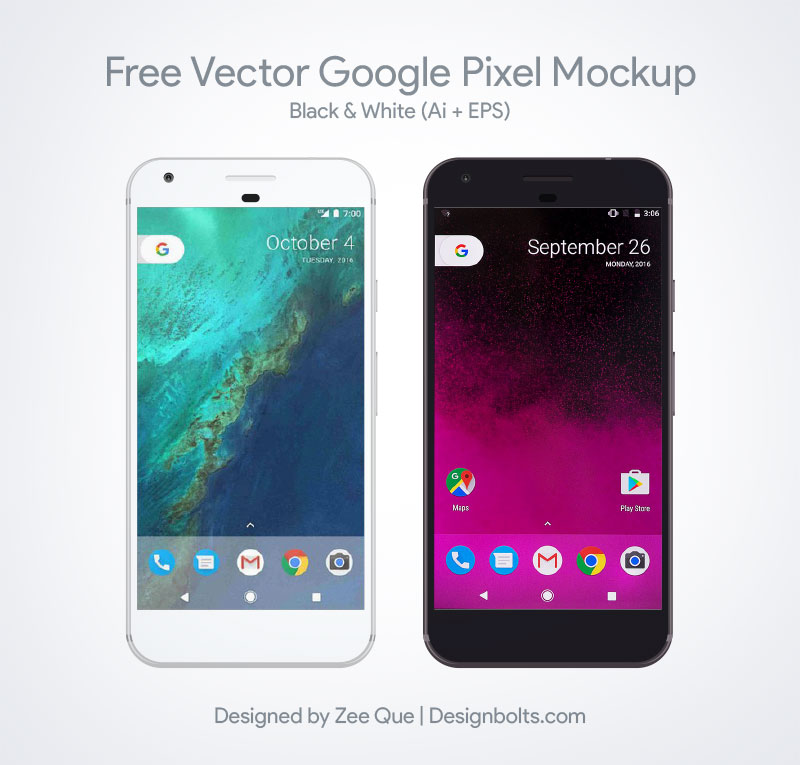 Google Pixel mockup file is designed by Zee Que | designbolts.com
Commercial Use: Allowed
Google Pixel Mock-up
More Awesome Ai Mock-ups you wold love to download: